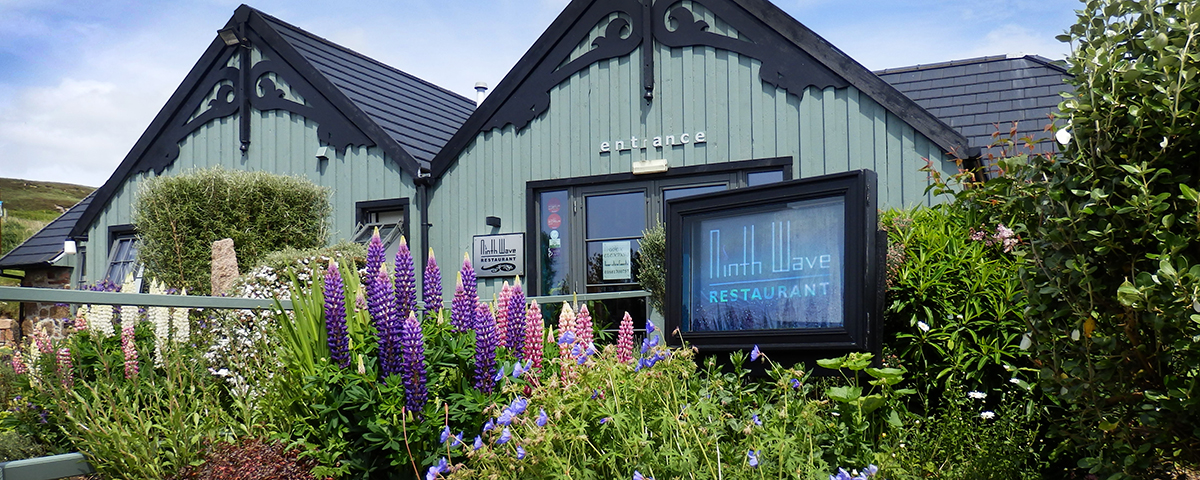 The Isle of Mull has a thriving food scene. Nowhere is this more in evidence than at the highly acclaimed Ninth Wave restaurant near Fionnphort, on the Isle of Mull's west coast.  Here Carla Lamont cooks up a storm, while Jonny battles one, to bring you the freshest seafood!  Produce from the croft is brought to the plate with a style and flavour that embodies dining at its best.
We caught up with Carla and asked her to give us her seasonal highlights, along with a delicious dish to go with each of the four seasons of Mull.
Spring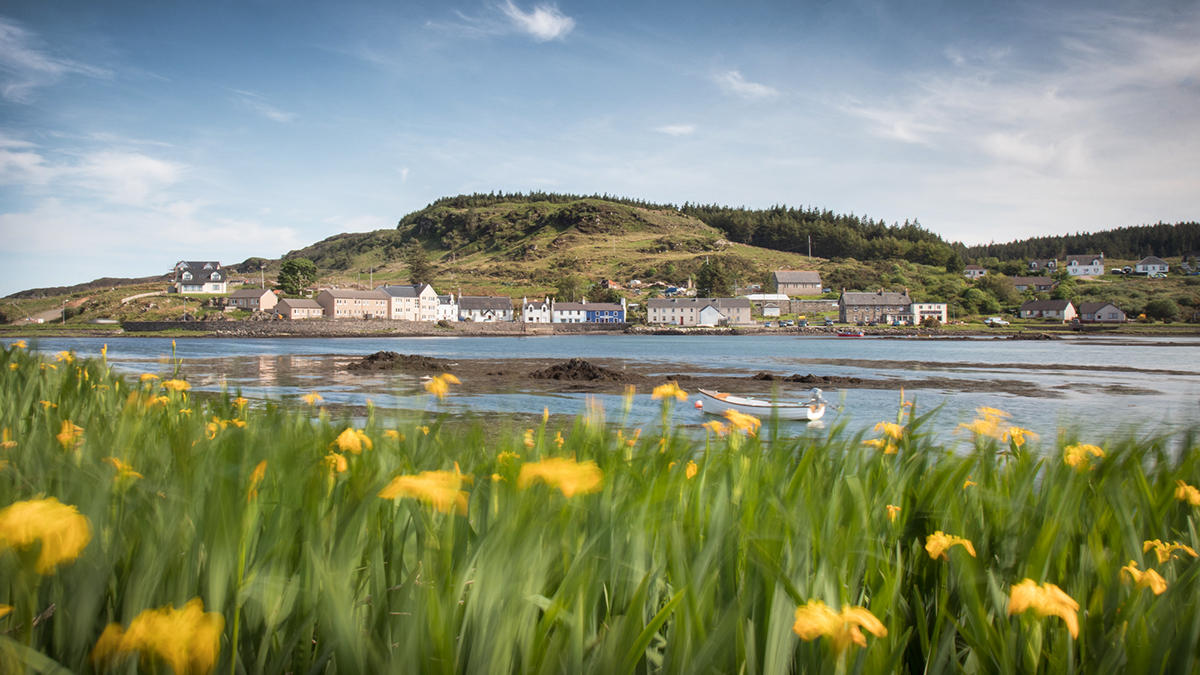 A faint flush of light green appears under the winter-bleached paleness of the tussock grass across Mull's landscape. The smell of hope and astringent daffodils are on the air. Still-bitter winds and many frosted mornings rule: spring comes late to Mull. Wee toy-like lambs frolic in the fields, creating a perfect photo opportunity. Unbelievably, its time to dig trenches for the tatties while the fresh smell of Nordic snow still lingers over shy primroses.
At the end of April, puffins fly past our shores, following the glittering paths of sand eels to Staffa and Lunga. In May there is a quick fluorescence of bluebells in the island's wooded vales and hills, before they are overwhelmed by eager hoards of bracken.
A tender new growth of seaweeds are here: sea lettuce, dulse and pepper dulse. Groggy hedgehogs and charming pied wagtails herald warmer weather. For the cooking pot, there are ramsons (wild garlic leaves) and a harvesting of young nettle leaves for blanching and use in soups and sauces.
WILD MULL SEA TROUT AND SHISO CEVICHE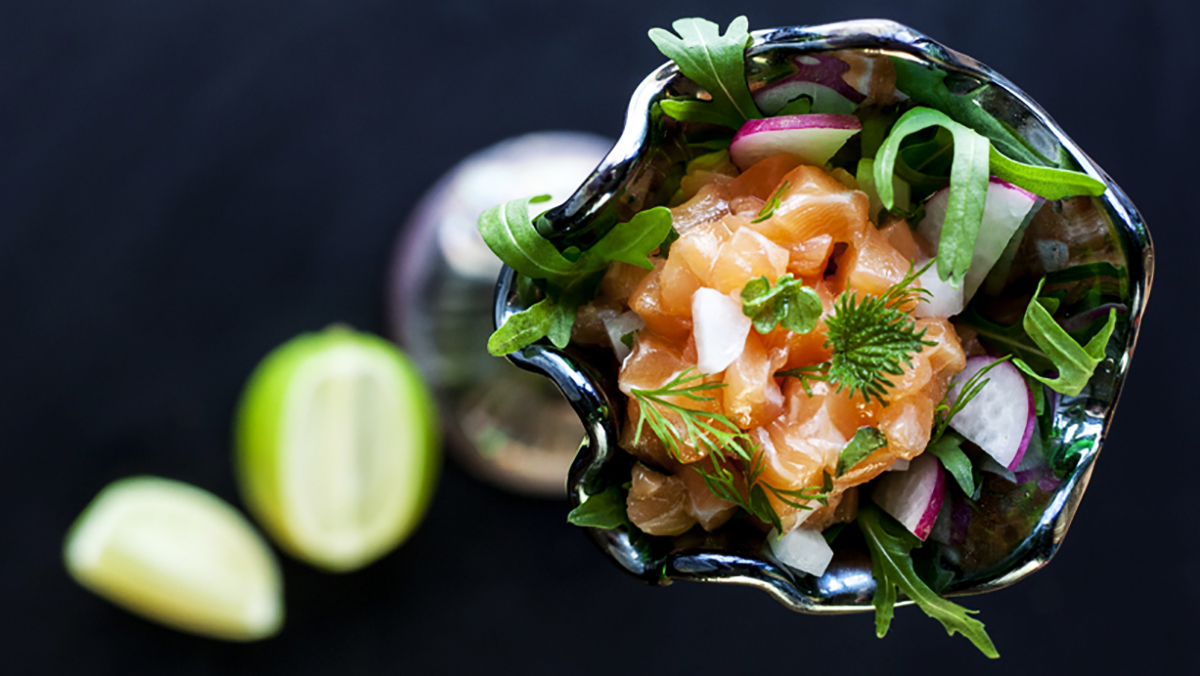 Wild sea trout is such a rare treat we like to serve it this way to preserve its integrity. These Asian flavours also work well with salmon or freshwater trout. Serves 2
230g/9oz sea trout fillets, skinned and boned
small handful of washed rocket
20g/¾oz diced mouli
1 small shallot, peeled and finely chopped
2 wild garlic leaves, chopped finely
zest of a lime
juice of a lime
1 tsp soft light brown sugar
dry flaked sea lettuce
1 radish sliced
80ml/3fl oz of rapeseed oil
basil or land cress to garnish
METHOD
Dice the trout into 1cm cubes.
Place all the ingredients except for the trout and rocket into a non-metal bowl. Whisk well until the sugar is dissolved. Taste and add more salt and pepper if desired.
Add the trout and mix well into the marinade. Leave to rest for 10 minutes, covered, in the fridge. Mix in the mouli and drain off the excess marinade.
Serve in martini glasses or bowls on top of rocket leaves. Garnish with radish and lime wedges.
Summer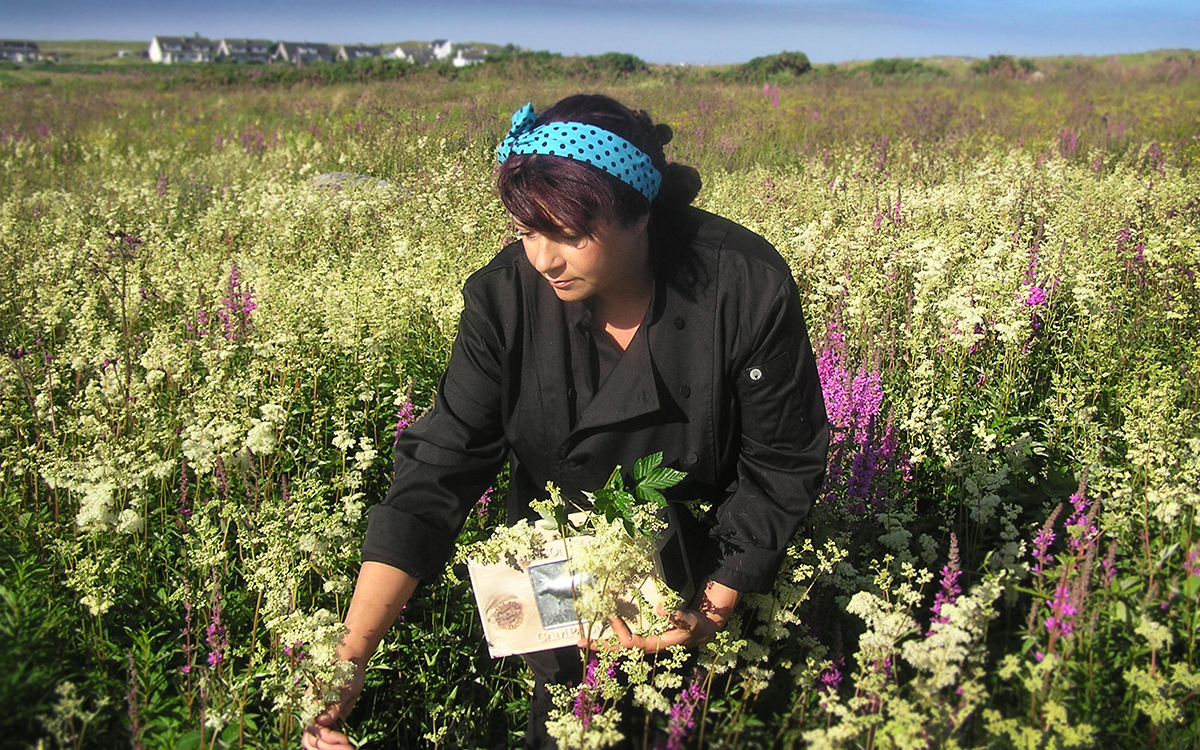 Purple heather-covered hills and days that seem to last forever define summer on Mull. The opalescent shoals of stunning mackerel arrive, so get the barbecues ready.
July sees our lower field swaying with the fragrant fronds of meadowsweet. Its delicate blond fronds are used to flavour syrups, custards and our after-dinner chocolates. Dolphins herald the summer and love to follow the fishing and tour boats around Mull, adding magic to any day.
Otters pup in August and can be seen regularly, playing on the shoreline rocks. Drifts of delicate jellyfish are rife, wearing their pinkish-purple four clover emblems and leaving behind stinging legacies on mooring ropes and rocks.
Although gorse blooms many times during the year, the summer blossom seems to be the most potent. The acid yellow blossoms taste and smell enticingly of coconut and are ideal for ice cream, and making liqueur. Beware of the inch-long thorns though!
Elderflower flushes in summer and gives rise to many a cordial, posset, and dessert.
NEW TATTIES AND GARDEN HORSERADISH WITH FRESH MACKEREL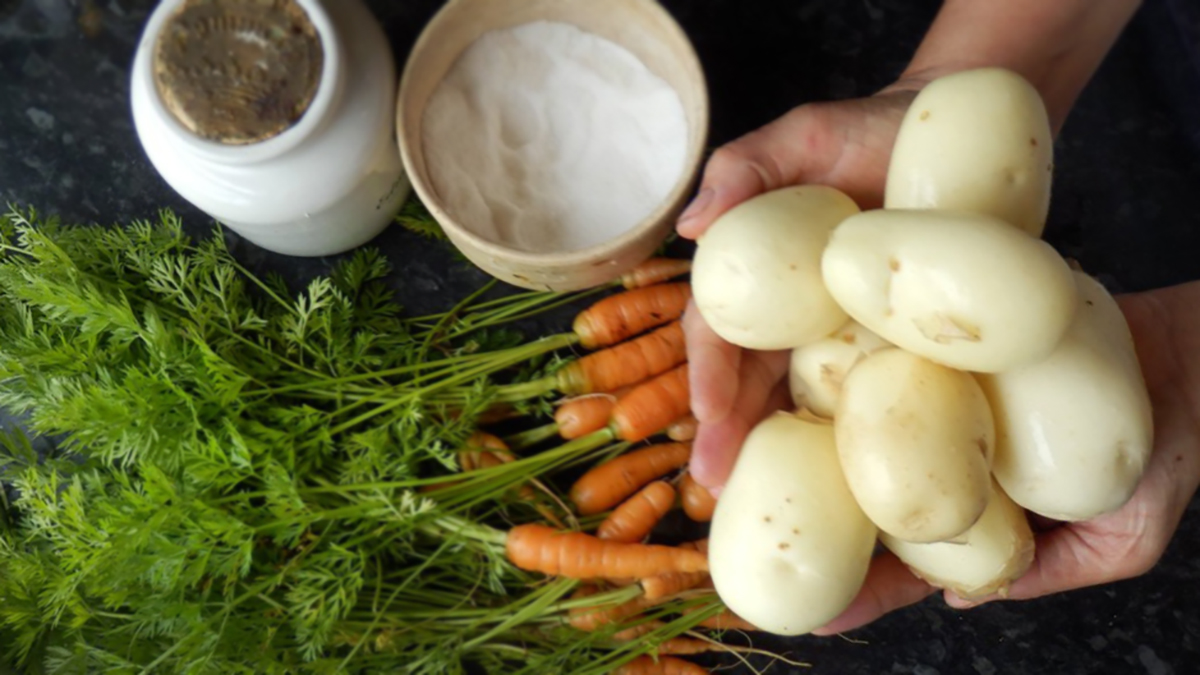 Sweet, creamy-fleshed new potatoes contrast with the crispy mackerel skin of the seared mackerel fillets to produce a very more-ish dish. The horseradish and dill add sharpness and herbaceous notes to this symphony of summer taste. Serves 4
8 mackerel fillets (pin bones removed)
1 tsp dill, finely chopped
2 tbsp rapeseed oil
4 tbsp plain flour
¼ tsp sea salt black pepper
30g/1oz broad bean or pea shoots to garnish
2 sprigs of dill for garnish
80g/3oz garden broad beans
480g/1lb new potatoes, cooked with skin on
2 tbsp rapeseed oil
2 tbsp sour cream
2 tbsp fresh horseradish, grated
1 large shallot, minced
1 tsp sugar dissolved in 1 tsp white wine vinegar
1 tbsp spring onion, finely chopped
sea salt and black pepper to taste
METHOD
Blanch the baby broad beans in a pan of salted boiling water for 1 minute. Drain and peel off the outer skin if desired.
For the potatoes, bring a large pan of salted water to the boil and boil the washed potatoes for 10 to 15 minutes, or until tender. Drain. When cooled slightly, cut them into quarters. Transfer the potatoes to a mixing bowl. Stir in the sour cream, vinegar, horseradish, shallots and broad beans and season to taste with salt and pepper.
For the mackerel, diagonally score the skin three times on each fillet. This will keep the skin from shrinking too much when searing. Rub the mackerel fillets with the chopped dill. On a plate, mix the flour, salt and a few twists of ground black pepper together. Coat the mackerel fillets all over in the seasoned flour. Shake off the excess flour.
In a very large frying pan, heat the rapeseed oil on medium high and place the mackerel fillets skin-side down. Fry until the skin is crispy and the fillets move easily in the pan, about 2 minutes. Turn over and fry for 1 to 2 minutes until the fish is just opaque.
Divide the tatties between four warmed dinner plates and top with the pan-seared mackerel fillets. Garnish with dill and broad bean shoots.
Autumn
As the haunting calls of the stags float across the russet landscape, seasonal treats like Beech mast, hazelnuts and sloe berries abound.
In the garden it's potato lifting time. Broccoli, cabbages and other brasicas are ready. Geese and swallows gather, getting ready for their annual migrations. Hedgehogs can be glimpsed at roadsides and in gardens, frantically feeding, to stock up before winter hibernation.
This is the perfect season for foraging mushrooms in the woods of Mull: ceps, chanterelles and wood bluets are amongst the gems.
SMOKED HADDOCK AND TOBERMORY TERROR CONSOMME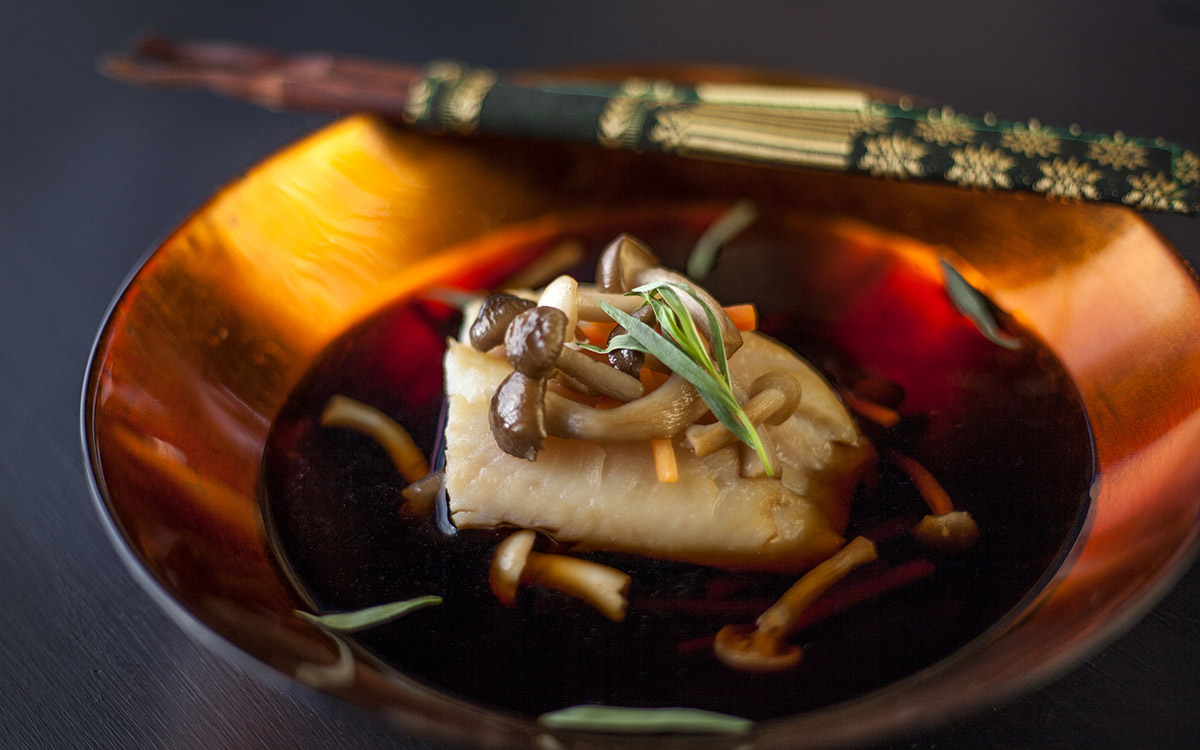 This elegant soup is uniquely flavoured with an Isle of Mull beer. It takes a while to make, but the divinely-tasting clear broth you end up with is well worth it. Serves 4
1 tsp butter
380g/14oz carrots, sliced
180g/6½oz celery, chopped
140g/5oz white onion, chopped
100g/3½oz fennel bulb, chopped
30g/1oz shallots, sliced
1 tbsp coriander seeds
1 tsp cardamom
1 tsp turmeric
1 tsp cumin seeds
½ tsp fennel seeds
550ml/20fl oz Tobermory Terror beer (or Guinness)
350ml/11fl oz water
1 tbsp dark soy sauce
5 fillets of Mull smoked haddock
3 egg whites
40g/1½oz  buna shimeji (or other) mushrooms
sprig of tarragon
blanched julienne of carrot
METHOD 
Dry fry the spices in a medium-hot pan for two minutes, being careful to shake them lest they burn.
Place the butter in a large pot on medium low and add the carrots, celery, onions, shallots and fennel. Stir while gently cooking for 10 minutes, without colouring the vegetables.
Add the spices, beer, water and dark soy sauce and continue to simmer for 35 minutes.
Skin and debone four of the smoked haddock and save the best of the fillets for later. Add all the skin, bones and trimmings, plus one whole haddock fillet, to the vegetable mix in the pot. Simmer for 20 more minutes.
Strain the mixture and allow to cool. Refrigerate for an hour when cool. This will allow you to remove the solidified butter from the top of the stock once it has chilled sufficiently.
When all the solid butter has been removed or strained off, place the stock in a large clean pot. Beat the three egg whites to the soft peak stage and add them to the pot of stock. Place the pot on high heat while whisking the egg whites constantly. Bring to the boil.
Turn down and simmer for 10 minutes. The liquid should now be clear and the egg white raft will have absorbed all the impurities.
Strain the soup through a muslin cloth and discard the whites. Season with sea salt to taste.  Bring a small pot of water to the boil and poach the four fillets in the water for two minutes. Drain.  Divide the clear consommé between the four serving bowls, placing a smoked haddock fillet in each bowl.
Garnish with sautéed mushrooms and thin strips of blanched carrots and a twist of black pepper.
Winter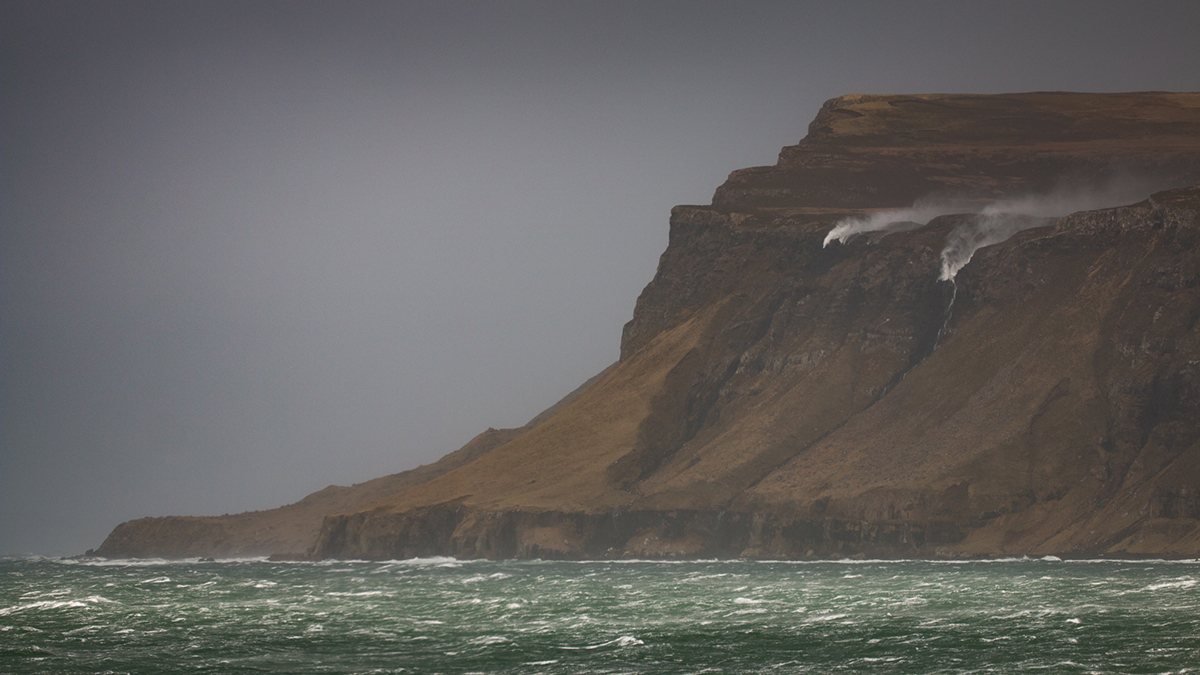 Jonny the fisherman mends his creels while the relentless, horizontal rain and wind rattle the windows. An earthy smell of wintering grasses pervades in the hills. Slim silhouettes of hazel and birch shine red and silver through the sea harr, when travelling the quiet roads.
The startling velvet-white flourish of the barn owls is often seen above our croft at night.  I have to don a large pair of wellies (that can accommodate 2 pairs of socks) and an old pair of oilskins, to face the quagmire that was once the veg garden. Still, there are brussel sprouts, spinach, kale and root vegetables to be found.
After a day's fishing or mending the croft fencing, a warming dish of comfort is what's needed most (besides a wee dram of whisky by the peat fire).  Winter is the best season for lobster and crab fishermen here. At Christmas prices are high as the Spanish market demands seafood for their festive celebrations.
MULL FISH CHOWDER WITH PEPPER DULSE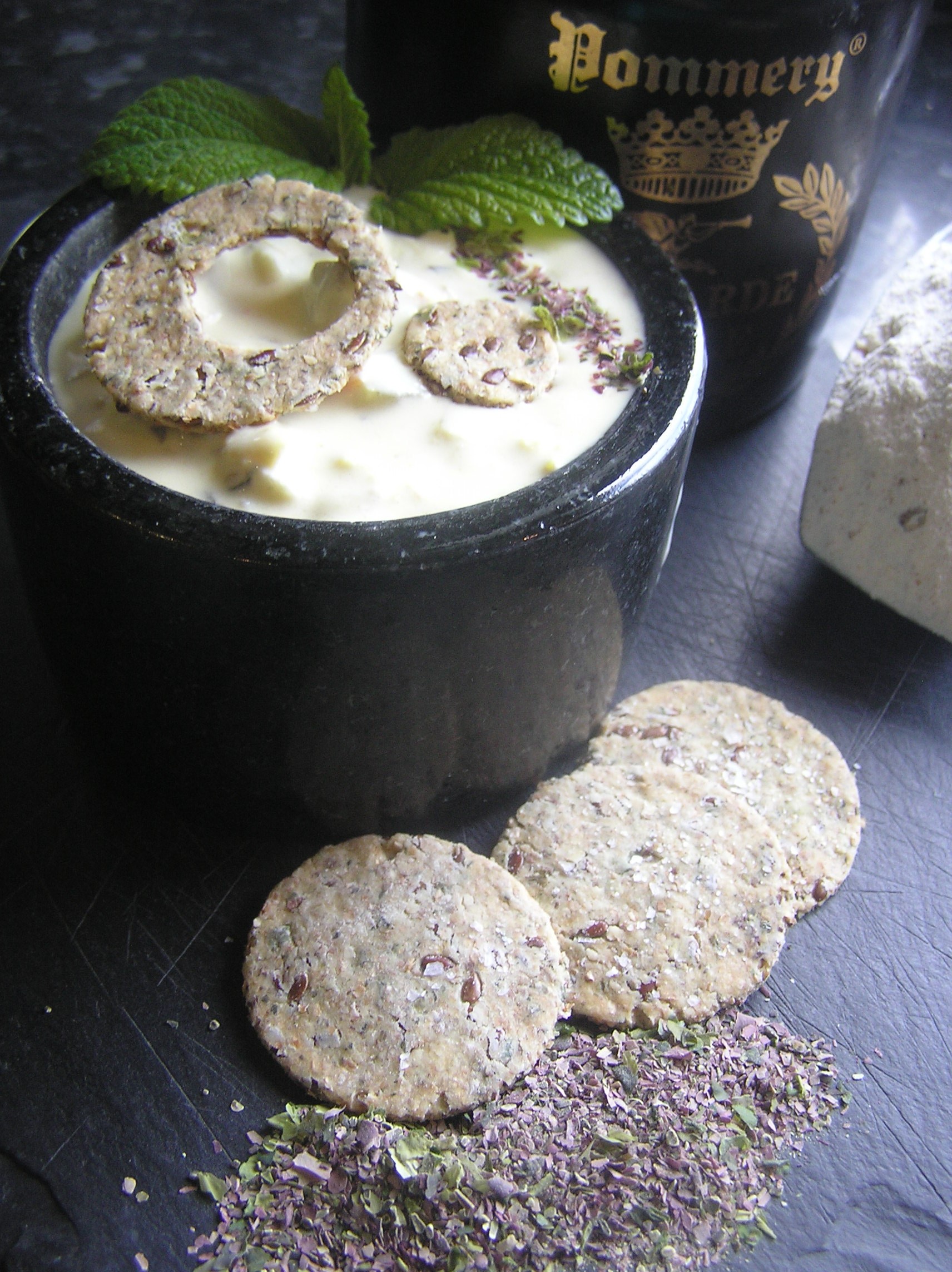 This chowder is rich and creamy and is a great way to use odd scraps of various fish that you may find in the freezer. You can buy great dried seaweed mixes from Mara Seaweed on the internet. Serves 4
600g/1½lb mixed fish, e.g. hake, haddock, pollock, gurnard, skin and bones removed, and cut into 2cm cubes
1 tbsp butter
5 shallots, peeled and diced
2 carrots, peeled and diced
1 small bulb fennel, about 180g, diced
1 tbsp plain white flour
90ml/3fl oz chardonnay wine
600ml/20fl oz cooled fish stock
½ tsp sumac powder
¼ tsp Worcester sauce
1 bay leaf
1 tsp dried seaweed flakes: dulse, kombu or sea lettuce
350ml/12fl oz double cream
sea salt and crushed black pepper to taste
METHOD
Heat a large heavy pot over a low heat. Add butter and, stirring constantly, sweat the shallots, fennel and carrots until the onions are translucent. Add the flour and mix well with a balloon whisk. Continue cooking and stirring over medium heat until the flour/butter mixture has turned a light nutty brown in colour.
Add the wine and cook for a minute, while whisking until all the flour lumps have dissolved.
Add the cold stock, seaweed, sumac, Worcester sauce and the bay leaf. Turn up the heat and bring to the boil while stirring occasionally so that the bottom of the pan does not burn. Turn the heat down and simmer for 8-10 minutes. When the carrots are almost tender, add the fish cubes and season. Cook over a low heat until the fish is done – 2 to 4 minutes.
Remove the pot from the heat. Gently stir in the cream and season again if necessary. Heat gently to scald, not boiling and serve with plenty of bread or crackers.
Be sure to dine at Ninth Wave Restaurant on you next visit to sample some of their delicious food!  Contact: enquiries@ninthwaverestaurant.co.uk|01681 700 757
See our full listings of Restaurants on the Isle of Mull