Visit a Scottish island in the depths of winter? Really? Ewan Miles from Nature Scotland is here to tell us why the unlikeliest timing might just be the best…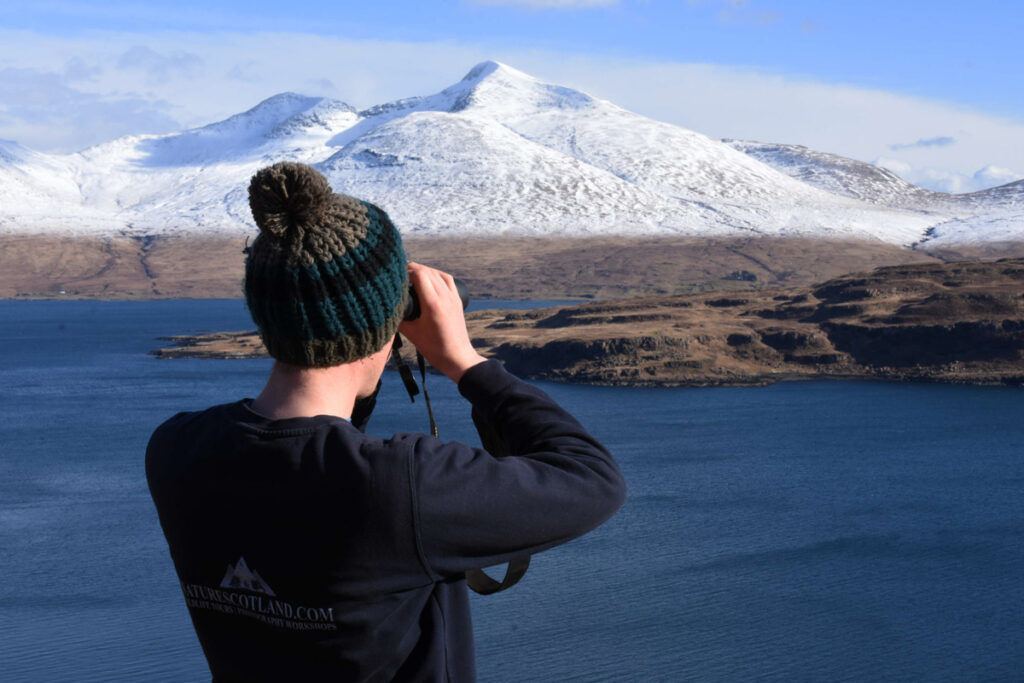 Despite what you may think, Scotland can be a stunningly beautiful place to spend some time over the harsher winter months. Yes, the weather can be challenging. But,it can be equally as challenging in July and August too. The west coast is known for glorious white sand beaches, turquoise blue seas and comical puffins. The puffins are long gone in winter, but the Isle of Mull still has much to offer, including those beaches (and often you'll be the only soul there).
So, come prepared with your waterproofs and wooly hats and hop on the ferry to witness some island wildlife. Here are five iconic species that you can encounter on the Isle of Mull throughout the colder season.
Golden Eagle
Secretive but splendid. The classic Golden Eagle sighting leaves you wanting more. Often, you glimpse a distant yet intimidating silhouette just before it vanishes beyond the crest of a hill. Particularly in the summer months, these wary raptors are focused (hopefully) on their eaglet in the eyrie and avoid humans where possible.
With the arrival of cold winds and snow on the higher mountain tops, Golden Eagles can be seen actively hunting in the shorter daylight hours.
In late winter these birds are already thinking ahead. They become yet more territorial, aggressively removing intruder birds from their wintery home and can be seen displaying to their partner. The male uses powerful wingbeats to gain height, before tightly folding them against his body and plummeting down, clearly sending a message to his mate and any would-be suitor. This sight is repeated against stunningly beautiful landscapes with snow-capped peaks and angry skies.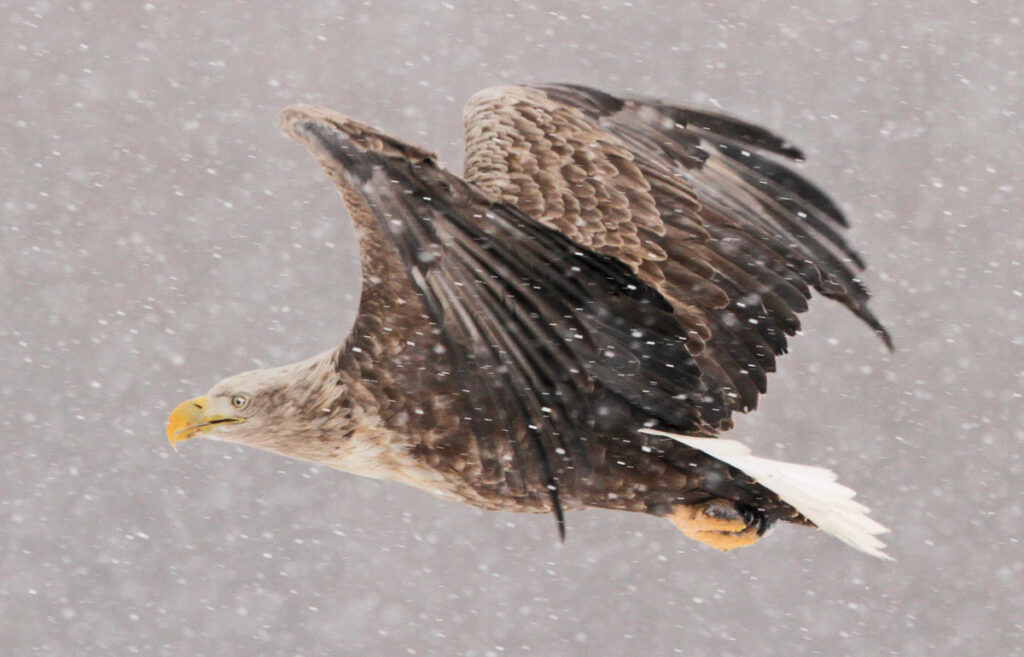 White-tailed Eagle
The Sea Eagle, fondly referred to as the 'flying barn door'. The bigger (and better) UK equivalent to the American Bald Eagle. One of the largest eagles in the world, with a staggering 2.9m record wingspan, the White-tailed Eagle is a species to see.
The Isle of Mull has become an iconic location for this eagle since their reintroduction to the Isle of Rum, they set up home here on Mull in 1980s and got comfortable. Fame came in 2005 with Skye and Frisa and their eaglets Itchy and Scratchy.
Like Golden Eagles, these raptors are present here all year round, breeding in the summer months. However, encountering in the winter can be quite different. Often a gregarious bird, juveniles and sub-adults may congregate in small groups together when the going gets tough. They'll make use of intertidal zones to scavenge any delightful, dead detritus that may have been washed up.
Adult pairs will remain territorial and can be spotted roosting together in trees or nest building before spring arrives again.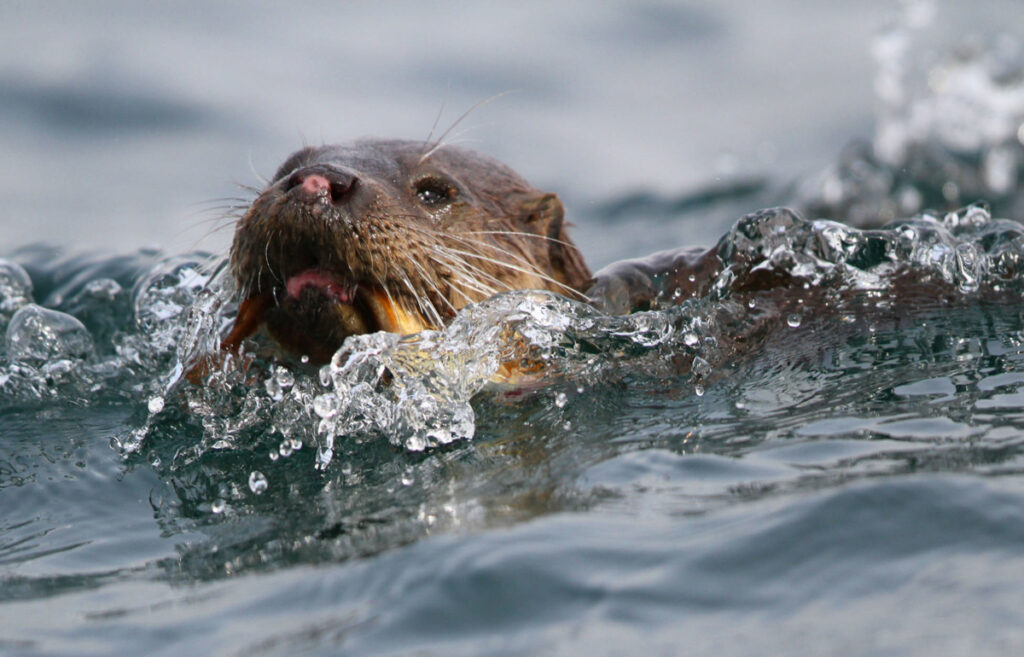 Otter
This elusive mammal is still an uncommon sight in mainland river systems despite their successful population resurgence. The Otter remains shy and is primarily nocturnal, making it a tricky species to encounter. Luckily for those visiting the Isle of Mull, particularly in the winter months, you have a good chance of observing these aquatic predators in our coastal waters.
Thanks to the icy cold sea water temperatures, Otters need to be actively hunting for large parts of the day to meet their energy requirements. This makes winter a great time to observe them and marvel at their ability to cope with the wild and choppy Atlantic ocean on our western shores.
They may look like cute, cuddly mammals, but don't be lulled into a false sense of security. They'll bring large prey like crabs, fish, octopus and lobster to land and make quick work of devouring the good bits, leaving slim pickings behind for the gulls and hooded crows.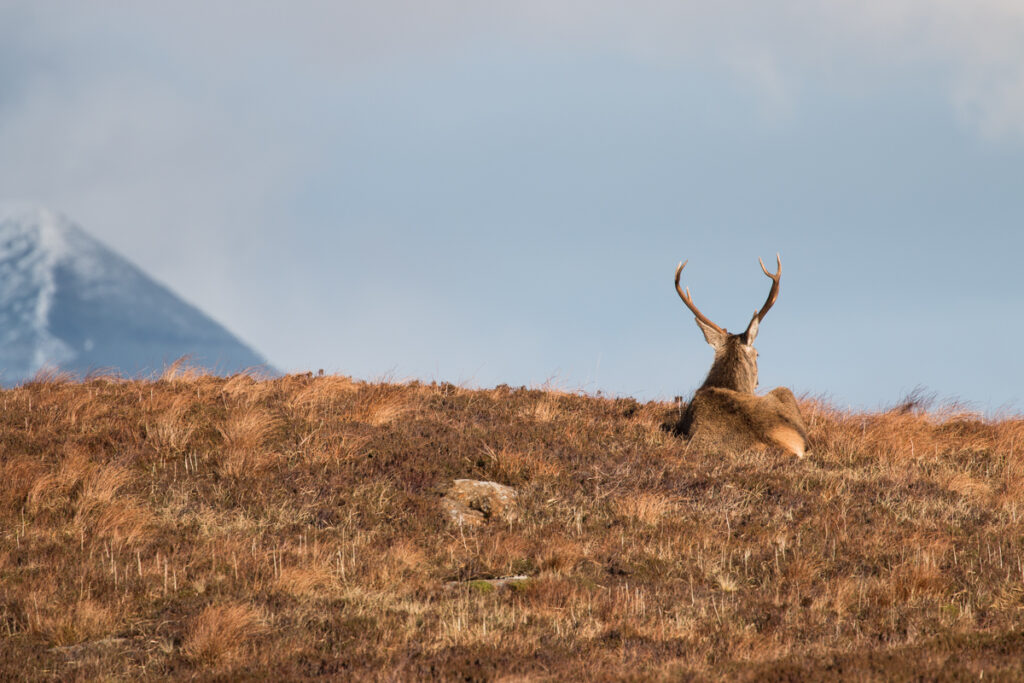 Red Deer
Mull has a substantial population of the Red Deer, the country's largest deer species. They're an impressive sight to behold, particular in autumn and early winter. Wildlife watchers look forward to the 'rutting season' each year. The primal sounds of bellowing stags and the clashing of their antlers as they battle out for top mating position are worth getting up for.
Throughout winter though, Red Deer can be seen quite easily as they spend time on the lower, richer feeding areas. Female Red Deer (hinds) will remain in groups with their fast growing calves born earlier in the summer.
We've lost many of our larger native herbivores in the UK, including the Aurochs (wild ox), Tarpan (wild horse), Moose and the few Reindeer we do still have are confined only to the Cairngorms, so all the more reason to seek out the majestic Red Deer here on the Isle of Mull.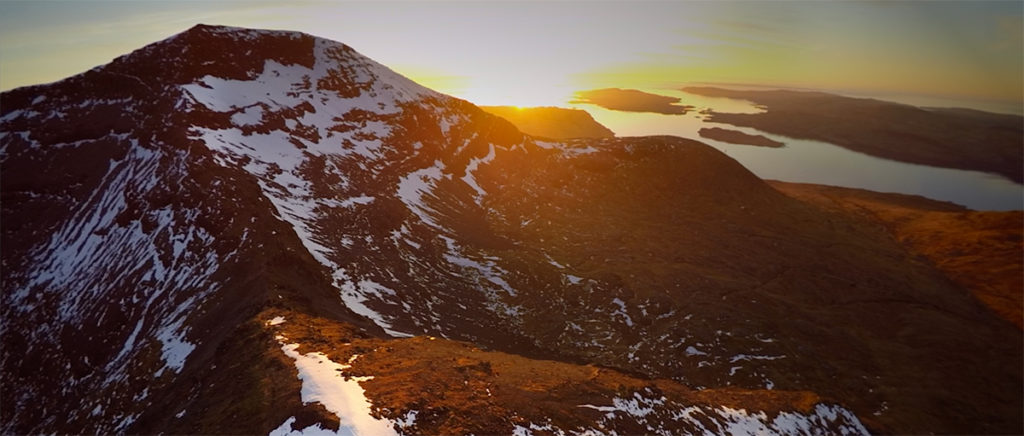 Hen Harrier
Eagles rightly take a great deal of the glory among birds of prey. However, the Isle of Mull is home to another rare raptor, the Hen Harrier which despite a smaller stature is just as intriguing.
The Hen Harrier is present in greatly reduced numbers throughout much of England and parts of mainland Scotland and is unfortunately linked to ongoing raptor persecution incidents on managed land. Thankfully, many islands including Mull are safer havens for these 'sky-dancing' birds.
We often have a good number of these vole-loving birds breeding here in summer months. Yet, our oceanic climate provides a warmer region to overwinter on our lower grounds. A crisp, cold winter day can yield excellent views of harriers hunting across rough ground searching out small mammals and birds.
Colder months also spur these birds to communally roost together, a spectacularly unusual sight, but spending time here in winter might increase you chances of seeing multiple harriers arriving at a night time roost to settle down.
Book your winter break on Mull this year and find out more about Nature Scotland wildlife tours.