The Isle of Mull scenery has to be one of the island's biggest attractions. Mountains and glens, lochs and burns… This island packs a lot into its 338 square miles of space. Isle of Mull waterfalls are also in abundance and here we guide you to some of Mull's most magical.
Aros Park, Tobermory
Aros Park is well worth a visit, with pathways through forest that offer fun for all the family. But the waterfalls here are spectacular too, surrounded by lush ferns, trees and vegetation. If you've been before, visit in autumn when the leaves are a blaze of copper and red. It'll feel like an entirely different experience again.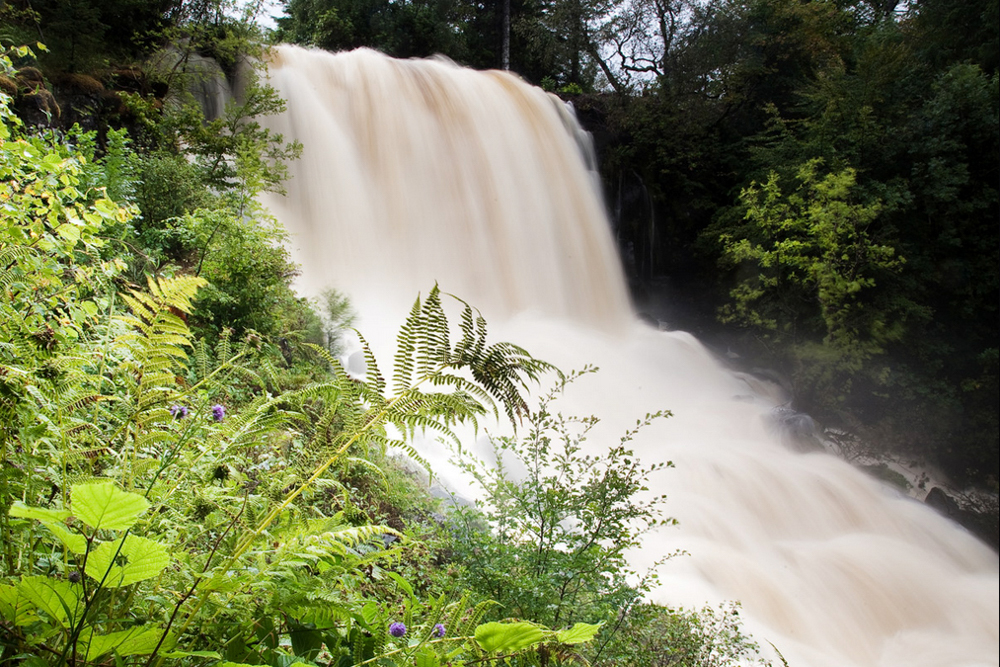 Eas Fors waterfall
Perhaps the most well know of all the Isle of Mull waterfalls is Eas Fors. Located on the west coast of Mull, not far from the famed Isle of Mull scenery of Laggan Bay, these falls are easily accessible from the road.
Flowing over three tiers, Eas Fors really is spectacular and a firm favourite with visitors and islanders alike. You can head up or down from the road to see each tier more closely, but take care over the rugged terrain and stay well clear of the drops.
The best thing about sunshine after the rain? The Isle of Mull's waterfalls are in full flow! This one is Eas Fors which is located on the island's north west coast. You park near an old bridge and walk along the river down to the falls which land in the sea on the shore of Loch Tuath.www.isleofmullcottages.com

Posted by Isle of Mull Cottages on Tuesday, 19 July 2016
Ben More pools
These Isle of Mull waterfalls have a character of their own, making them well worth the hike to get there. On the north-west side of Ben More, the Ben More pools burble across the landscape, meandering down smaller but more frequent rocky cascades. The water is magically clear and the falls frothy and soft – an amazing contrast to the mountains behind.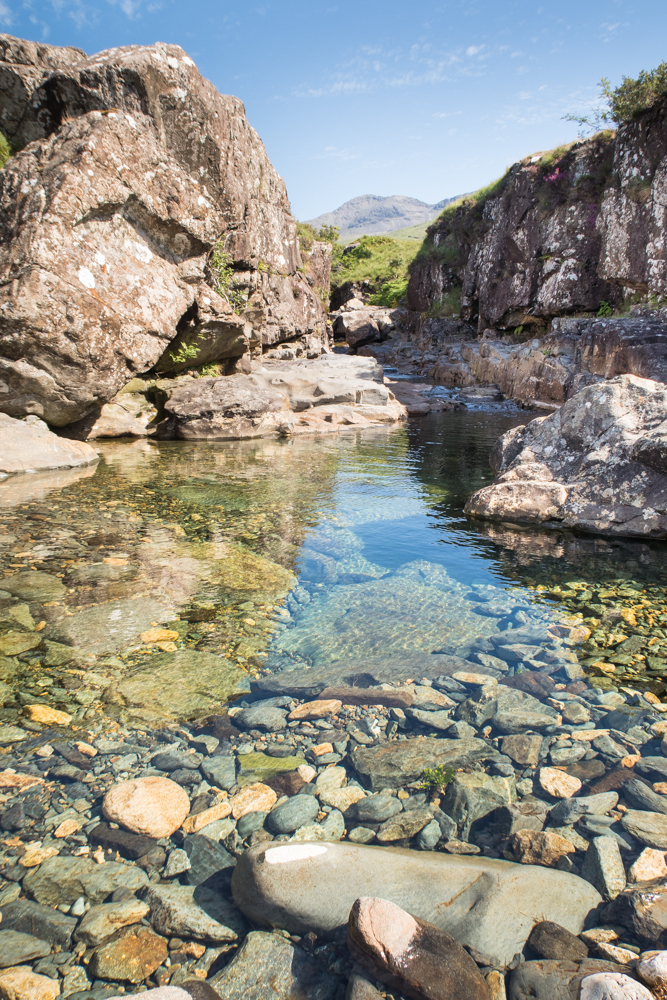 Eas Mor woodland waterfalls
Isle of Mull waterfalls are many and varied, especially after a spell of heavy rain. The fall along the Eas Mor burn has a beautiful, secluded woodland setting. The burn weaves through mossy banks and oak trees, trickling over a number of falls and passing through narrow dark gorges.
It's an altogether gentler, more serene experience, but no less lovely for that. Complete the experience by following the burn to the end, where you'll reach the sandy Port Donain beach.

Carsaig
After a nail-biting drive with a plummeting drop to your right as you approach Carsaig, you'll round a tight stone-walled bend, plunge into dappled shade and be grabbed by the sound of water rushing down beside a red telephone box!  This is Eas na Dabhaich, a cascading burn the source of which is Loch Fraing on the hills above.  This source keeps to falls flowing in all but the driest of weather.
Ben More hills
If you're looking for hidden gems on the island that most visitors have yet to discover, try the waterfalls that flow on the Loch na Keal side of the Ben More hills.  Here at Derryguaig the water cascades dramatically down a rock face into an immaculate blue pool. Flanked by stones and surrounded by deciduous trees, it could be paradise. This spot certainly gives the beauty of Skye's fairy pools a run for their money.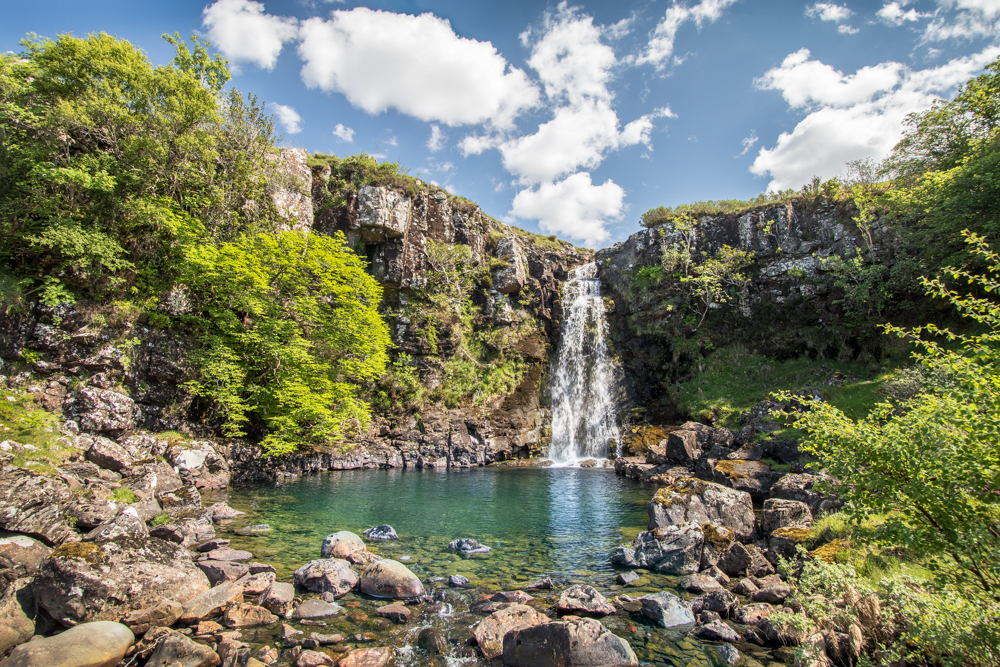 Ardmeanach Peninsular
Isle of Mull scenery ranges from rugged moorland to verdant woodland and rocky outcrops, and it's the latter you'll find when the burn Allt Airigh nan Caisteal flows into a waterfall.
You might recognise this of all Isle of Mull waterfalls because it found fame during a storm here. The winds were so strong that the water was blown back up the falls – the video of this happening went viral and was featured on news outlets worldwide!  As of 2018 our facebook video has been viewed 2.8 million times!
The stormy winds on Mull today were turning the waterfalls upside down! This was looking toward Ardmeanach 'The Wilderness' on the island's west coast.www.isleofmullcottages.com

Posted by Isle of Mull Cottages on Monday, 1 February 2016
Rubha Dubh
On the South coast of Mull between Carsaig and Lochbuie you'll find a beautiful fall at Rubha Dubh, where a channel of water slides down between two steep rockfaces.  Cascading between columnar basalt down to the boulder shore below where a small pool supports some unique plant life.  The best bit is you can walk behind this fall and look out to sea at to the waves crashing on the shore!
Which are your favourite Isle of Mull waterfalls and why?