Mull may be best known for its wildlife, but there's plenty to delight the plant lover too, whether keeping your eyes peeled for unusual orchids amid the summer wildflowers, or for rare alpines that grow on remote peaks. And when it comes to Isle of Mull gardens to visit, botanists will be in their element, with not one but several lovely gardens to visit.
Here's a round-up to leave green-fingered guests feeling inspired, with a special focus on the stunning gardens at Lip na Cloiche, which are no strangers to the pages of many horticultural magazines!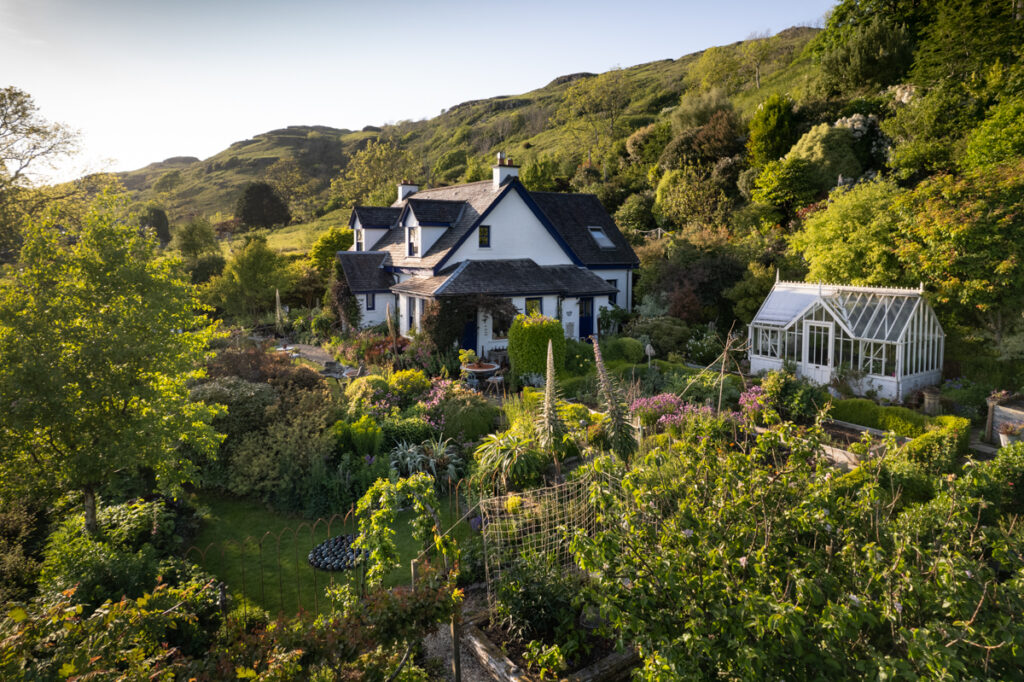 Lip na Cloiche, North West Mull
A celebration of Mull's microclimate, you'll be amazed at what you find growing here! Towering echiums more often seen in the Canary Islands pop up throughout this terraced garden, which climbs the steep hillside with borders and banks packed with unusual and beautiful plants, as streams cascade and tumble down to the sea. The likes of agapanthus and hibiscus join the more tropical ranks, which grow surprisingly well in this Hebridean garden.
Throughout the garden, found items are reimagined as plant supports, from bed frames to old forks, while glass fishing floats form a feature beneath the espalier apple trees. In the early summer, Himalayan poppies pop up and adorn the garden in beautiful blues, as well as lemon and pink pastel tones, while the tree echiums send up spires of blooms beloved by the bees as summer continues.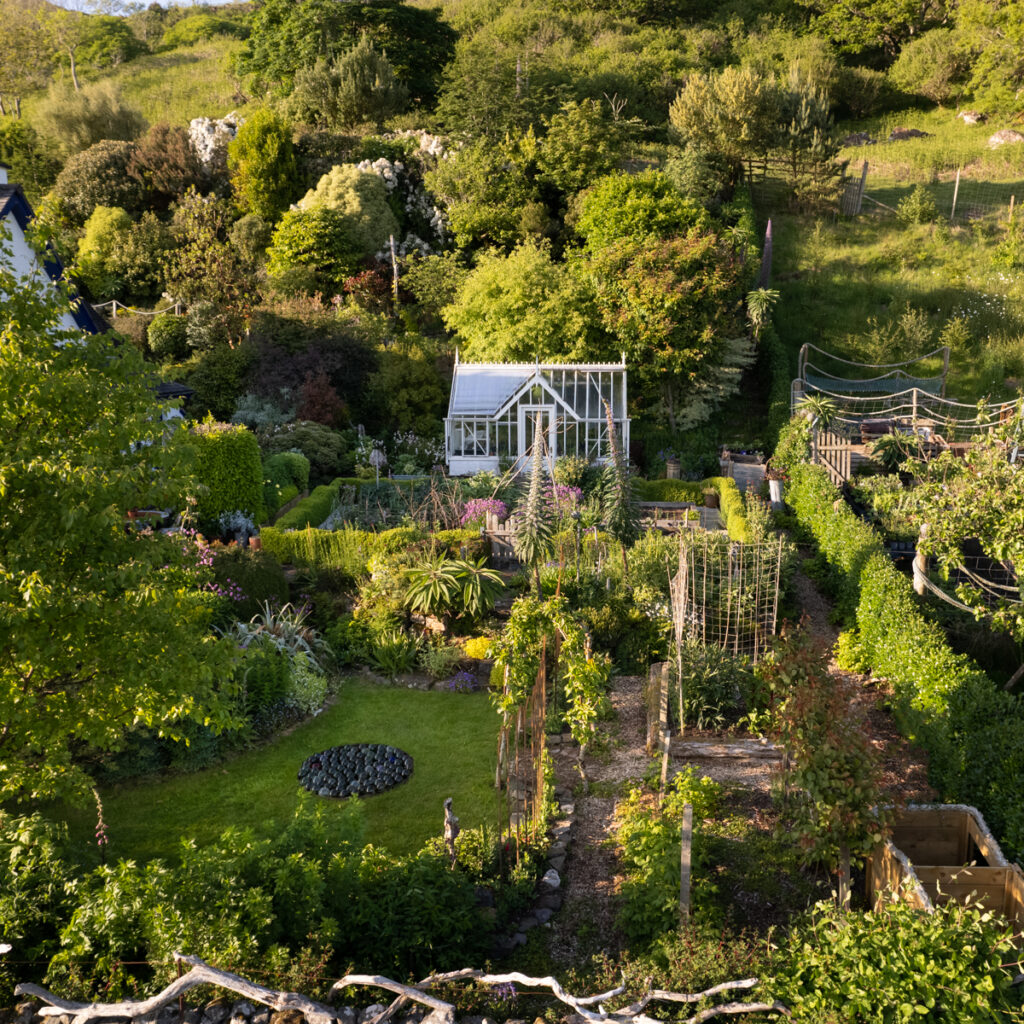 Cottage garden favourites, from geraniums to astrantia and pale blue to deep red hydrangeas, spring up in the borders, with the likes of hellebores, corydalis and euphorbia bringing plenty of early season interest too.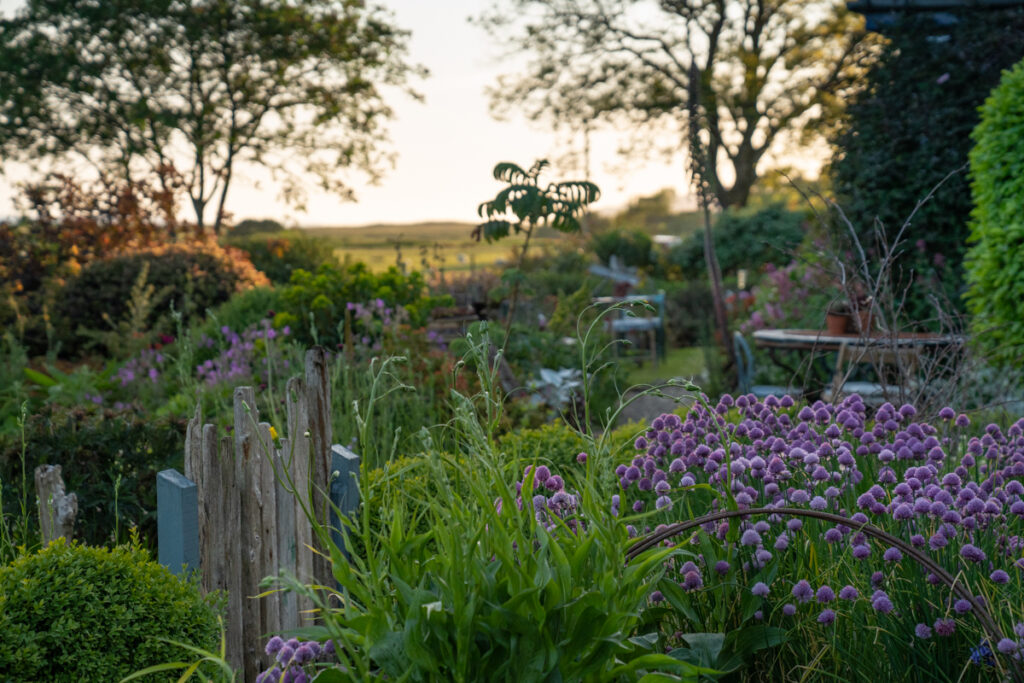 And while flowers have taken centre stage thus far, there's no forgetting that Lip na Cloiche is also a garden packed with trees. From the paperbark maple to crab apples and ekianthus, trees – often flowering – elegantly punctuate each part of the garden.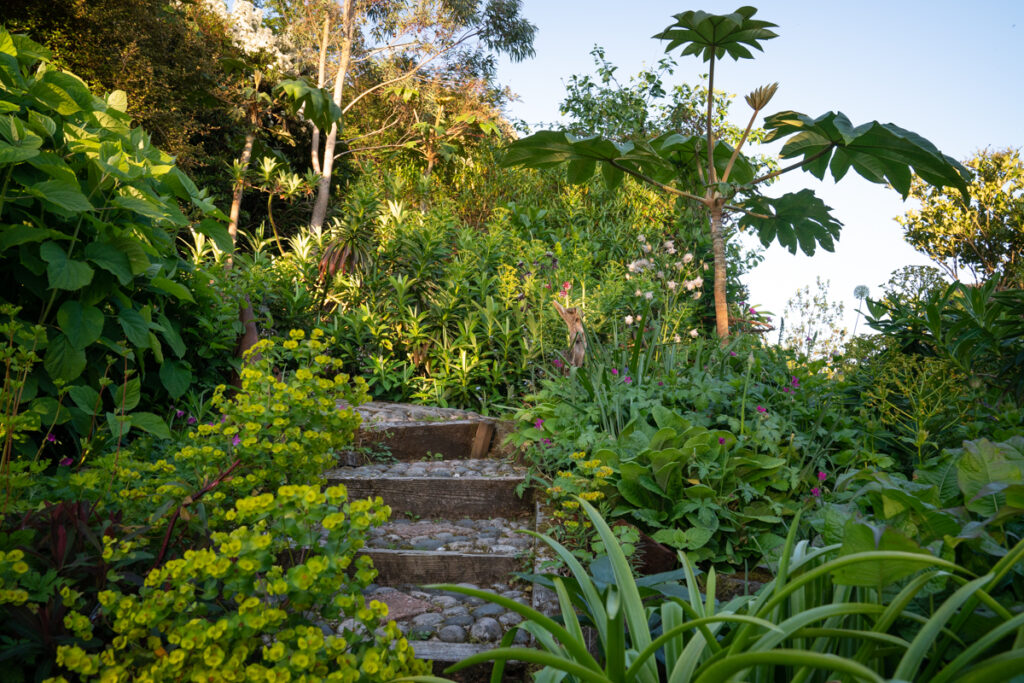 Take a peek into the manicured vegetable garden and venture beyond the chicken coops to the hay meadow. Flowing grasses intermix with wildflowers here, offering a lovely spot to sit on a bench and soak up the sea view, surrounded by birds and pollinators.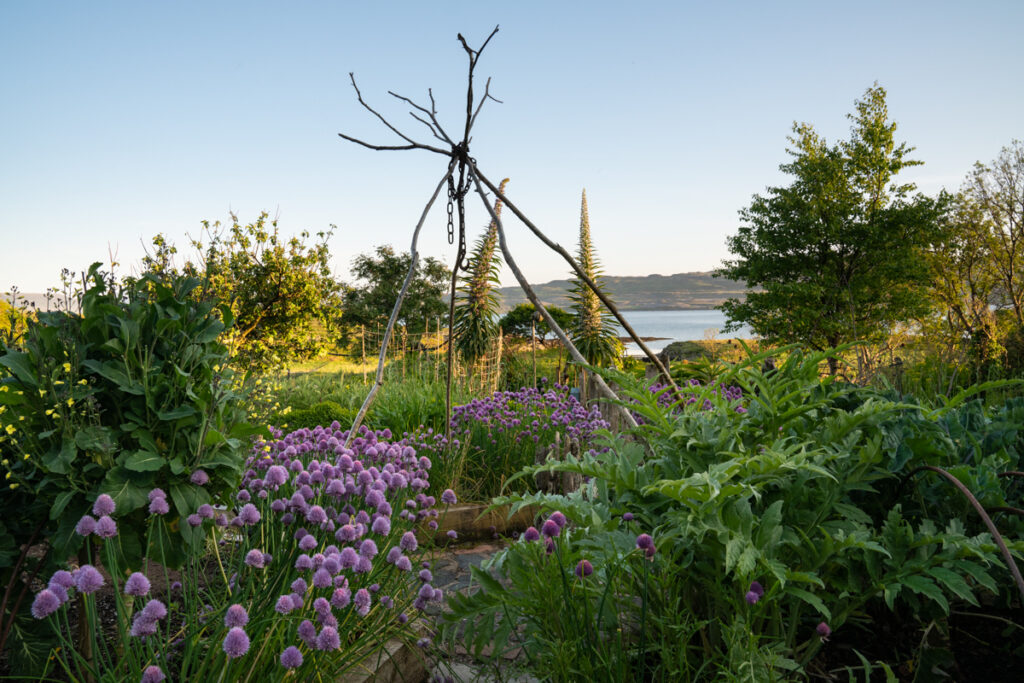 You can usually find Lucy working in the garden somewhere if you're keen to learn more about its creation. Entry is by donation and the garden raises funds for local causes each year, often including the RDA. There are stalls of plants for sale to take home with you too if you've space in the car!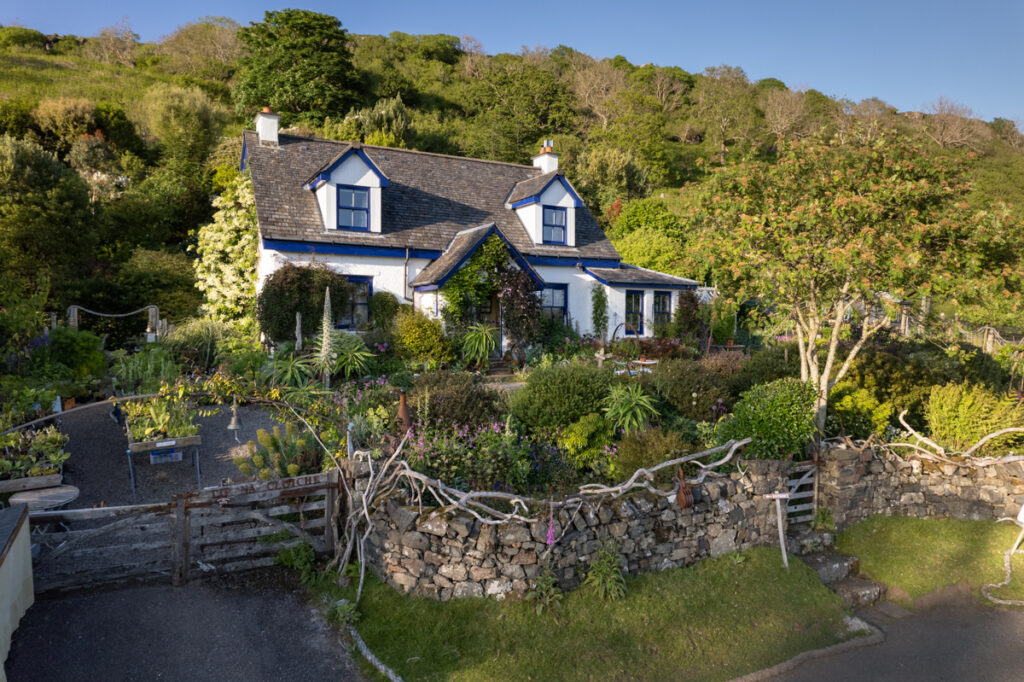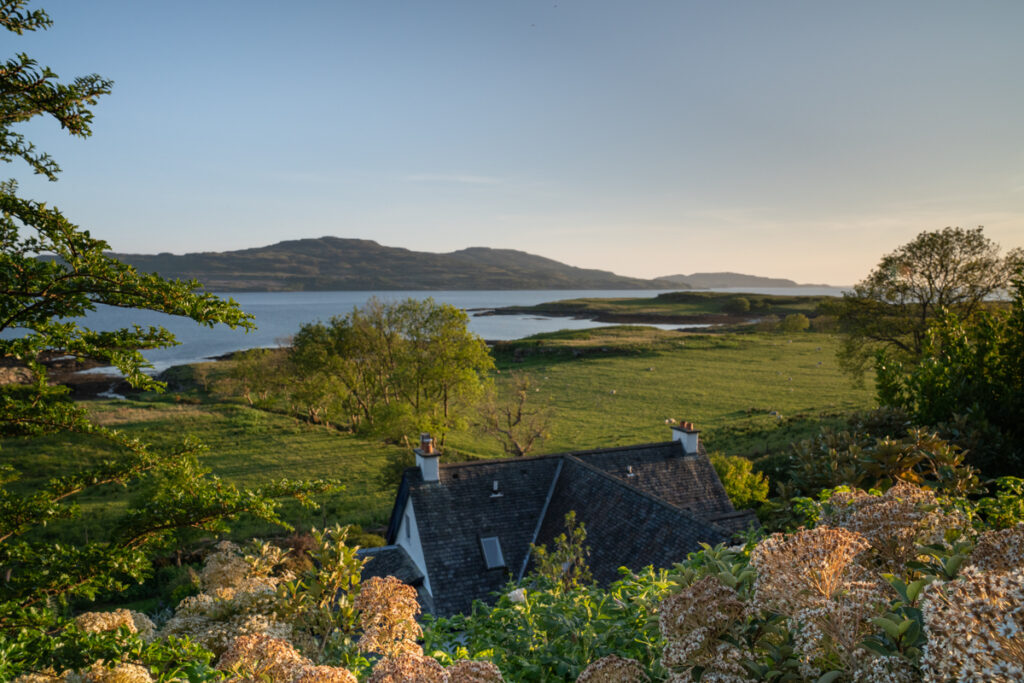 Other Isle of Mull Gardens to Visit
Torosay Castle Gardens, South East Mull
You'll need perfect timing to experience this magnificent castle gardens, as it's only open for the first Sunday of the month during the growing season.
But visit and you'll be well rewarded, with enchanting Japanese inspired gardens where acers hug the water, magnificent tree ferns line pathways and gorgeous rhododendrons, azaleas, roses and hydrangeas add colour all through the season.
From large landscaped gardens to the ornate terraces with fountains and the walled vegetable garden, there's plenty to explore.
Ross of Mull Community Garden, South West Mull
A productive community garden project brimming with locally grown fruit and vegetables in season, and also host to community gatherings through the year to seed swap, sell plants and get everyone involved in growing.
Ulva House Garden, Isle of Ulva
Not quite an Isle of Mull garden itself, this one is close by! With towering specimen rhododendrons and azaleas, a walk through this garden traces it back to its roots when it was once the private garden of the big house.
While wild elements have now crept in, the garden remains tended by a team of volunteers and retains plenty of magic. Well worth exploring when you hop across to the Isle of Ulva from Mull's west coast. A great one to team with a visit to Lip na Cloiche, as Lucy's garden lies just along the road from the Ulva ferry.