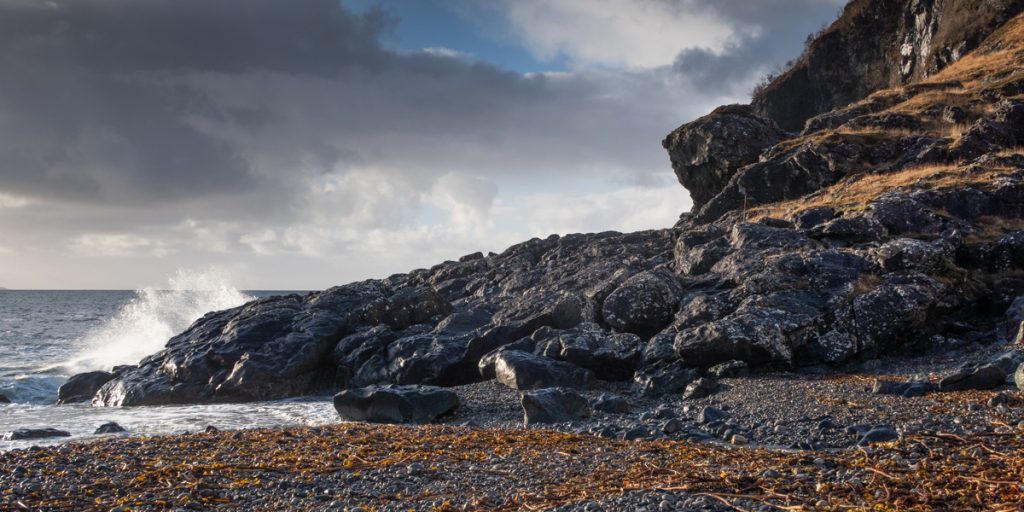 The following photographic blog covers one of the Isle of Mull's more remote and challenging areas, a lack of paths, difficulty navigating and tough terrain make this a serious expedition for the experienced only. This is not a suggested route!
Situated in the Isle of Mull's south east the Laggan Deer Forest lies to the south west of Croggan on an area of land that is connected to the rest of Mull by two narrow isthmuses, one at Kinlochspelve, another at Lochbuie.
A glance at the map reveals that this is an area with interesting geology, history and some intriguing place names, from Glen Libidil, to Lord Lovat's Cave.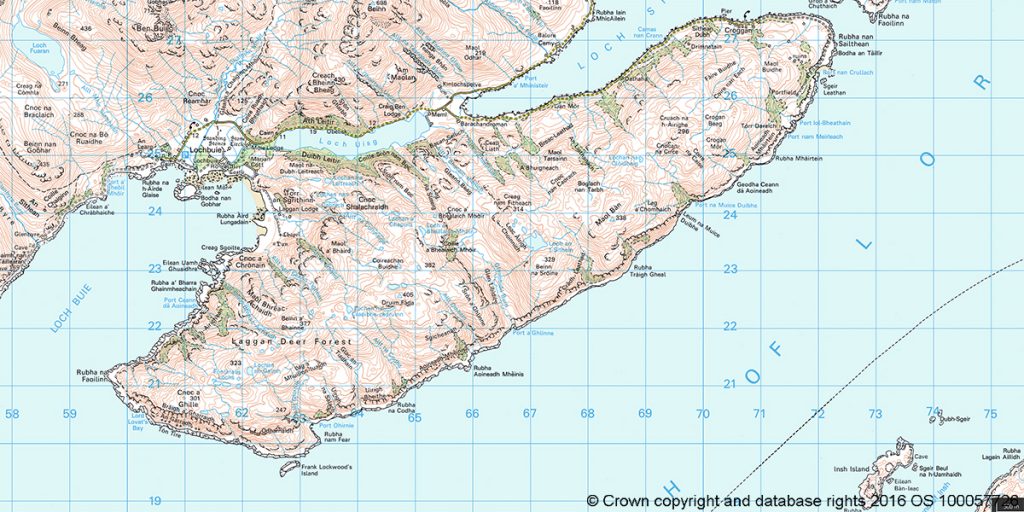 Our day began with a spectacular sunrise over Loch Spelve, a large sea loch with a narrow opening to the Firth of Lorne at Croggan.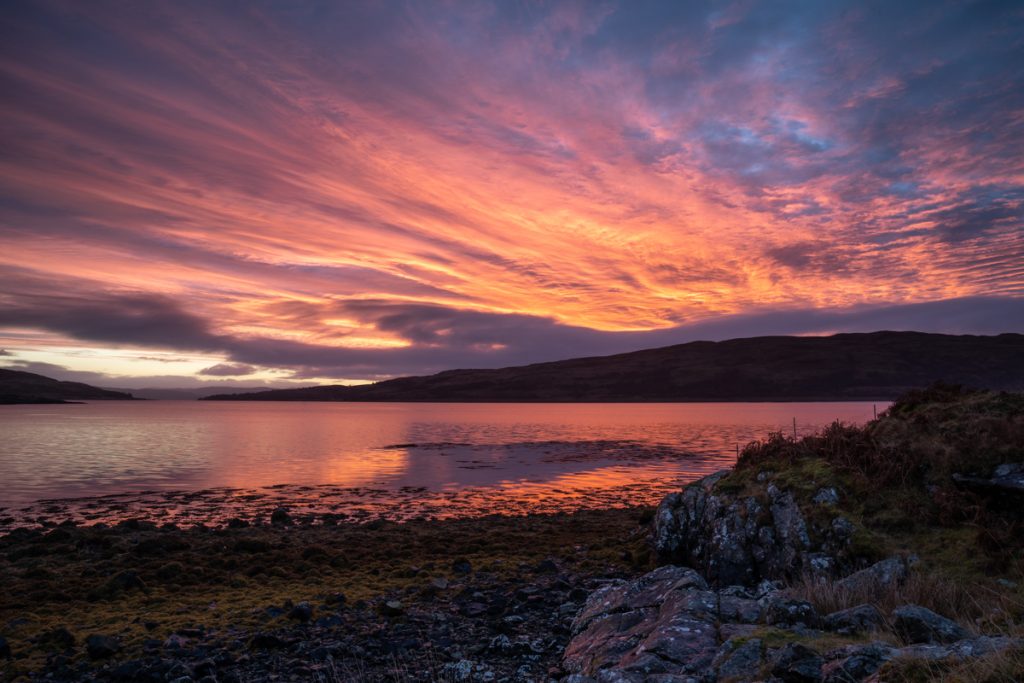 Starting our walk at Kinlochspelve by climbing the rugged hills via Gleann Bheag we began descending into Glen Libidil. There are many signs of former settlements on the hills here, thought to vary in age from the neolithic, to the medieval times up until recent history.
Glen Libidil means deep valley, or more accurately dale, an apt description that perfectly describes the lay of the land. There are areas of interest here for geology fans, including exposed Jurassic rocks and volcanic formations.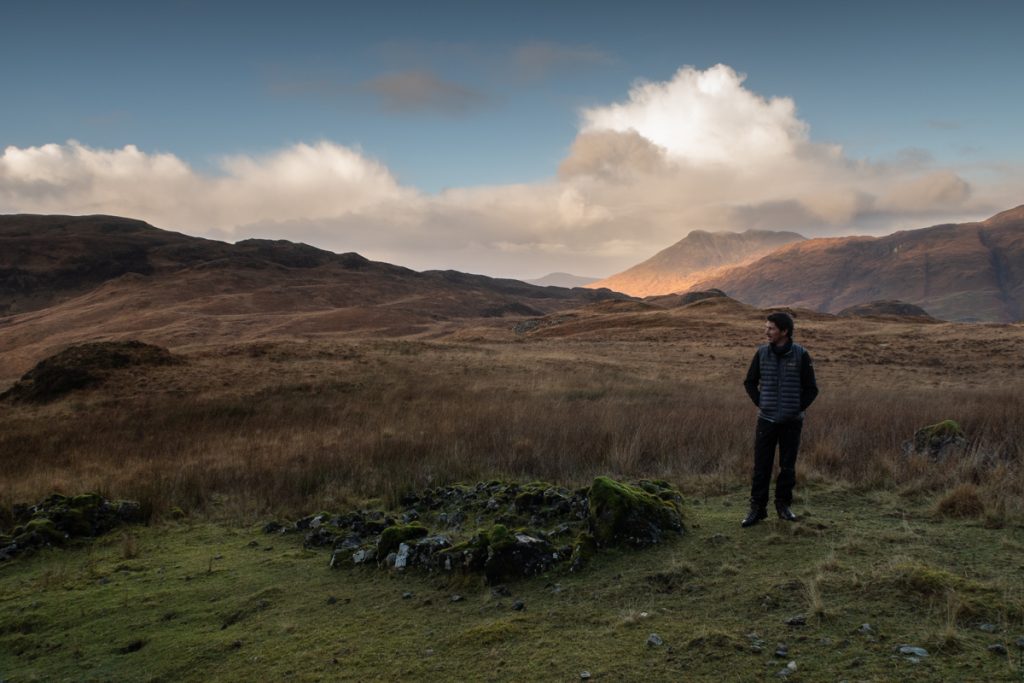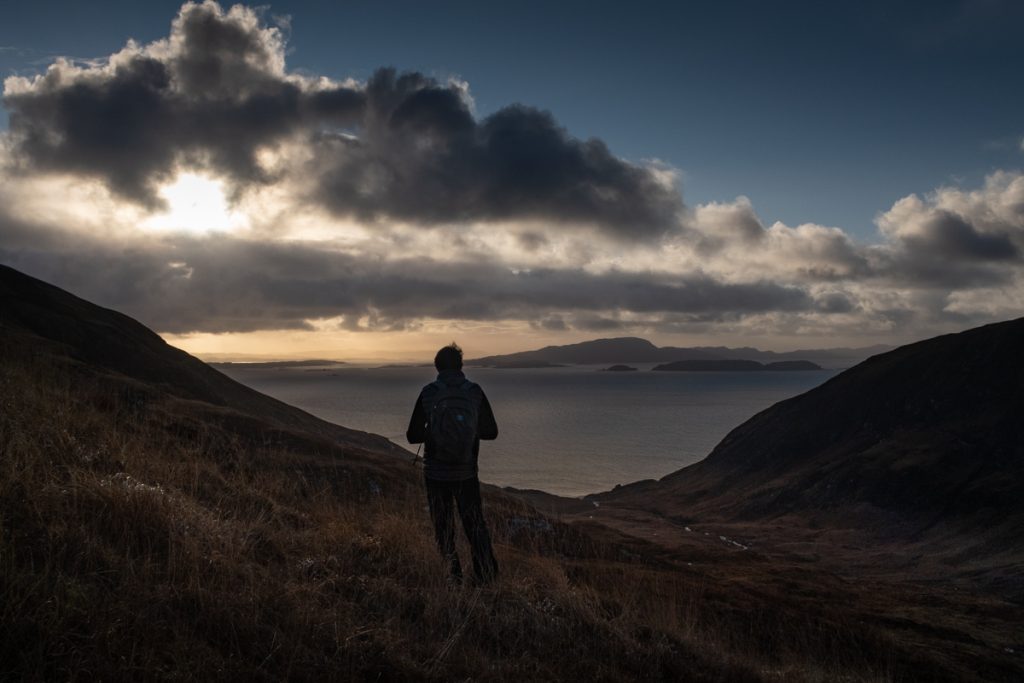 Reaching the coast at Glen Libidil there are excellent views over Argyll's southern islands, including Scarba, Jura, Islay and closer to Mull the long chain of the Garvallachs. Winter gales had washed large quantities of kelp ashore, which was much appreciated by both the red deer and wild goats we saw dining in the area!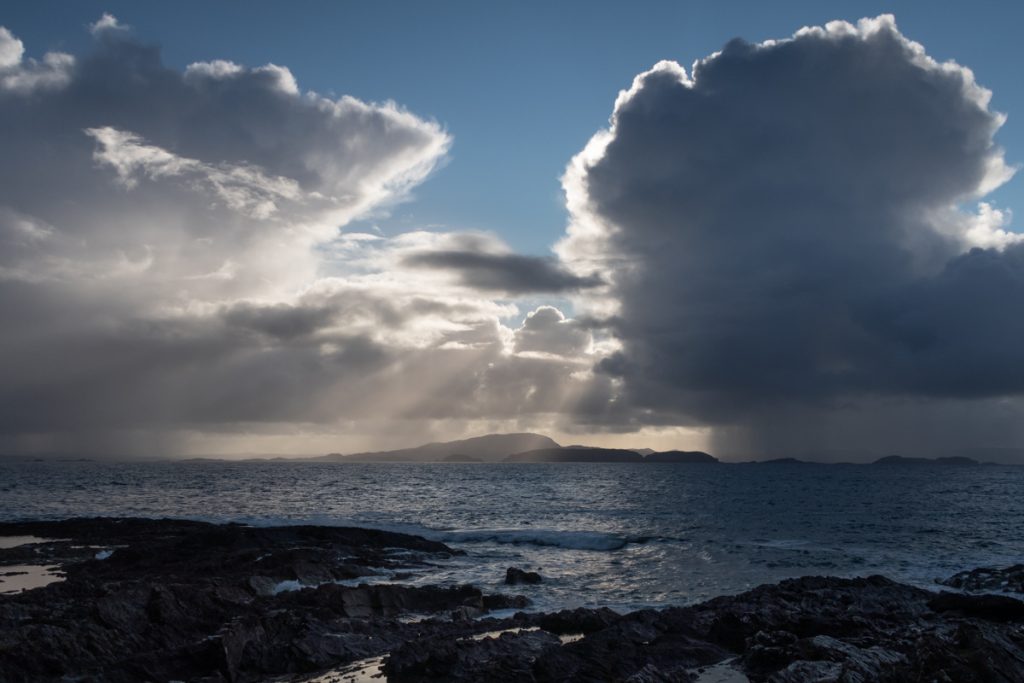 From here we followed the coastline heading south east toward Frank Lockwood's island. The terrain here is beautiful, a mixture of cliffs, gnarled oak trees, waterfalls and raised beaches. The sea views are superb and an eye should be kept open for passing porpoise and otters. To the skies there are common sighting of eagles and the majestic red deer appear to thrive in the area, perhaps justifying the name Laggan Deer Forest.
Also of note along this section of coast are the remains of a shipwreck most probably the RFA Maine a vessel that was being used as a hospital ship when it was wrecked ashore on 21 June 1914 in dense fog whilst sailing toward Oban. The ship struck Frank Lockwood's island, however the remains of the vessel have now washed up over a very wide area.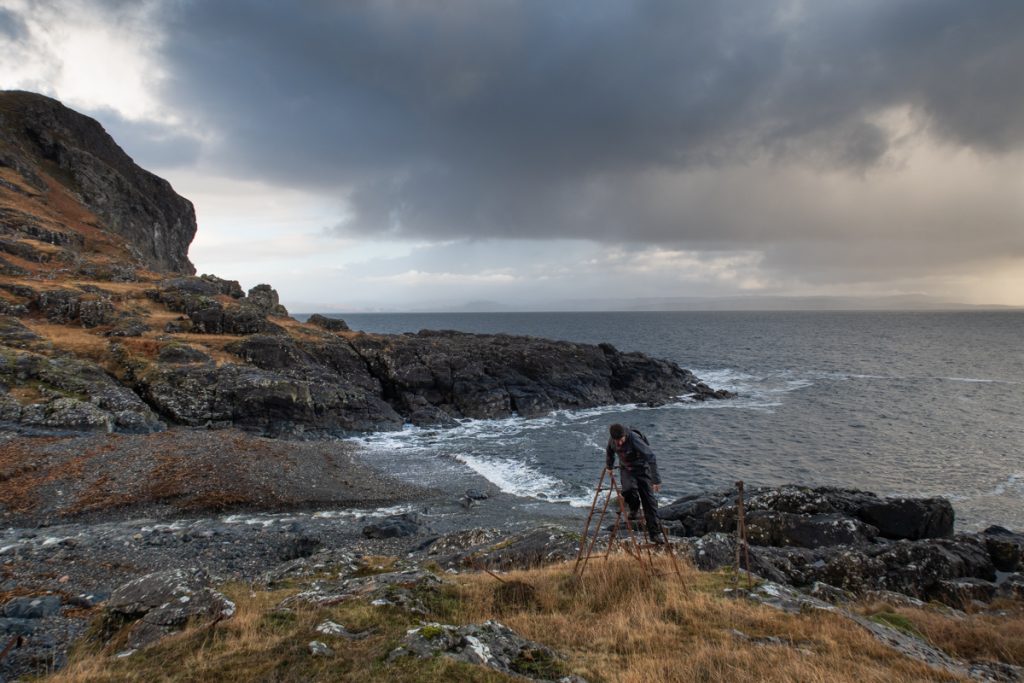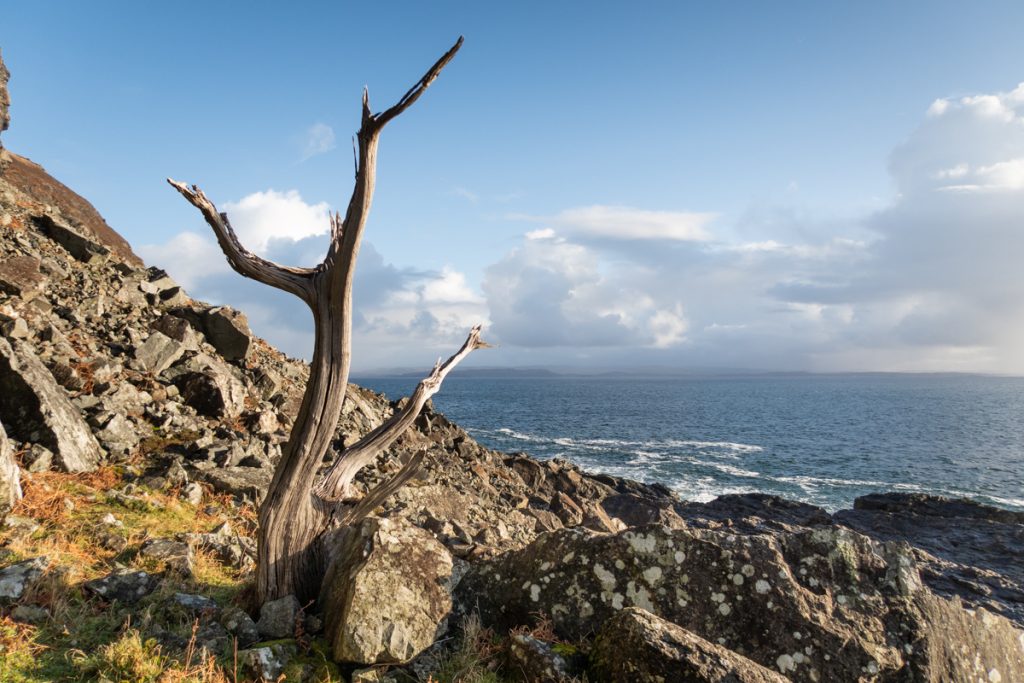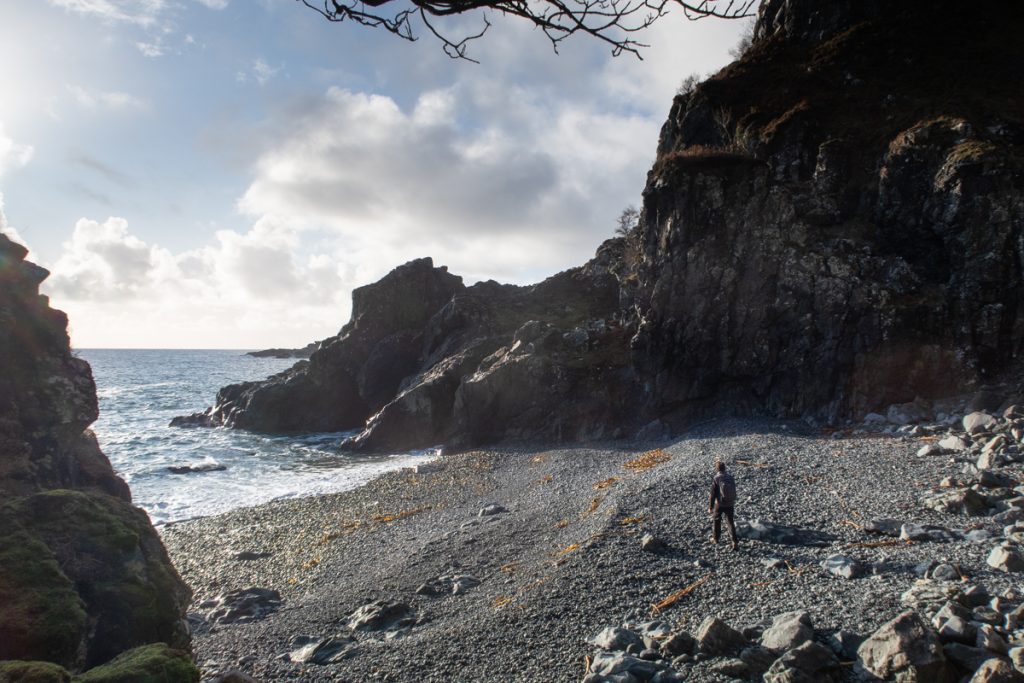 We paused for snacks and coffee at the beautiful pebble beach below Uirigh na Salach past which point we found the difficulty of the coastal terrain led us to backtracking to climb (some very steep ground!) uphill before descending again towards the bay of Port Ohirnie, one of the few sizeable bays along this rugged stretch of coastline and a listed anchorage for boats.
Port Ohirinie has an area of gently sloping ground with mature oak and ash trees along the coast. The beautiful Allt Ohirnie and Allt Bealach Luirginn combine to form a small river which flows into the bay. The remains of a small bothy or possible black house sit to the eastern side of the bay.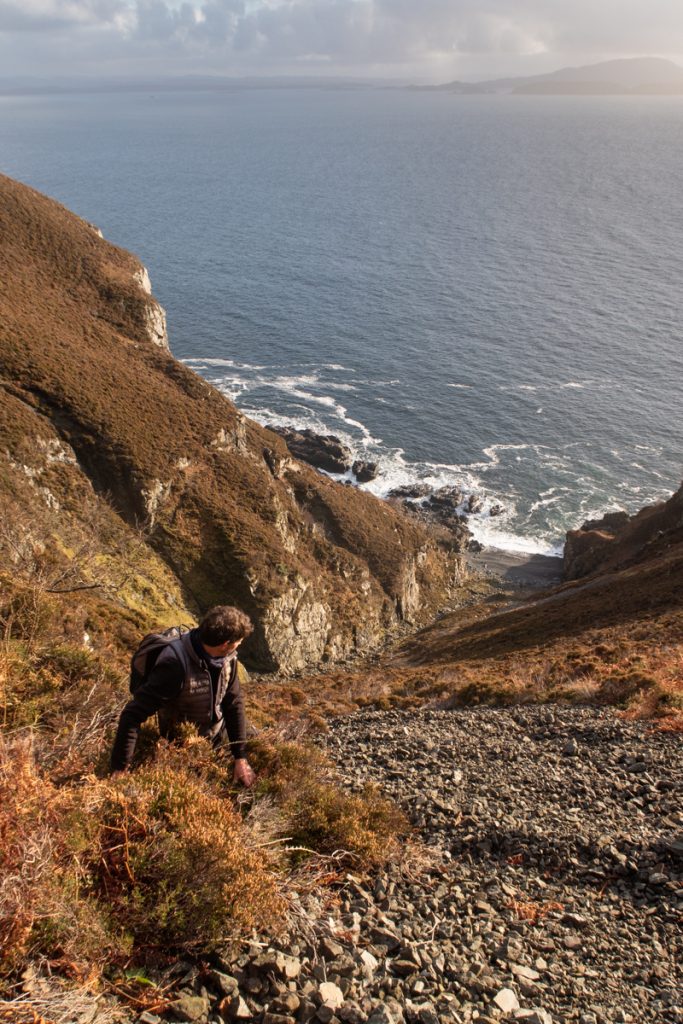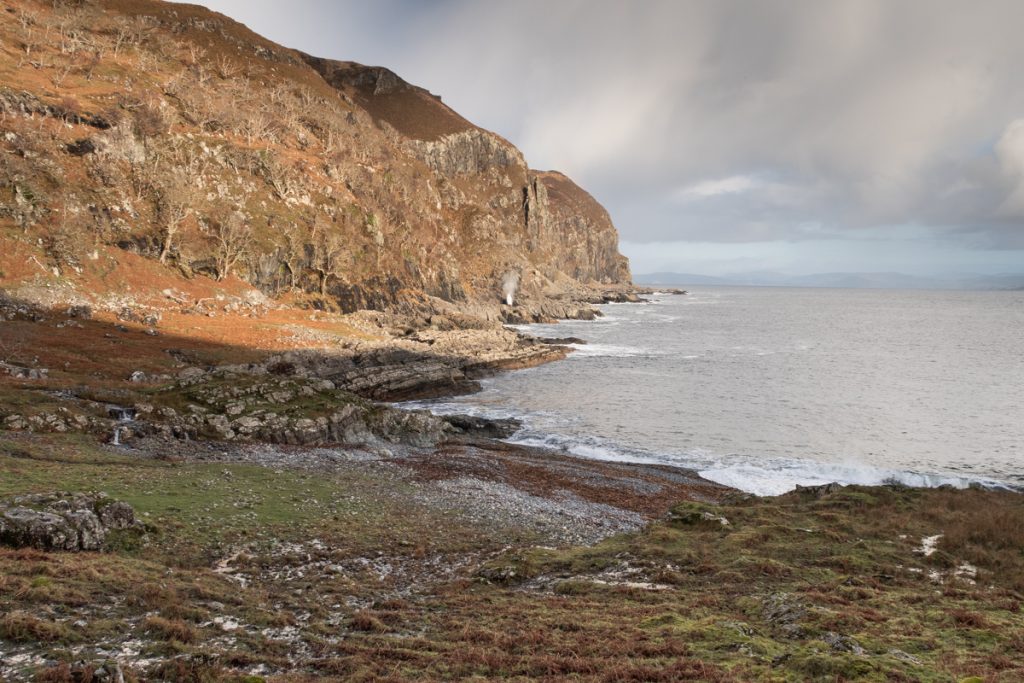 Continuing on we rounded Rubha nam Fear before the views over Frank Lockwood's island open up. Frank Lockwood was a Liberal MP of the city of York and was said to be fond of visiting the island from Lochbuie in a rowing boat. The low lying island is host to a variety of birds and must have stunning views back towards Mull's coast, which is especially rugged and dramatic in this area.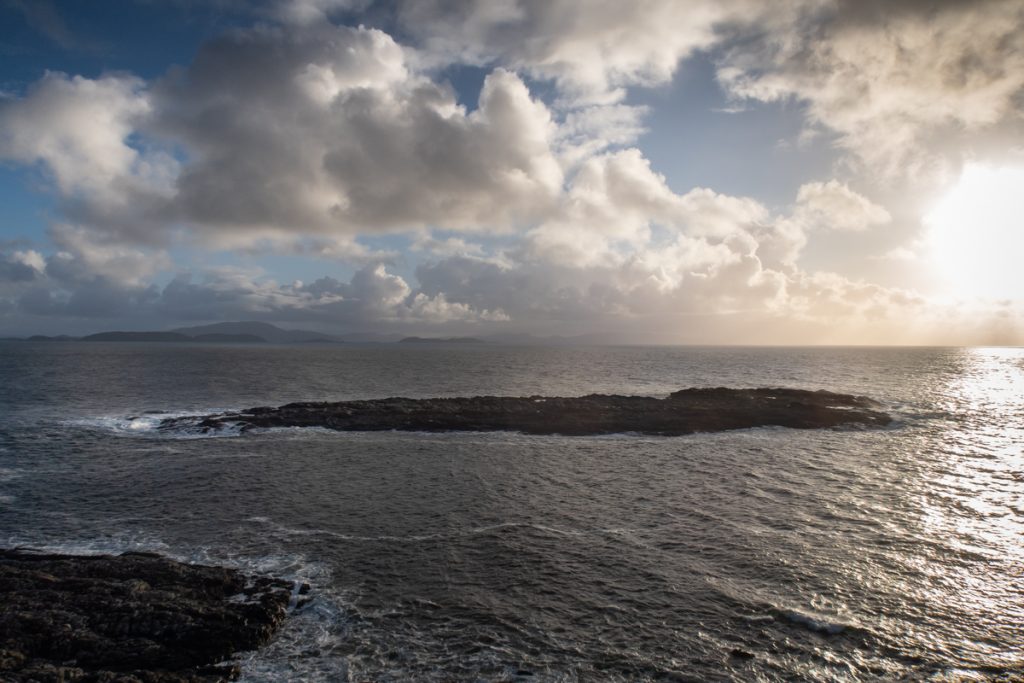 From here onward the terrain again becomes increasingly difficult. passing between huge cliffs and steep boulder and scree fields we headed north aiming for Rubha na Faolinn with plans for exploring some of the incredible geology and features along the way.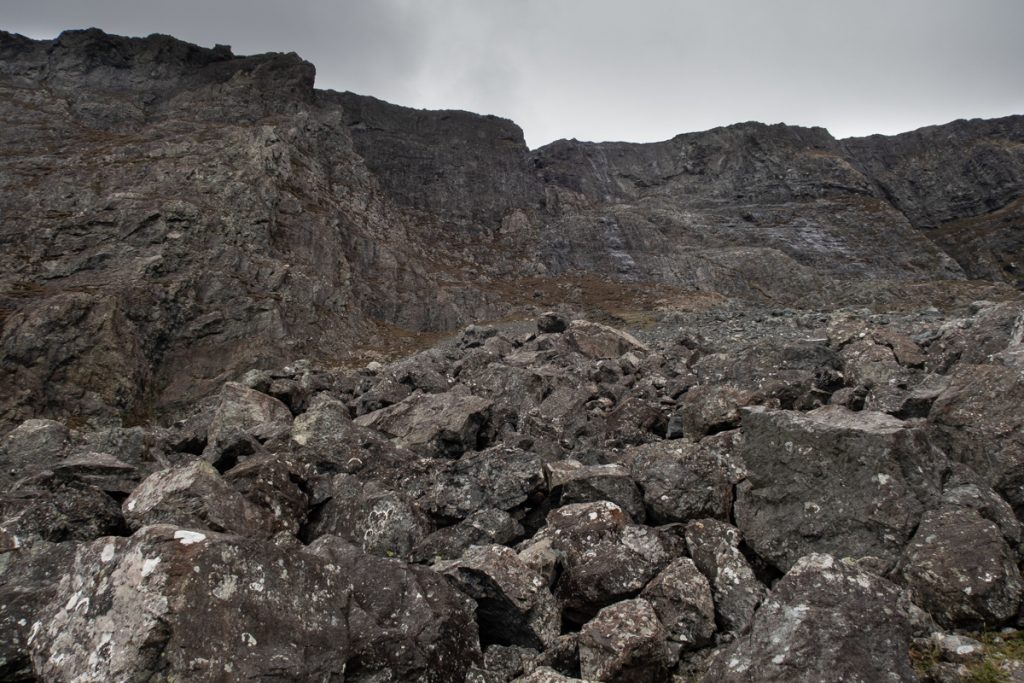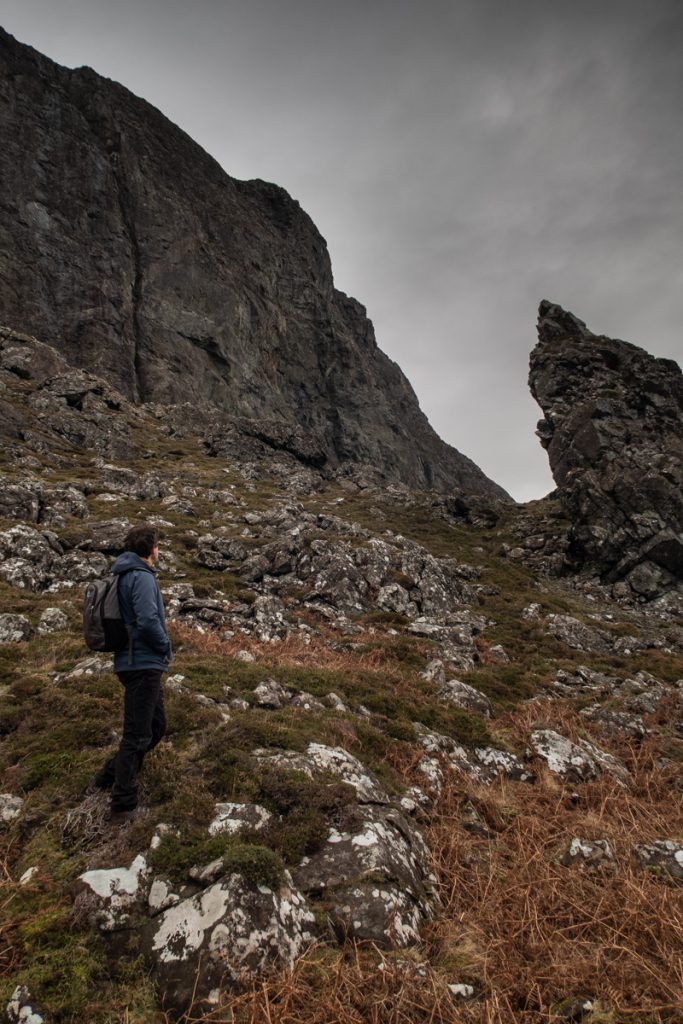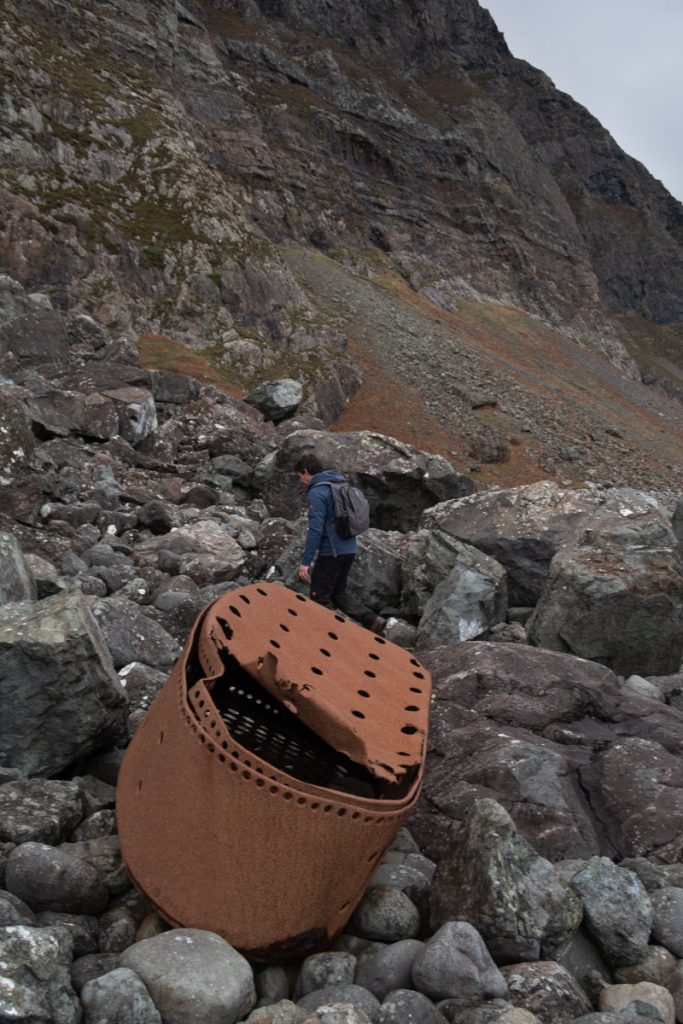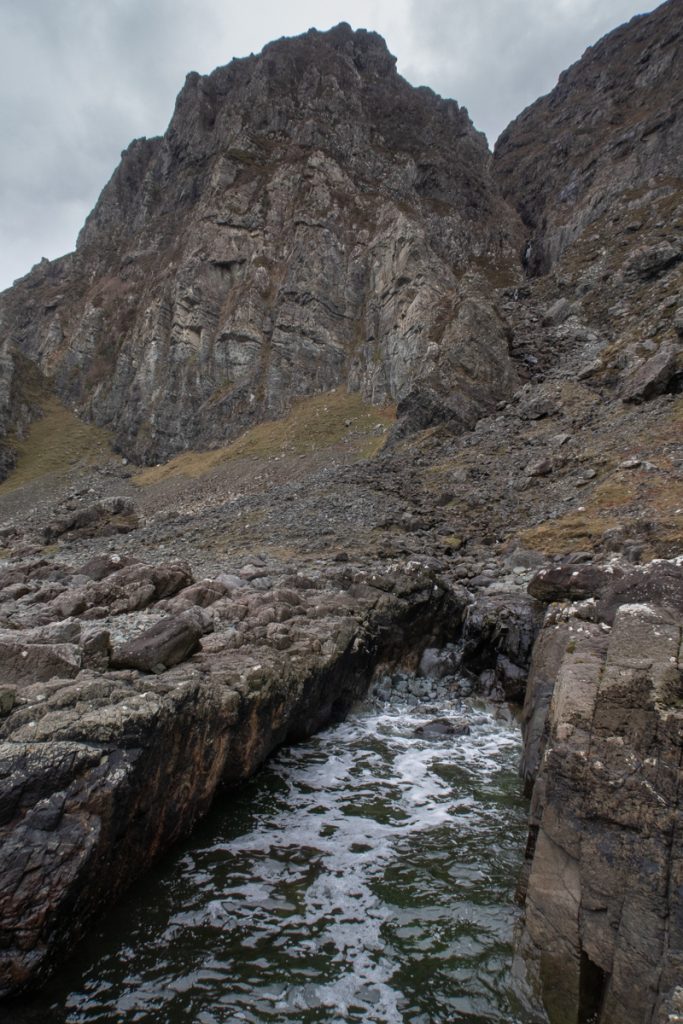 As we neared Lord Lovat's bay we were optimistic that we may be able to explore Lord Lovat's Cave. During the 1745 Jacobite rebellion Lord Lovat hid here in a cave with a chamber of around fifty feet in length. Lovat was a Jacobite and clan chief, known to switch allegiances at points he was eventually defeated at the Battle of Culloden and beheaded. During his time int he cave he was helped by the owners of Lochbuie House who supplied with with provisions.
Unfortunately a landslide of rocks has blocked the entrance to the cave, so our exploring was limited! However the area does still has a special feel to it if you are feeling imaginative!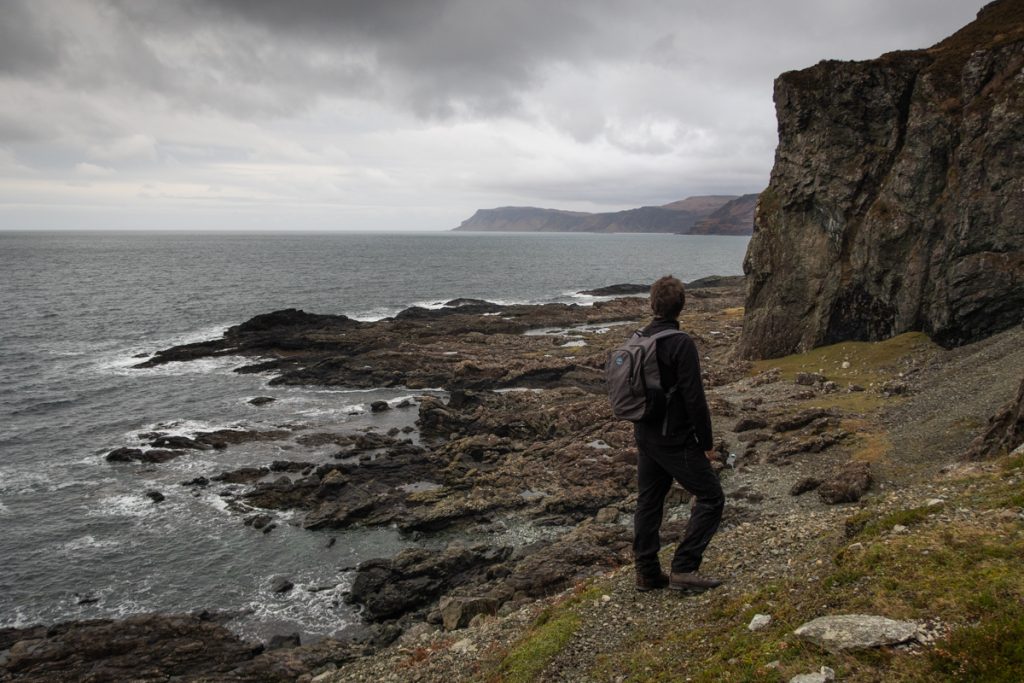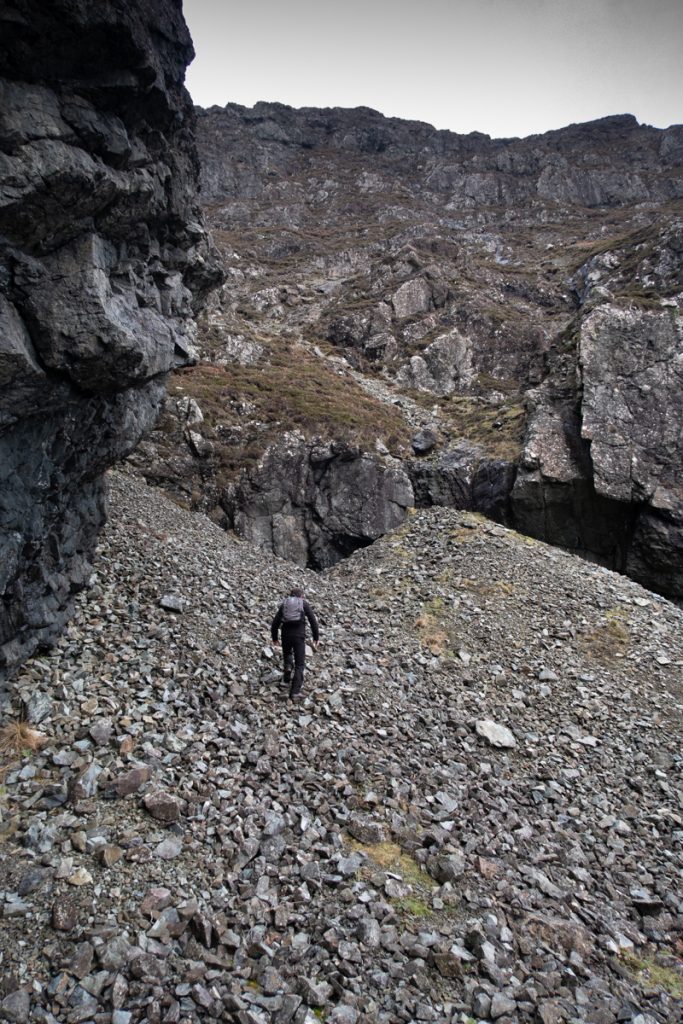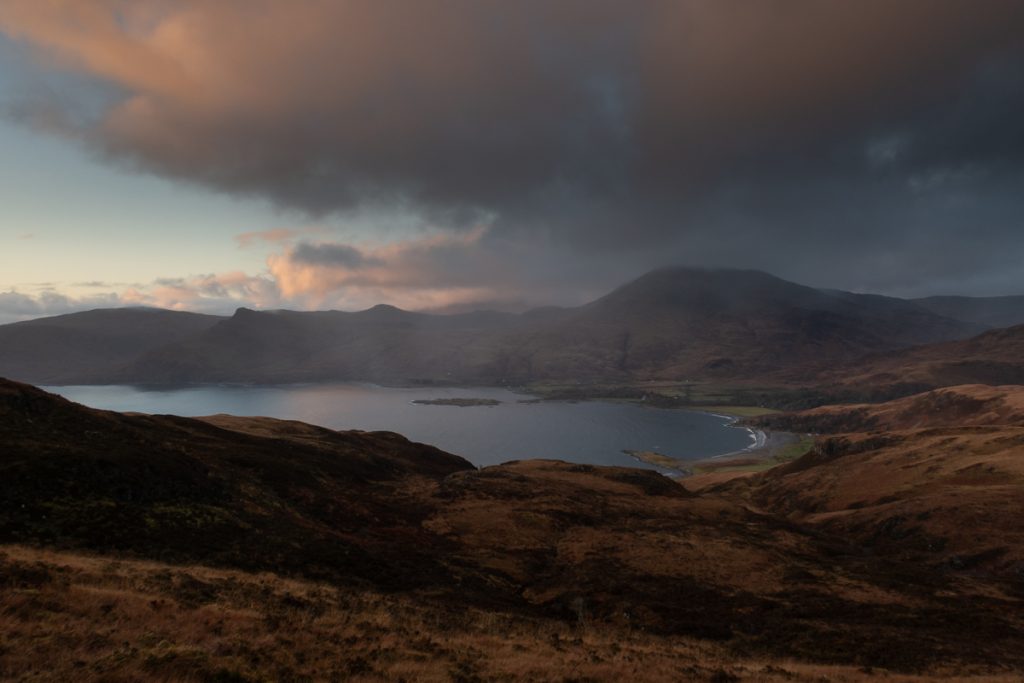 Our route continued around the coast towards the stunning Laggan and Lochbuie, one of Mull's most picturesque areas to visit. We opted to explore some of the hill country here too, before finishing our day with assistance of head torches!
If you would like to plan your next day out on the island then you may be interested in our series of more conventional walking routes, all detailed with Ordnance survey maps with routes marked on and photographs of the terrain: Isle of Mull Walking Guide