North Mull

Cafe Fish | Tobermory
An award winning restaurant, ideal for seafood lovers with fish brought in from their own boats. A fantastic menu with lunches and evening meals provided.
01688 301253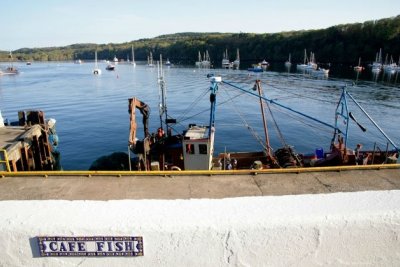 Am Birlinn | Calgary
Another restaurant providing using superb local produce to create their dishes. All served in a warm, relaxed and friendly atmosphere. Lunches and evening meals.
01688 400619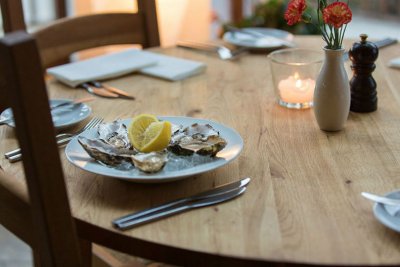 The Bellachroy | Dervaig
Dine in the oldest Inn on the island in the village of Dervaig. The Bellachroy offers lunches, dinners and children's menus and serves local produce including the 'catch of the day'.
01688 400314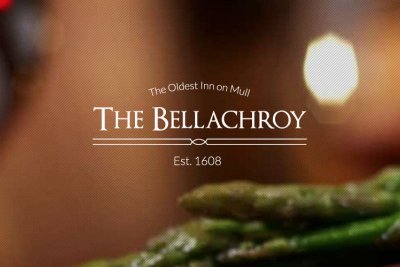 Highland Cottage
A fine dining experience with a relaxed atmosphere is provided by Jo and David Currie at Highland Cottage who have held 2 AA Rosettes for almost ten years.
01688 302030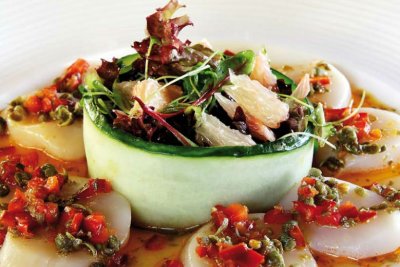 Western Isles Hotel
An iconic building set high above the harbour with terrific views of the harbour. Lunch and evening meals available.
01688 301253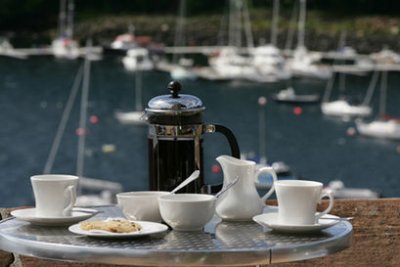 The Galleon Grill | Tobermory
Tucked behind the post office on the harbour front, the Galleon Grill is well worth seeking out and specialises in chargrilled steaks made from Aberdeen Angus or Highland beef.
01688 301117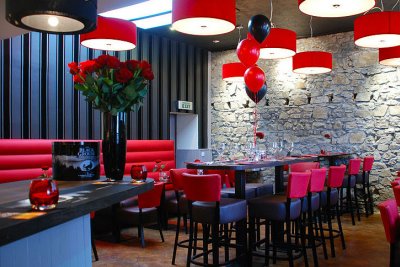 The Gallery Cafe | Tobermory
In a beautifully converted church, the gallery cafe is open for lunches on the harbour front. An extensive menu with a gift shop to explore too.
01688 301253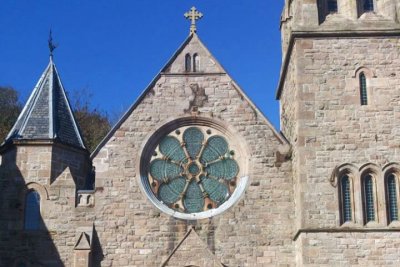 Carthouse Tearoom | Calgary
The tearoom at Calgary offers teas, coffees, soups and sandwiches. There walls are adorned with artwork from local artists.
01688 400256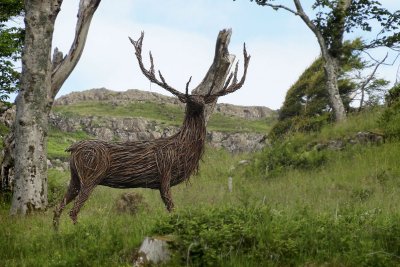 An Tobar Cafe | Tobermory
The Arts Centre sits in an elevated position behind Tobermory's main street and its little cafe should not to be overlooked. Popular with locals it serves delicious drinks and quality home cooked food. Try the daily special.
01688 302211

Ballygown | Near Ulva Ferry
A family run restaurant on the west coast of the island. The menu changes daily with delicious home cooked starters, mains and puddings made by Jeanette. Happy to cater for different diets. Booking is advisable.
01688 500113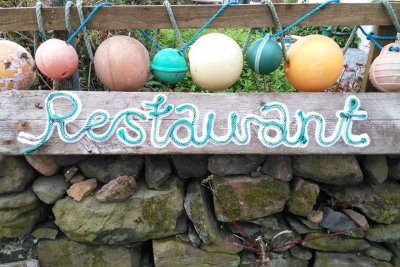 The Boathouse | Isle of Ulva
A unique dining experience on the Isle of Ulva (a short boat trip from the Isle of Mull). Specialising in fresh local shellfish dishes (landed from the family boat) as well as delicious home baking, soups and daily specials. Enjoy a fantastic lunch and then take a walk around this picturesque island.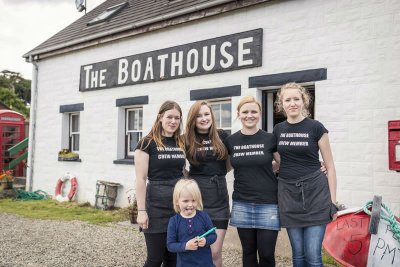 Macgochan's | Tobermory
Sitting next to the Marine Harbour Centre in Tobermory, Macgochan's offers lunches and evening meals in its bar and restaurant. Local produce such as Glengorm beef, Inverlussa mussels and Isle of Mull king scallops are included in the menu and there is a restaurant and bar, as well as outdoor seating. Catering for functions too.
01688 302350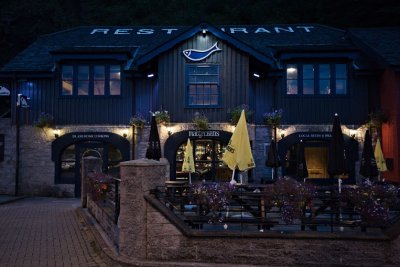 Glengorm Coffee Shop and Gallery | North Mull, Near Tobermory
In converted stables, Glengorm Coffee Shop offers fresh baking and lunches, all cooked on the premises using produce from the farm and walled garden. You can also buy the lamb, venision and beef from the Glengorm estate here, as well as some seasonal garden produce and local smoked fish. There is a gallery above the coffee shop showcasing work by local artists. Glengorm is a fifteen minute drive from Tobermory.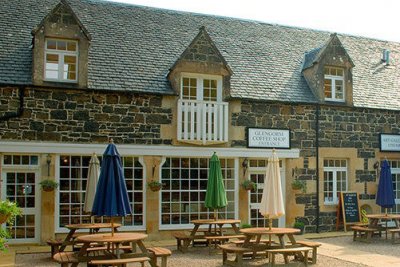 The Pier Café | Tobermory
The Pier Café is situated on the harbour front in Tobermory. The café sits in part of the ferry terminal building which is located by the slipway below Café Fish. A great place to enjoy fresh cooked food with amazing harbour views. 07786 197 377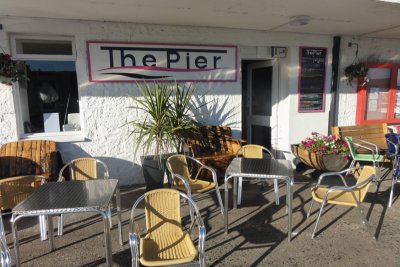 The Mishdish | Tobermory
A contemporary restaurant which is situated on Tobermory's harbour front within the Mishnish Inn building. Lunches and evening meals are served and there is a bar too.
01688 302500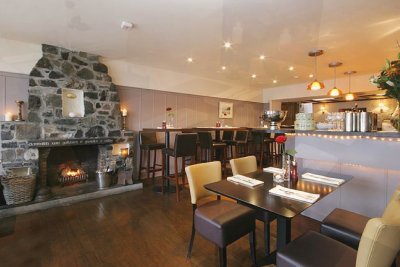 Sagar Indian Cuisine | Tobermory
Located on the corner of the Back Brae on Tobermory's harbour front, Sagar serves a range of Indian cuisine including Balti dishes. The restaurant also does take-away food and has a licensed bar.
01688 302422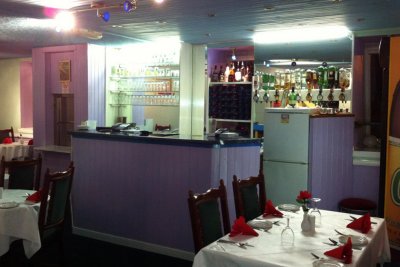 Tobermory Bakery | Tobermory
This little café and bakery is located along the harbour front and as well as the food and drinks served in the café you can get produce to take-away including fresh bread.
01688 302225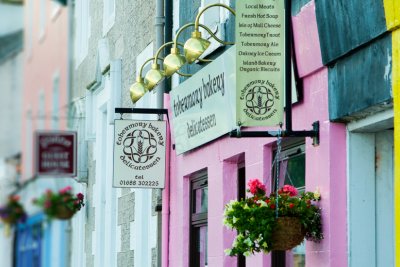 Hebridean Lodge | Tobermory
Located on the edge of Tobermory as you approach from Salen Hebridean Lodge specialises in local produce and serves lunches and evening meals. The café and restaurant are set on the mezzanine floor above the shop and gallery below.
01688 301207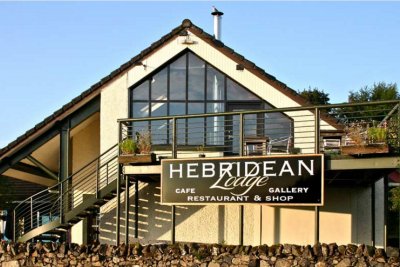 Isle of Mull Ice Cream | Tobermory
From its sea front location in the centre of Tobermory's main street, Isle of Mull Ice Cream make and sell delicious handmade ice cream in unique flavours. Put simply – it is delicious! 07867 489 853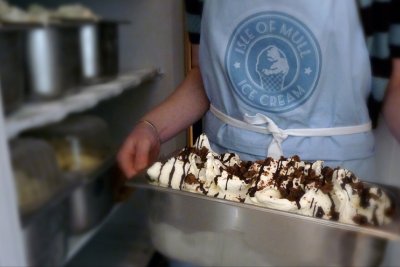 Central & South East Mull

Mediterranea | Salen
Italian cuisine made from the best sourced Scottish produce and good wine. Centrally situated in the village of Salen providing evening meals.
01680 300200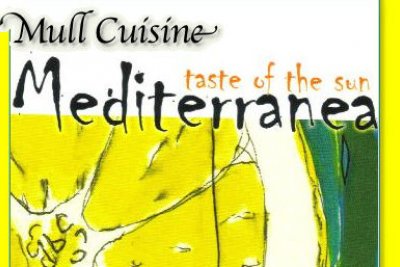 Arlene's Cafe | Craignure
Situated close to the ferry terminal this little cafe serves delicious, simple food at excellent prices. Good coffee and tea too and family friendly.
01680 812488

Craignure Inn | Craignure
The local pub in Craignure provides lunches and evening meals for locals and visitors and serves both bar and restaurant meals. Good homecooked fare in a relaxed, friendly environment.
01680 812305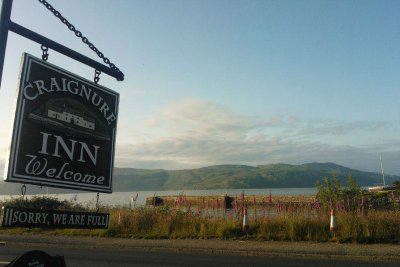 Coffee Pot | Salen
Situated in the village of Salen, the Coffee Pot is open for teas, coffees, home baking and snacks during the day. The café has a wood burning stove and wireless internet access.
01680 300555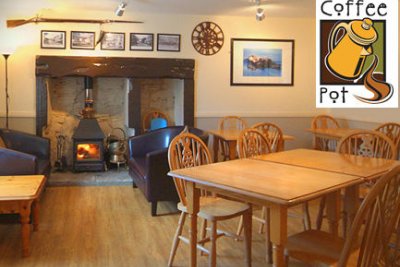 Loch na Keal Meals | Loch na Keal
From their stunning location besides Loch na Keal, Loch na Keal Meals serve freshly cooked local produce which can be eaten as take away, or you can dine at the picnic benches provided, and enjoy the views. 07876 773083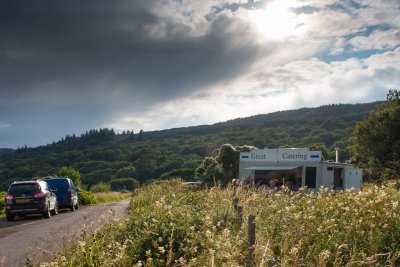 Glenforsa Hotel Restaurant | Salen
Situated just south of Salen, the Glenforsa Hotel serves food in the bar and restaurant. There is home cooking and great views over the airfield toward the sound of Mull.
01680 300377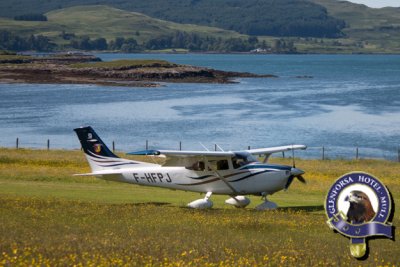 Tiroran Hotel Restaurant | Tiroran
Located at Tiroran Hotel the three AA Rosette awarded restaurant is Mull's most highly awarded. Serving local produce in a contemporary dining setting with views towards Loch Scridain.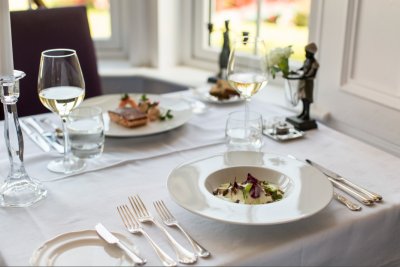 Ross of Mull

Ninth Wave Restaurant | Near Fionnphort
John and Carla use produce from their croft and fish from a local fisherman to create their menu. Ninth Wave is one of the best places to go for an evening meal on the Ross of Mull. Please book in advance.
01681 700757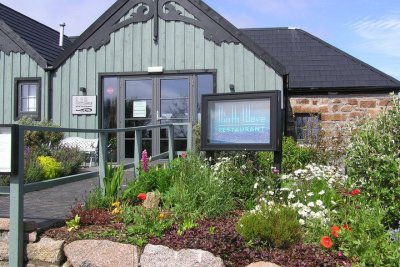 Bunessan Bakehouse | Bunessan
The Bakehouse is located in the village centre and during the cafes opening hours, fresh baked produce including bread, can be purchased from the counter.
01681 700545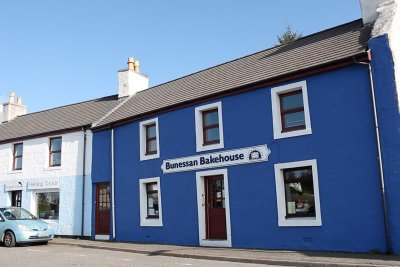 The Creel Seafood Bar | Fionnphort
The Creel is situated beside the Iona ferry slipway in Fionnphort. Specialising in fresh local seafood, you can get delicious food to take away or use the seating area and enjoy the superb sea views.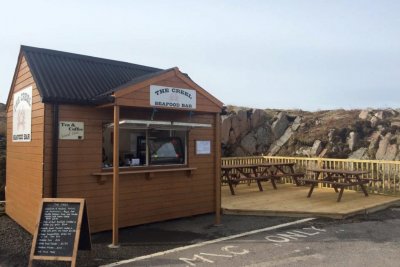 The Keel Row | Fionnphort
Located in Fionnphort the Keel Row is a pub with a bar that serves evening meals and lunches. As well as the bar and dining area, the Keel Row has a nice beer garden with views over the beach and sea.
01681 700458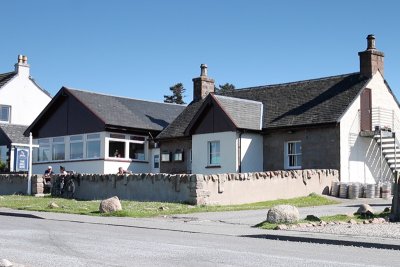 Shops and Stores

Tobermory Co-op | Tobermory
The Co-operative is the largest shop on Mull and is located on the harbour front in Tobermory. This small supermarket carries a wide range of goods and produce.
01688 302004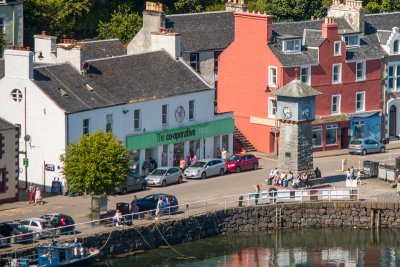 Dervaig Shop | Dervaig
Located in the centre of Dervaig, this spacious and very well stocked shop carries a wide range of goods and produce as well as a Post Office. The shop has a good selection of fruit and vegetables, fresh herbs. Local meat and fish can also be purchased here.
01688 400208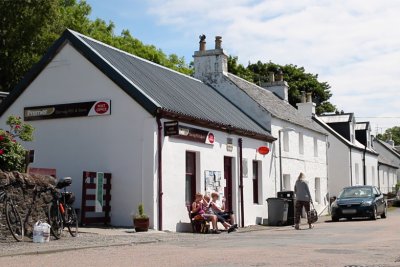 Salen Spar | Salen
Salen Spar shop is located in the centre of Salen and stocks a very good range of produce along with papers and magazines. The shop also has a great gift section and a range of childrens' toys for sale too. The Post Office is located next to the shop.
01680 300472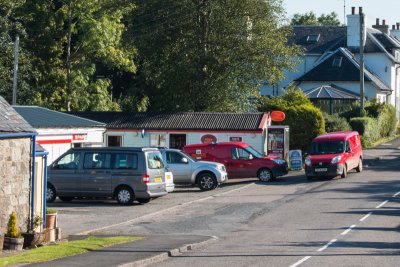 Craignure Spar | Craignure
Situated in Craignure, this Spar shop stocks a range of goods and includes a Post Office too. A useful shop to call into while waiting for a ferry as the pier is directly opposite.
01680 812301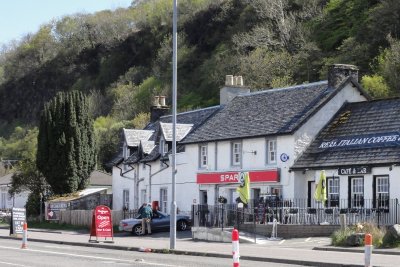 Pennyghael Stores | Pennyghael
A little shop with a fantastic view! Located at Pennyghael, the store has a selection of goods available included local crafts. There a Post Office at the store and a picnic bench is provided for customers to enjoy the views.
01681 704229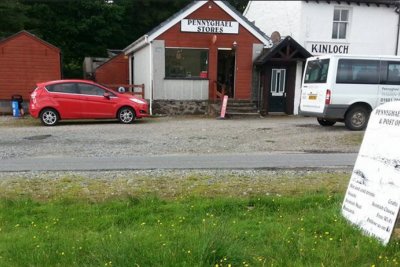 Bunessan Spar | Bunessan
Located in the village centre overlooking the sea, Bunessan Spar is a small shop that holds a good range of produce and has a Post Office too. In a separate building but part of the same shop, a selection of gifts and souvenirs can be purchased.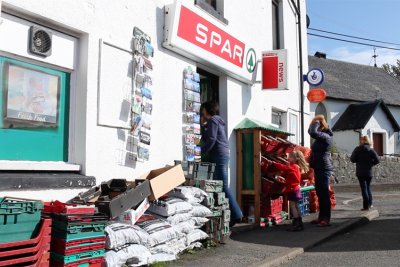 The Ferry Shop | Fionnphort
Located in Fionnphort the Ferry Shop is a well stock general store and Post Office. A wide range of goods is available include a selection of gifts in the adjoining gift shop. A very handy shop to collect goods from after returning from a trip across to Iona.
01681 700470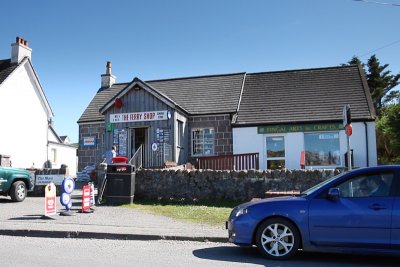 The Tobermory Fish Company | Tobermory
This is an excellent shop for those wishing to purchase local seafood. The shop is located just on the edge of Tobermory at Baliscate and has ample parking outside. There is a very well stocked counter along with a selection of condiments to purchase.
01688 302120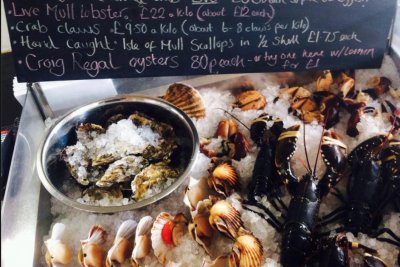 The Crofter's Kitchen | Kintra
Located at Kintra, a little settlement between Bunessan and Fionnphort. The Crofters Kitchen stocks an excellent range of fresh vegetables and produce along with home made jams etc.
01681 700509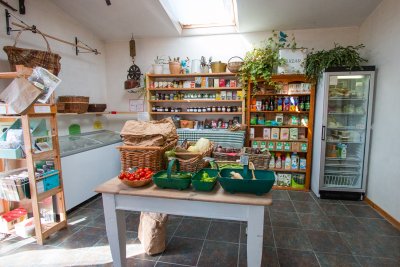 Old Post Office Lochbuie | Lochbuie
This is an honesty shop run by Lochbuie Larder, and it is located inside the old post office building at the seashore in Lochbuie. There is a good selection of home baking, drinks and snacks along with local craft works. Locally reared meats and produce can also be purchased.
01680 814153