Whether you come for the wildlife, the untouched landscapes or the colorful charm of Tobermory, the first step to planning your holiday on Mull is to choose where on the island you actually want to stay.
From beaches to loch shores and remote retreats, there are many idyllic holiday cottages on Mull for you to make your base. And wherever you choose, the beauty of this island is that nowhere is out of reach. Hop in the car and the entire island is within reach (and a few others too, if you don't mind swapping the car for a boat!).
Here, we share six of our favourite locations for holiday cottages on Mull to help you find the best one for you. And if you know what you want to see but not where to go to see it, get in touch with our family-run business to pick our brains for ten years' worth of local knowledge. With an exclusive collection of over 80 cottages on the island, choose your destination and your perfect island getaway won't be far away.

Craignure
Few places on Mull could be more convenient than Craignure, especially if you want to explore the entire island. Stay here and you'll be perfectly placed whether you want to drive up the road to Salen, visit the colourful town of Tobermory in the north or venture west along the Ross of Mull, wildlife watching as you go.
Even better, the CalMac ferry from Oban delivers you virtually to the doorstep of Craignure Bay House, accessed over a quaint bridge. Once inside, the enormous glazed windows let you soak up those stunning sea views whatever the weather. Craignure Golf Club is also just a mile and a half away, should you like to play.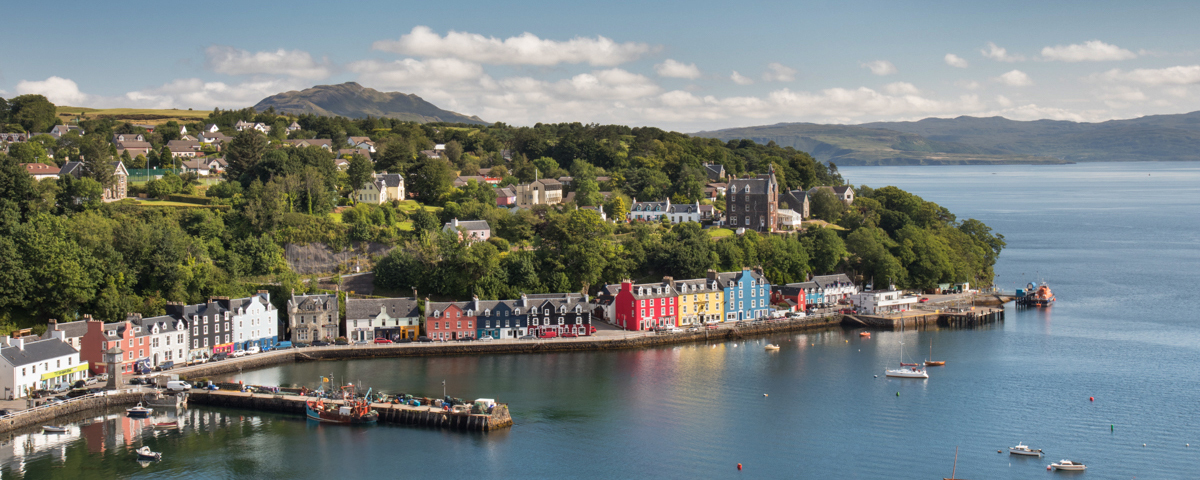 Tobermory
When you picture the postcards that are sent from Mull, many feature the quirky, colourful scene of houses that line Tobermory's harbour and main street. And if this scene feels a little nostalgic, that's probably because you once saw these very same buildings on the children's television show, Balamory.
The front is lined with a selection of cafes, restaurants and shops. You'll find a handy and impressively stocked Coop here, as well as a bakery to tempt you. Tobermory is brilliant for all the family, with a whisky distillery to attract the adults, alongside independent shops like the Tobermory Soap Co, and an aquarium and boat trips to excite the kids.
To experience Tobermory's character for every moment of your trip, stay at Bookend Cottage in the old town. You'll enjoy design brilliance, luxurious furnishings and staggeringly beautiful views over Tobermory Harbour.

Calgary Beach
If there's one beach you'll have heard of on Mull, it'll be this one. Calgary Beach is famed for its fantastic views, beautiful white sands and perfectly blue sea. Where else in the world could you experience all of this, and sometimes even have the beach to yourselves?
If the romance, relaxation and beauty of Calgary have caught your eye, then the best of all holiday cottages on Mull for you will be Calgary Cottage. Boasting three bedrooms and three bathrooms, there's room for all the family (and two dogs) to stay. You'll spend your holiday less than a mile from the beach, with a cosy tea room to fuel up or warm up in en route.
Just a five-mile drive down the road from Calgary Beach, you'll find the village of Dervaig. Charming in its own right, Dervaig is also the home of Isle of Mull Cottages and makes another fantastic place to stay, tucked by a loch and within easy reach of Tobermory.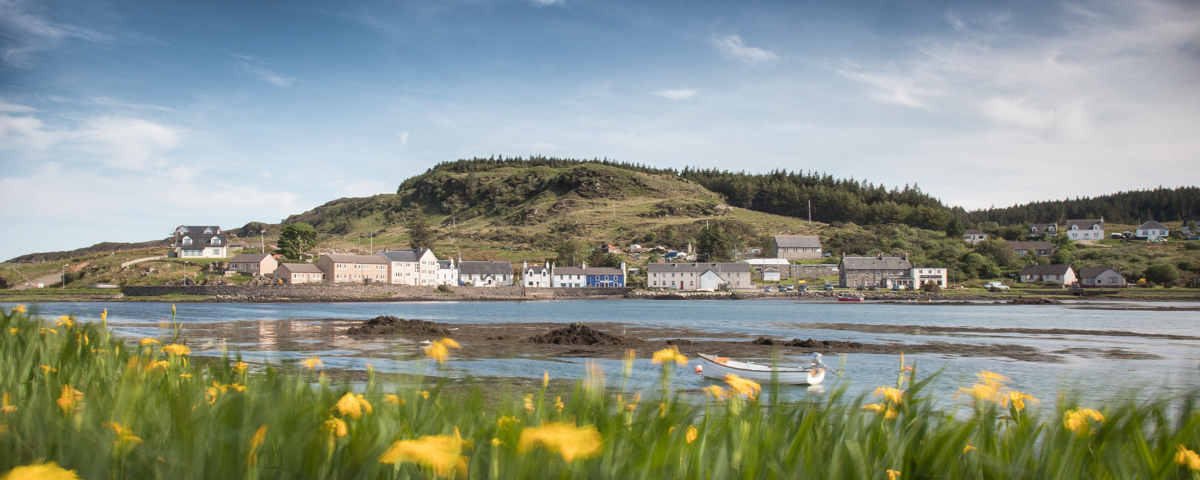 Ross of Mull
Make your base on the south west of the island, otherwise known as the Ross of Mull, for wilder views and easy access to Iona. The village of Bunessan boasts a beautiful, curving view over Loch na Lathaich, with a pub, shop and the Blackbird Bistro adding to its appeal. Travel slightly further down the road and you'll reach Fionnphort, which is where the boats sail from for Iona and Staffa.
Just outside Bunessan lies the hamlet of Ardtun. You can walk into Bunessan comfortably from here, while also benefitting from expansive, rugged views. To one side lies gently rolling but windswept meadows, where you'll often spot a hen harrier hunting or deer roaming. To the other, your views once again reach down to the water of Loch Na Keal and its towering granite cliffs. Keills Cottage offers the perfect place to stay, with two bedrooms, a cosy log burner and sightings of hen harriers from the kitchen window all to its credit.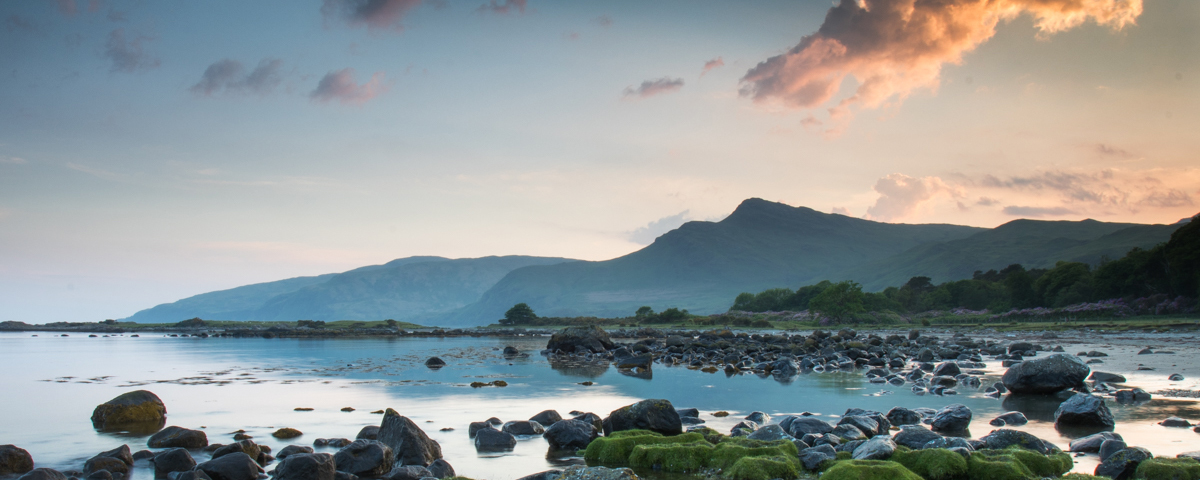 Loch Buie
It won't take long for the charms of Loch Buie to capture your imagination. From the scenic drive up past smaller lochs, hills and rock faces to the sea loch vista that stretches out before you when you park, there's no denying it's a magical place.
Wait quietly in your car for a few minutes more. If you're lucky with the timing, the magic only gets better. It was down here on Loch Buie that a group of brave chaffinches decided to hop right up onto our wing mirrors and – with some edible encouragement – right onto our hands!
There are few such wild places that allow you to get quite so close to nature as this. Where better to soak up Mull's magic than at Dobhran Croft on Loch Buie? This old crofter's cottage has been smartly renovated and is perfect for two, with the perk of being pet friendly. At Isle of Mull Cottages, we visit each and every property that we work with. We also regularly recommend updates, so you can be sure your stay will be every bit as lovely as the photographs.
Feeling inspired to plan your next holiday to Mull? Check out our unrivalled and hand-picked portfolio of over 80 holiday cottages on Mull. It's never been easier to make your dream island getaway happen.
Which of our holiday cottages on Mull is your favourite?