Boat trip to the Treshnish Isles and Staffa
With Dave Sexton, RSPB Mull Officer
Stand on a high point and gaze out to sea off Mull's west coast and you will see them. A chain of mysterious, glistening jewels in the Hebridean sea that will set your pulse racing. The sense of anticipation of the wildlife gems they might hold is palpable. From Staffa in the south, up to the Dutchman's Cap, onwards to Lunga and Fladda and finally to Cairn na Burgh Beg in the north, the Treshnish Isles archipelago will lure you in.
Luckily for us all, they are not 'forbidden islands'. We are blessed here on Mull and Iona with a variety of choices of ways to get to the Treshnish Isles and Staffa, with daily boat trips in season leaving from Ulva Ferry, Fionnphort, Iona and Tobermory. Skippers and crews who know these waters intimately will welcome you on board, provide a warming brew en route and set sail for these distant, enticing lands.

Watch our video guide to visiting the Treshnish Isles:
The Treshnish Isles are owned and managed by the Hebridean Trust and a range of boat operators will land you there for a few hours. If you'd rather, you can simply cruise the coasts and view the seabird spectacular from the ocean.
Lunga and Harp Rock is the island and location to aim at for the densest concentrations of breeding seabirds from May to July. All your favourites are here: guillemot, razorbill, kittiwake, fulmar and yes, plenty of puffins. Some people expect them to be the size of penguins and are surprised at their diminutive stature, but they will enthral and amuse you with their constant busying to and fro, their nesting burrows and territorial bickering with neighbours.
Please heed the advice of the skippers and the Trust: keep well back from all burrows (they may collapse with eggs or baby 'pufflings' inside) and leave your dog at home – seabird islands are really not the place for them.  The much sought after 'puffin therapy' will soothe your soul and you'll leave refreshed and with the tang of seabird guano filtering through your senses.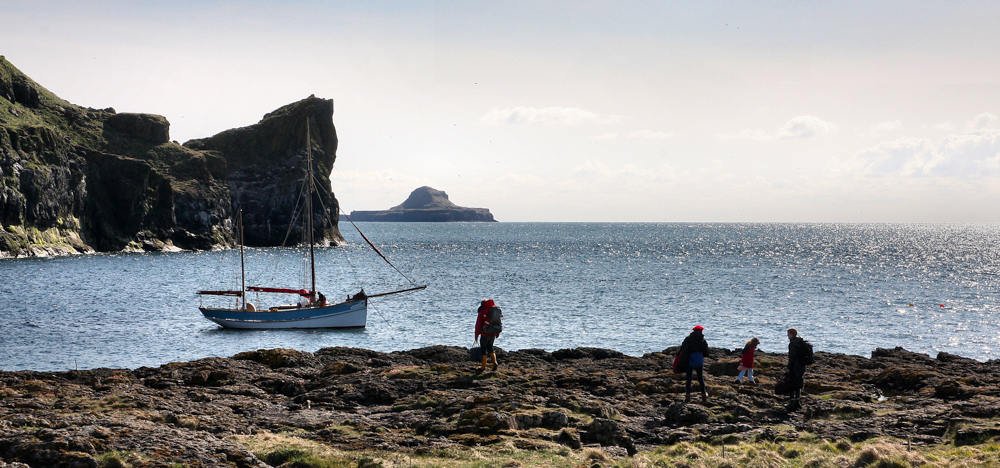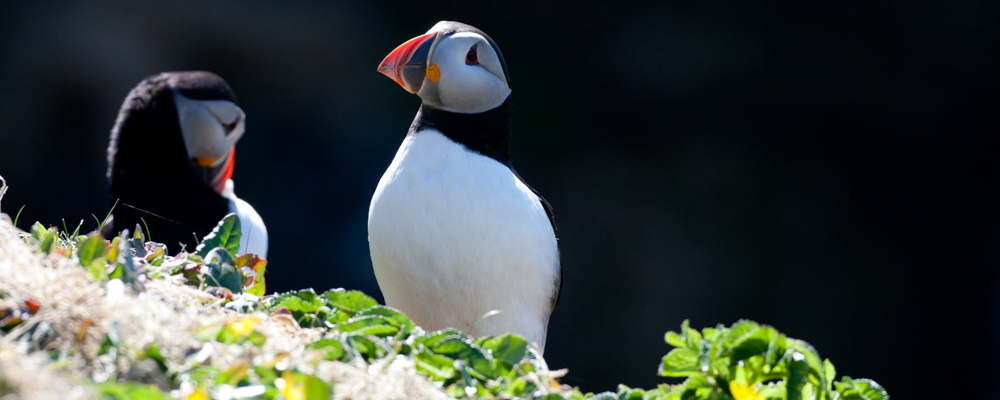 Venture across the sea to mesmerising Staffa. Much has already been written about the geological wonders, the echoing caves and friendly puffins (some wait until visitors arrive on the island to scare off predatory gulls and skuas from the colony, before returning to their burrows) so by dropping by to say hello you'll be doing them a good turn. But linger a little longer if the boat and sea conditions allow and you might hear the sporadic blast of a secretive corncrake rasping from the iris beds, nettles and reeds that the National Trust for Scotland, which cares for this iconic and special place, are helping to manage.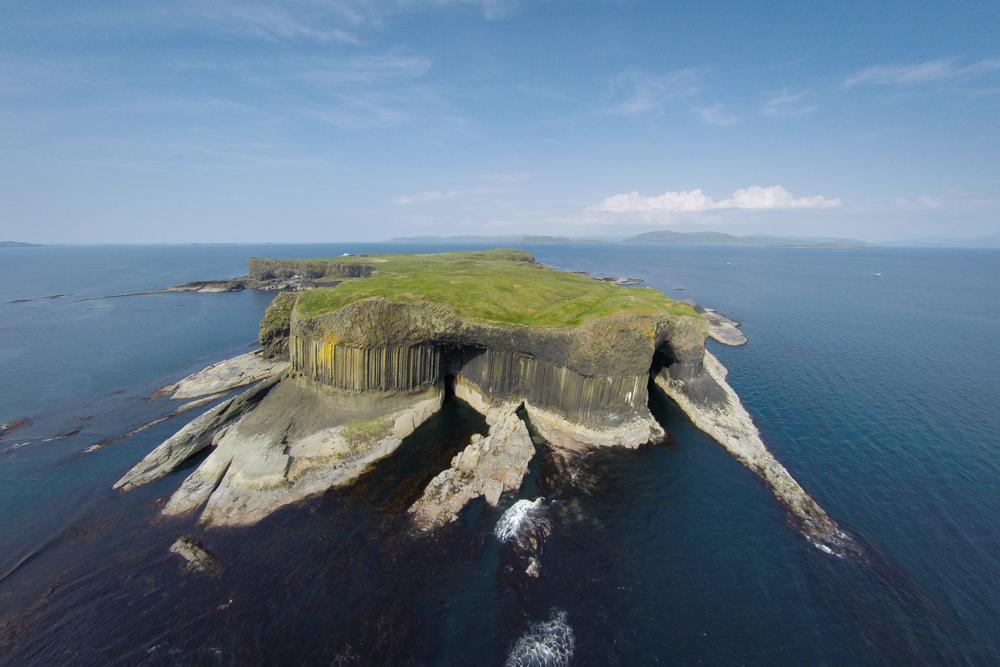 During your voyage you may see some of the 'auks' at sea, diving for sand eels to return to the cliffs to feed hungry chicks. Small parties of them will rattle past the boat, some heading out to deeper, richer waters while others are heading home with beaks full of silvery offerings. As you near the colonies, the energy, kittiwake-cacophony and activity (and smell) is breathtaking – but in a good way. Menacing bully-boy 'bonxies' – great skuas – nest in these islands too. They won't miss an opportunity to chase and grab a fleeing puffin or force a gannet offshore to throw up its hard-won catch of mackerel. It's not always a sight you want to see after a few hours of rolling swell!
Sightings of cetaceans like minke whales, porpoises, bottle-nosed dolphins and the giant fish of the deep (but here, thankfully, at the surface) – basking sharks– are all highly possible on these trips. But don't think or wait too long before booking your place. Boats fill up fast in high season and for puffins especially, the season can be surprisingly short. Delay until late July or August and you might be disappointed as most seabirds will have fledged and vanished far out to sea beyond the range of the boat trips. You might get lucky and see small flotillas of guillemot and razorbill families closer in, but it's the seabird cities in action, mid-breeding season, which is the sight to behold. (Much later in the season, as autumn digs in, the Treshnish Isles again has another world-class wildlife spectacle on offer as the Atlantic grey seals gather to pup – but for now, that can wait for another day…)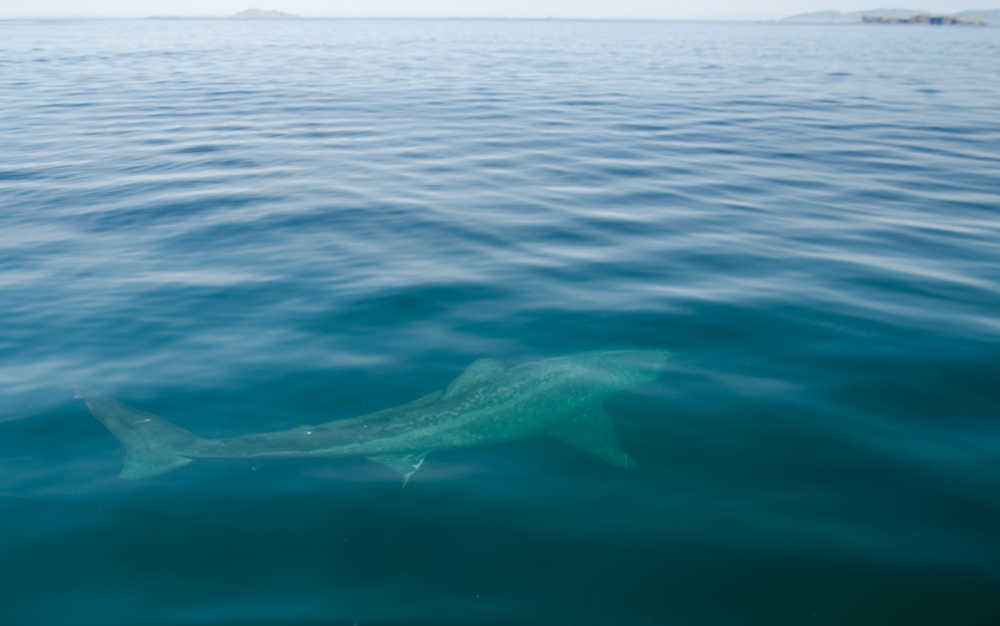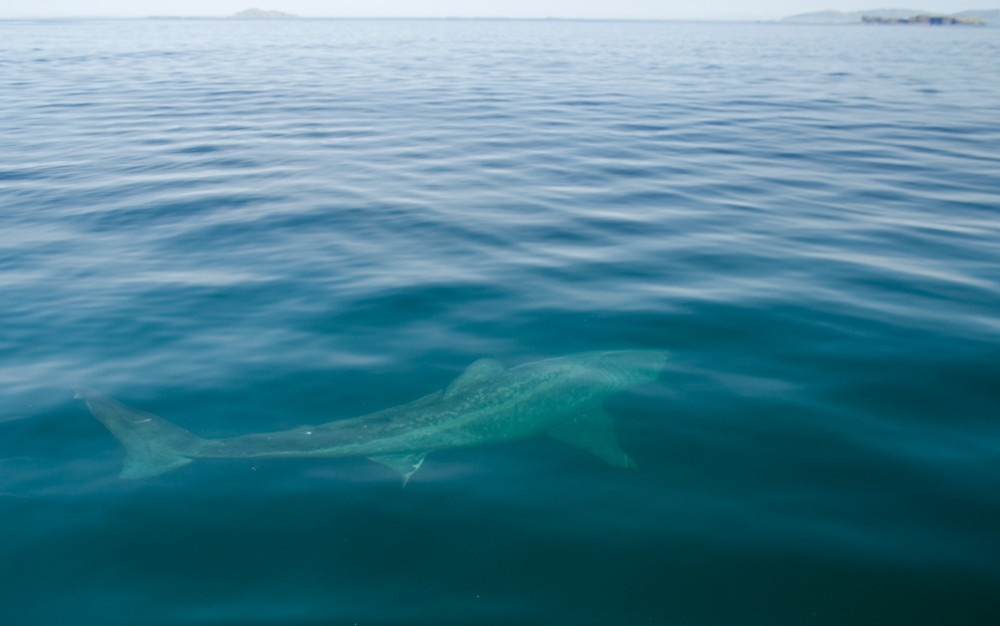 As your trip concludes and the boat arcs round in the surf to head for your home port, look north and west to a remote isolated skerry called Sgeir na h-Iolaire – 'rock of the eagle'. It will have been named centuries ago for the presence of visiting (or more likely nesting) white-tailed eagles, long before we eradicated them from these shores. Well, thankfully, once again the eagles are back among us. If you look hard enough, you might just glimpse one perched proudly back on eagle rock with the waves crashing all around. They have good reason to visit these islands – and so do we.
See more about visiting the islands around Mull at The Isle of Mull's islands and a guide to Isle of Mull boat trip operators
Map showing the Treshnish Isles and Staffa