Being an island off the west coast of Scotland, the Isle of Mull has no shortage of stunning beaches to tempt you. Here, we travel around the coast to bring you five of Mull's best beaches. Ready to find inspiration for your next island getaway?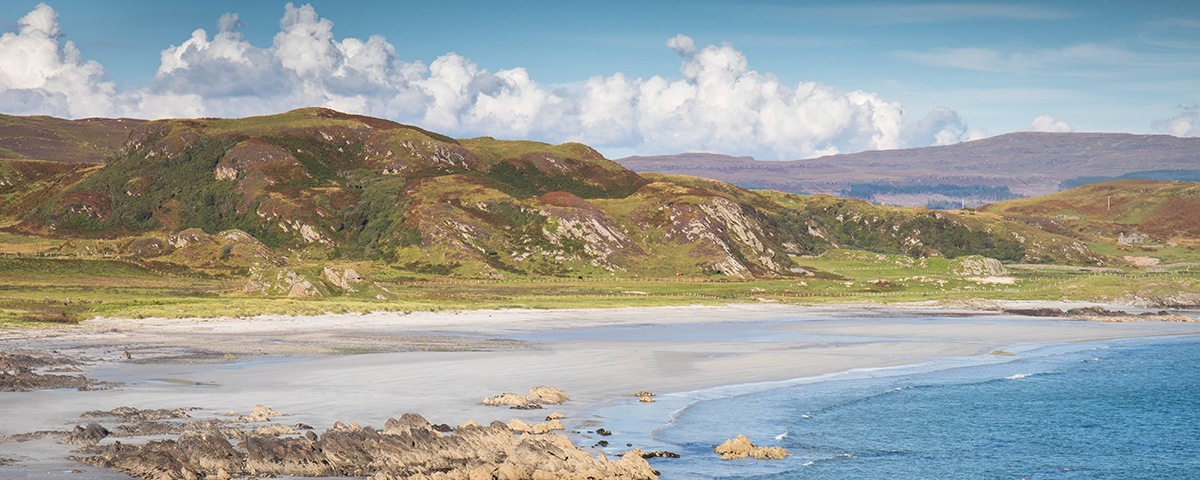 Ardalanish Beach, South West Mull
If you're staying on the Ross of Mull, you're in prime position to visit Ardalanish Beach. It's easy to reach from the car park close to Ardalanish Weavers. Once you're on the sand, the beach offers a lovely walk with excellent coastal and hill views. The beach is surrounded by sand dunes but, if you can tear your eyes away and look up, it's not unheard of tospot a white-tailed sea eagle here too! Warm up afterwards with a cup of coffee (and perhaps a new blanket) at Ardalanish Weavers.
Find out more about the wildlife on Mull here.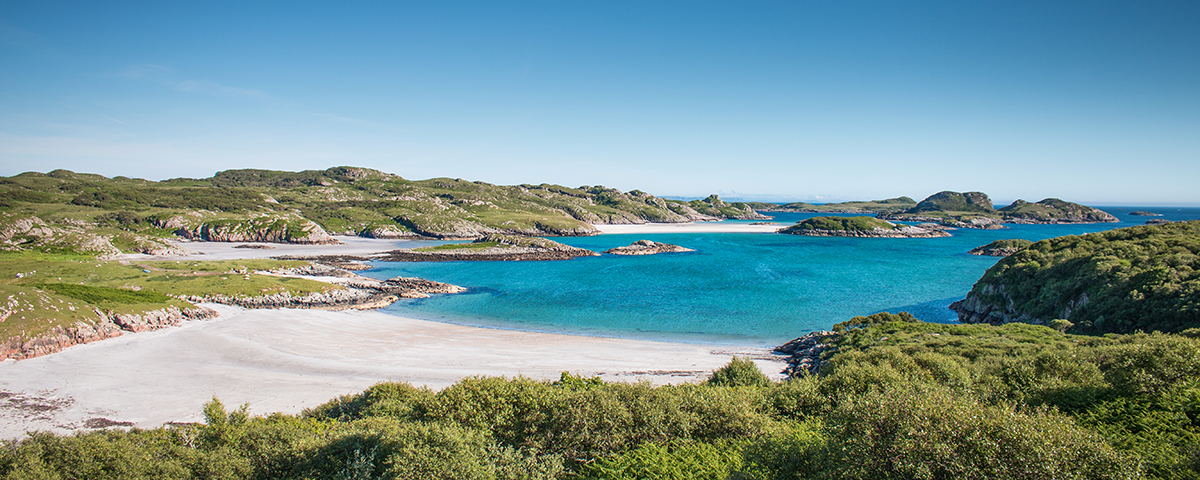 Knockvologan Beach, South West Mull
Also in the south of Mull lies Knockvologan Beach. Here, charming pink granite outcrops join the white sand and blue ocean vistas. If you're visiting Mull but don't have time for a day trip to Iona, this is the place to go. From Knockvologan and Fidden beach you can see Iona without even stepping off the sand! It's also a spot known for stunning sunsets, so keep your camera (and torch) handy if you'll be visiting at dusk.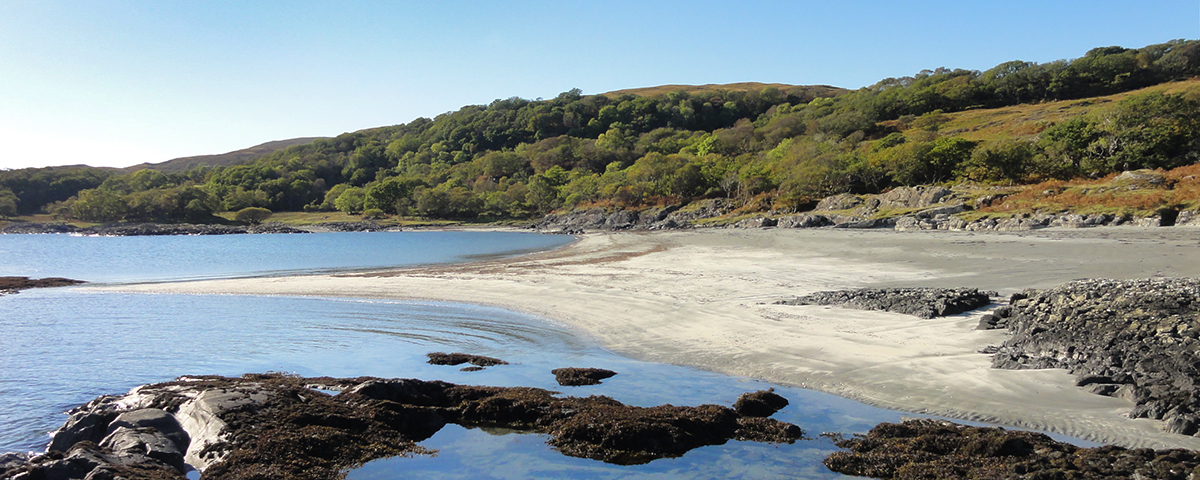 Croggan Beach, South East Mull
Swap the pink sand for grey with a visit to Croggan Beach. You can reach the beach in a 20-minute walk from where you leave the car. The stroll itself is wonderful too as you make your way around the headland to the large sandy shore. Keep your eyes peeled for wildlife – it's never far away.
Tie in your visit to Croggan Beach with a drive to Loch Buie. Located just around the coast, you'll enjoy stunning views of the sea loch and you might even find brave chaffinches get quite close in a bid to try your lunch!
Of course, to experience all of this on your doorstep, you need to venture off the grid a little – even by Mull's standards! We've got just the holiday cottage for you. Portfield is a charming and comfortable holiday house perched on the hillside at Croggan. With no TV, wifi or electricity to distract you, it's the perfect place to soak up those panoramic views!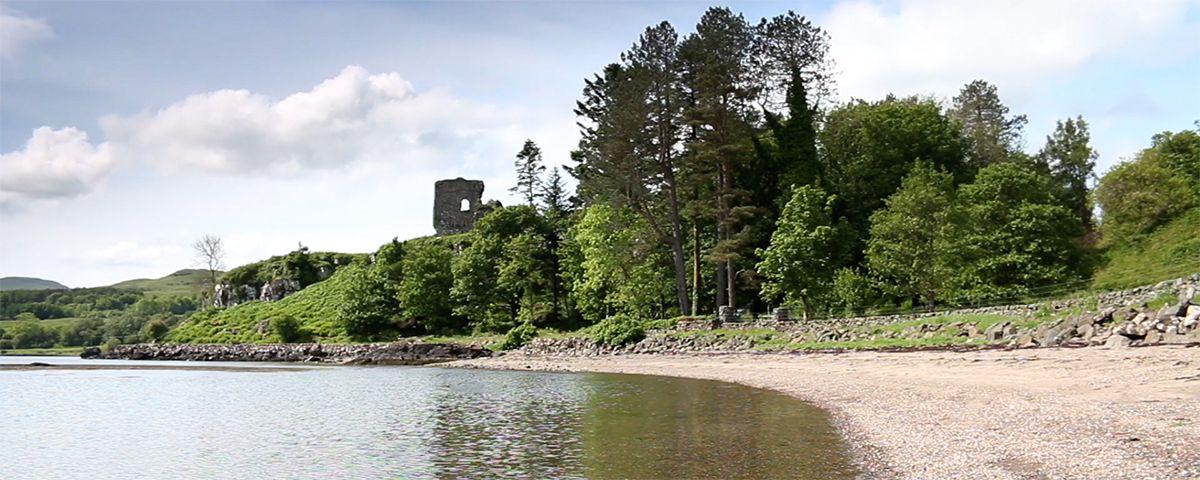 Port an Tobire, Central Mull
Sandcastles aren't the only castles you'll find by the beach on Mull! Duart Castle is a key landmark to spot on the ferry from Oban to Craignure, but there are more coastal castles to discover. Head to Port an Tobire Beach in Central Mull, not far from Salen, to see the impressive ruins of Aros Castle too. You can find out more about the island's castles in our guide to Mull's historical attractions.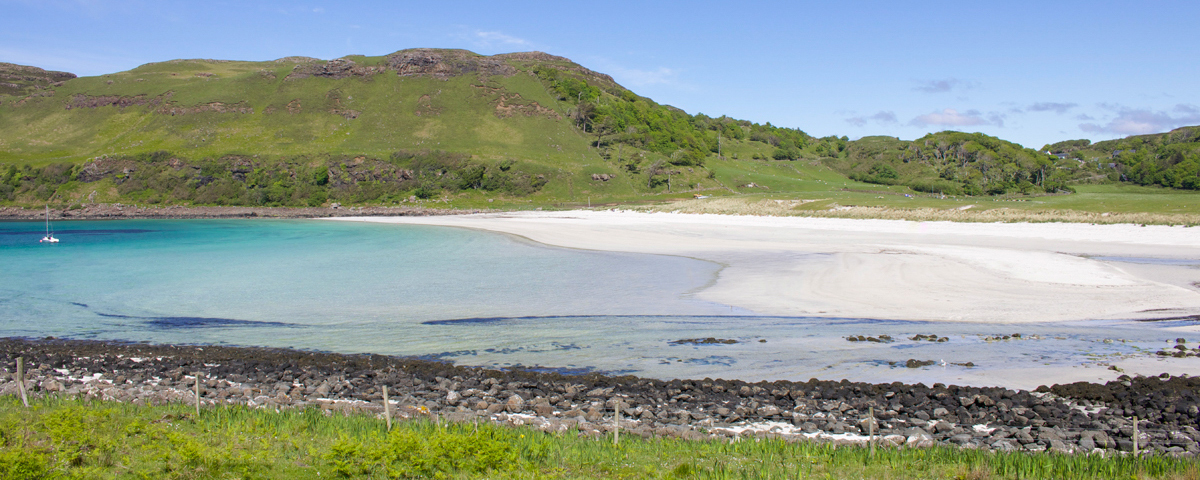 Calgary Beach, North Mull
If you've only heard of one beach on Mull, it'll be this one. Calgary Beach has well-earned its fame. Home to waters that, on a sunny day, are so clear and blue they look tropical, as well as perfect white sand with grassland behind it, it promises to be one of the most picture-postcard beaches you ever visit.
It's also a great option for families. There's parking and toilets nearby as well as a well-stocked café and art gallery. We think a steaming mug of coffee and slice of cake are just the way to finish a bracing beach walk.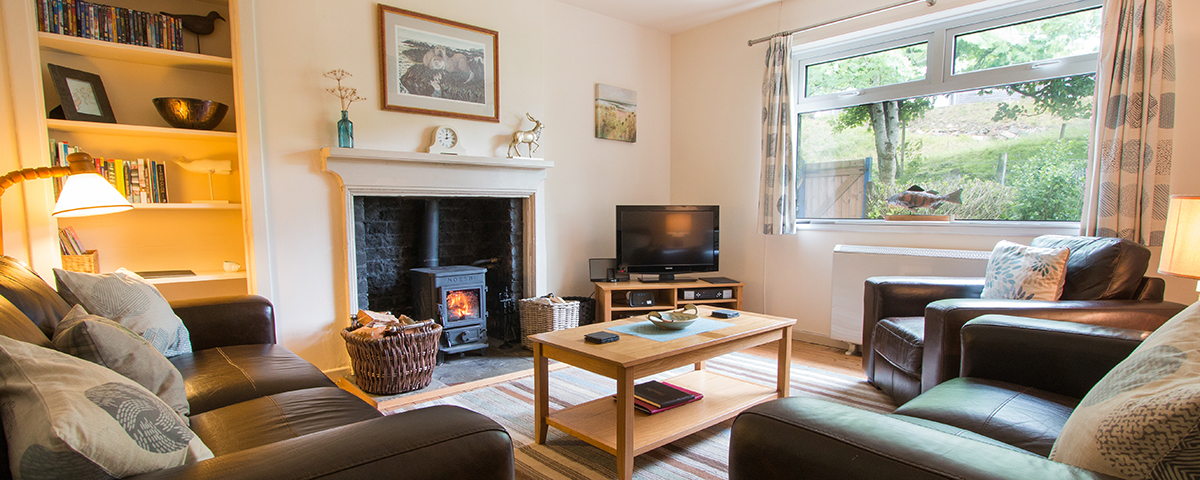 If you've really fallen in love with Calgary Beach, you could even book Calgary Cottage. With room for six, it's less than a mile from the beach!
Whether you've chosen which beaches to visit this year, or you simply stumble upon a stunning spot by happy accident, remember that Mull offers many magical ways to experience them. You can walk along the shores, but there are also options to go pony trekking across the sands or even to take in some beaches from the water with a boat trip. But at the end of the day, we don't think there's a better way to experience them than with a cottage by the sea. Find yours on Isle of Mull Cottages today.
Which are your favourites of Mull's beaches?