I was a latecomer to Mull. Shamefully late in fact. Having moved to Scotland in 2003 and consciously making the decision at that point to explore every corner of my adopted home, it was 12 long years before I set foot on the island. It wasn't until my second visit that I experienced autumn on Mull.
GREAT EXPECTATIONS
My first obstacle was an earnest but naïve fixation on climbing munros (Scotland's 282 hills over 3000ft) and ONLY munros. I did so with single-minded determination for the first few years. In so doing I completely overlooked the walking potential of rugged 'lesser' hills on the islands or the unique atmosphere and challenges of their wild, convoluted coastlines… two things Mull has in spades. But when that fixation happily abated, a second and unexpected obstacle took its place.
For years I'd heard from legions of other people about the beguiling beauty and uniqueness of Mull. Whether it was via first hand accounts from my friends and colleagues, articles I read in magazines, or programmes I watched on the telly, all were gushing with praise to the point of cultish adoration. They waxed lyrical about the grandeur and the charm, the wildlife and the views, the beaches and the coast, the moors and the mountains, not to mention the wonderfully scenic roads and the world-class geological heritage.
Now, maybe it's just me, but there comes a point when mass raving about something actually starts to count against it. When all I hear are glowing reports and gushing reviews, I start to get a sense of trepidation. Could anything possibly live up to such enormous expectations? I dare say that's why I still haven't seen either of the Trainspotting films. Yes, seriously. You think to yourself…."Good grief, it can't be THAT good, can it?"
Well in Mull's case… yes, frankly. It can.
I, like most other people who go there, fell under Mull's spell pretty much the moment I set foot on the island. I then duly slapped myself in the face for having stayed away from 12 long years and, to further exonerate myself somewhat, in the two years since then I have been back twice, which I hope speaks for itself.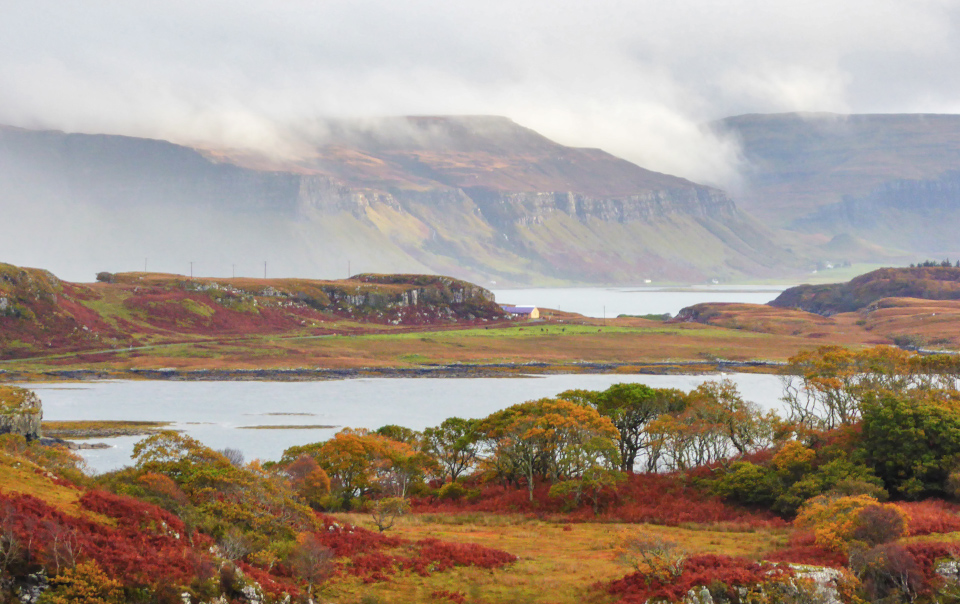 BITESIZE CHUNKS
Return visits are typical of the way in which I approach holidays more generally in Scotland. To do a place justice, I like to get to know smaller geographical areas well rather than zooming about all over the place and trying to see absolutely everything in one visit. Others would perhaps be content to range farther afield in the space of a week on Mull but for me, as someone who likes to be walking or cycling while I can still taste breakfast, I don't really want to be spending the best part of the week driving the length and breadth of the island. Don't get me wrong, driving Mull's roads is a pleasure in itself, but as anyone who has visited the island will tell you, though small in area Mull's (in)famous single track roads effectively double the island's size and, pleasurable as it might be, you can easily find you spend much of the week inside rather than outside your car.
So, on my very first visit to Mull back in March 2015 I based myself in Bunessan and focused purely on the Ross of Mull, Iona and the southern shore of Loch na Keal. To be honest even this was too much for one small week. There was a ludicrous variety of walking, exploring and wildlife watching on offer in just that one relatively small area.
My most recent visit was in November 2016 and was based at Kellan Mill Lodge on the north shore of Loch na Keal, which I booked through Isle of Mull Cottages. From there I focused on a part of the island I'd not visited before, mostly north of the narrow neck of land between Gruline and Salen, and along the southern shore of Loch Ba.
AN OFF SEASON VISIT: AUTUMN ON MULL
You might be surprised to hear that all of the visits I've made to Mull have been during the 'off' months. i.e. after the October half term and before the Easter holidays, which is the norm for me when I go away for any kind of long break in Scotland. I typically like to go in late February or March, or at the other end of the year in early November. And every now and then I relish the prospect of a deep midwinter break mid-December or late January. Is that crazy, you're perhaps wondering?
Well, I certainly don't think so. For starters it's much cheaper in the quieter months and there are some great last minute deals to be had on self catering accommodation. There's plenty of space on the ferries, and once you're on the island the roads are wonderfully quiet, the viewpoints are empty and you'll spend less time sitting in passing places.
When you head out for a walk the hills and beaches are mostly deserted, and when you stop for lunch you can get a seat in cafes and restaurants. Lingering in one place for more than 30 seconds isn't a problem as there are no midges and no clegs. I've yet to be bitten by a tick in those off-season months.
In high summer the night sky never really gets truly dark, and even then you need to stay up until 1 or 2am to see it at its darkest. But in those off months the sky is properly dark before you even start thinking about going to bed, so the chances of seeing Mull's beautiful night sky, devoid of light pollution, are increased. And if you're as lucky as I was in my first year, you also stand a good chance of glimpsing the northern lights shimmering overhead.
At a landscape level you also get to see the 'off season' colours from glen to summit, rather than the uniform green of summer. Not that summer isn't beautiful in Scotland of course. It most certainly is, but outwith the summer months the landscape truly comes alive and looks its absolute vivid best. Yes there's still green to be seen, but it's restricted to the lower elevations and is capped with a beautiful progression of browns, reds and, at the top of the hills in colder spells, snowy whites – signatures of autumn on Mull. As a keen photographer, I find it a much more photogenic prospect than in the summer months, not least because the lower light and long shadows bring greater definition and contrast to the landscape.
Then there's the chance of storms. I imagine they're not everyone's cup of tea but there's nothing quite like being on an island in a storm, taking refuge in a welcoming pub or watching the waves crashing around the coast and feeling that sense of being on the edge.
However, numerous as the off-season advantages undoubtedly are I'm certainly not blind to the disadvantages. Storms, for example, are all well and good if you've managed to get to the island before they rattle in off the Atlantic, but they're not so much fun when you're sat in a car park in Oban, being hypnotised by your windscreen wipers because your ferry has been cancelled. But even in good weather some of the key attractions on Mull are still seasonal in nature. I've not yet been able to go to Staffa for instance, as the boats tend not to sail until Easter. The seabird colonies are largely empty, some cafes and restaurants are either closed or on reduced hours, and there's less chance of seeing big marine wildlife like basking sharks. And of course it goes without saying that you don't get those long summer days.
But none of those are deal breakers for me. Even in early spring or autumn on Mull, the days aren't TOO short, and with a bit of planning it's easy to find shops and eateries that are open. Yes, the weather can be mixed and have greater extremes, but again that is a plus point for me. I like the drama and the variety. And if wildlife is your thing, there is wildlife aplenty even in the off months. In fact, with fewer cars driving the roads, fewer vehicles stopping in laybys and fewer people snapping way with cameras, it's easy to find your very own quiet spot to sit and watch and indulge in a little optimism… because you stand a very good chance of seeing something special.
MY AUTUMNAL WEEK AT KELLAN MILL LODGE
During my week at Kellan Mill Lodge in autumn on Mull, I didn't even have to leave the cottage to see some of the most sought after wildlife Scotland has to offer. On the very first morning I opened the bedroom curtains and was greeted by two golden eagles spiralling over Loch na Keal. 15 minutes later an otter casually swam along the shore in front of the house, and throughout the week there were always seals bobbing about in the water. At one point, as I was sat writing at the kitchen table, I saw five seals swim past at speed, breaching like dolphins as they went. Out on the hills that week, a pair of white tailed eagles flew low over my head as I cycled along a farm track, I had a very close encounter with a short eared owl, and on several occasions I sat for an hour at a time watching otters foraging in the lochs.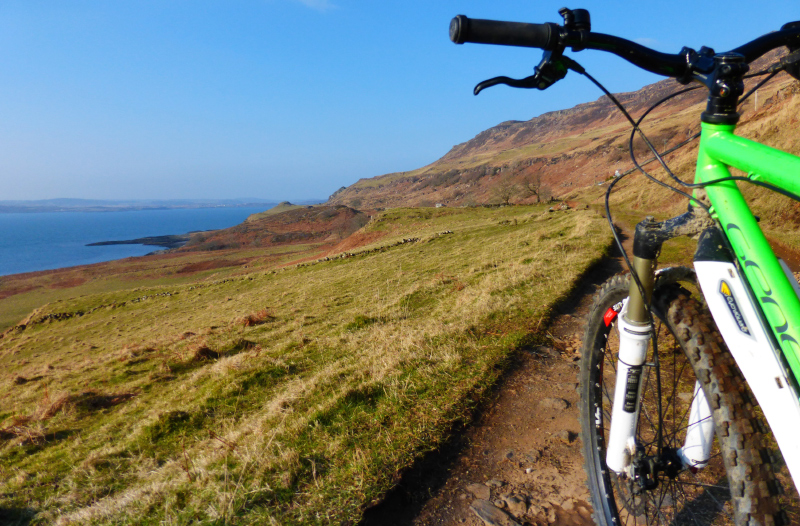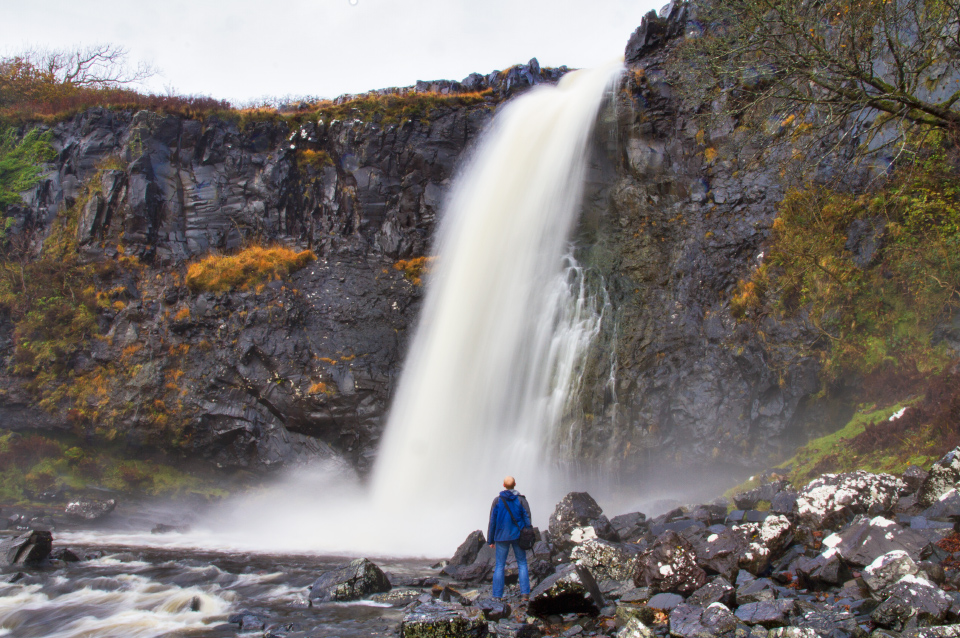 Weather-wise it was a typical week in autumn on Mull – a real mix of everything. I had one stunning blue sky day, a couple of very wet ones and the rest were overcast but benign. I used the blue sky day to cycle along Loch Ba and go for a hike in some remote, pathless hills where I saw absolutely no one all day. The wet days were fantastic for visiting waterfalls in spate, especially Eas Fors between Kilbrennan and Lagganulva, where the lower of the three falls plunges vertically onto the stony beach below. And the overcast days were perfect for some coastal walking out to the abandoned village of Crakaig. A grey, moody day brings an air of melancholy to those places that you just can't equal in summer sunshine.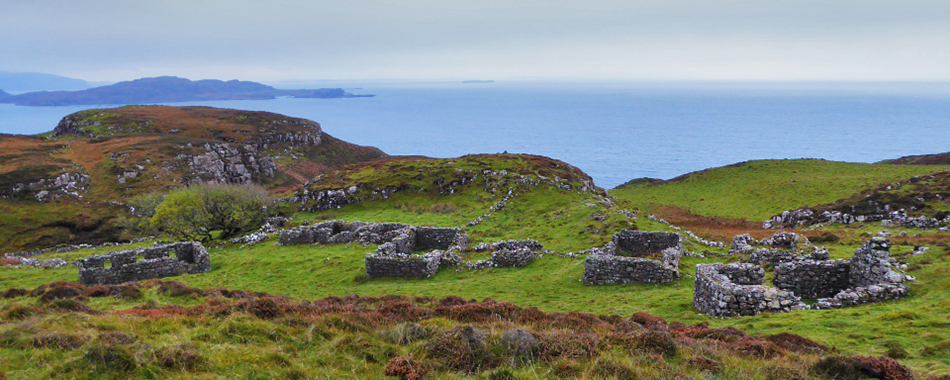 There were a couple of clear, cloudless nights when Mull's lack of light pollution really brought the heavens to life, but perhaps best thing of all were the remarkable colours of autumn on Mull. The general consensus in the Scottish outdoors community at the tail end of 2016 was that we were experiencing the most vivid autumn display in years. You might not immediately associate Mull with the kinds of places that might give rise to landscape scale transformations of the kind you'll find in the forests of Perthshire or the Trossachs, but remember that much of upland Scotland is grass, and there are pockets of old Atlantic oak woodland around the coast, all of which create gorgeous rusty colours everywhere you look. Best of all was Aros Park just outside Tobermory, which was nothing short of a revelation when I paid it a visit, for it was easily the most beautiful autumn scene I had set eyes upon anywhere in Scotland that year.
Happily for me, a third visit to Mull is already beckoning, as I'm well aware I've barely scratched the surface of this amazing place. I've not yet set foot in the southeastern corner around Lochbuie, Loch Spelve and Croggan. I haven't made the rough coastal walk to Carsaig. And I never got a chance to visit Ulva. There's way too much to pack into three weeks on Mull, let alone just one week! So yes, I'm sure I will be back and yes, it will again be in those 'off months'.
KELLAN MILL LODGE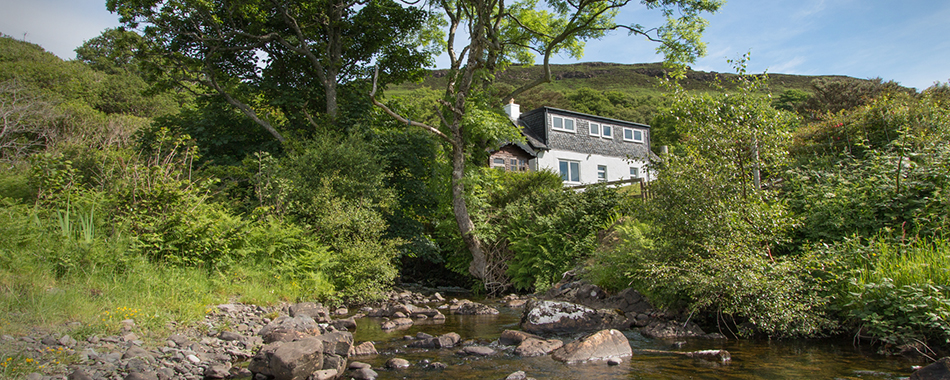 Kellan Mill Lodge was a cosy wee cottage for the week, making a warm and welcoming place to return to at the end of the day. The weather was too cool and damp to enjoy the garden, but the house's bright southerly aspect made the most of the shorter daylight hours.
Its location, right on Loch na Keal was superb and I relished opening the curtains every morning to reveal the views across to A'Chioch and Ben More. As already indicated, the house was effectively one of the best nature hides you could hope for. All manner of wildlife was seen from the bedroom and kitchen windows.
The reliable internet connection was appreciated as I had a writing deadline while I was away.  I did wonder whether, as the cottage sits near the road, it might be busy or noisy with traffic, but in truth there was hardly any traffic, and what little there was didn't disturb us at all.
Ben Dolphin – Ranger and Blogger
What is your favourite experience of autumn on Mull?