The journey to Mull is part of the adventure, with plenty of sea birds and marine life to spot from the ferry. Whether your journey is great or small and whether you make your way to the mainland ferry terminals by car, train or plane, you'll find all you need to know about getting to Mull in our guide. We highlight the three ferry crossings from which to choose, as well as onward connections to make planning your trip easier with taxis, buses and car hire too.
Transport in and around the Island
Ferries to Mull
There are three different routes from the mainland by ferry to the Isle of Mull all of which can carry cars. Caledonian MacBrayne operate all three of the routes - just visit their website for more information. Reservations can be made in advance on this route and the number to call for all ferries is 0800 066 5000.
Oban (mainland) to Craignure (Mull)
Travelling from the south, this is the quickest route to Mull and usually offers the largest number of sailings each day. It is a 45-minute crossing. We advise to book your sailing at least six weeks before you travel. Calmac request that you arrive at the port of departure 30 minutes before your sailing time.
Lochaline (mainland) to Fishnish (Mull)
If you are in the Fort William area or heading to Mull from the North, you can take the Corran Ferry across Loch Linnhe and then drive to Lochaline, before getting the ferry across to Mull. With this service, you can't book in advance, you just turn up and wait your turn. It is a 20-minute sailing over to Mull.
Kilchoan (mainland) to Tobermory (Mull)
Again, you can't book in advance on this service and you're only likely to use this one if you are coming from Skye, Mallaig or the Ardnamurchan area, because otherwise the Lochaline to Fishnish route is likely to be quicker. It is a 35-minute crossing.
Other ferries from Mull
Iona Ferry
This 10-minute sail between Fionnphort on Mull and Baile Mor on Iona is also operated by Calmac. This is a foot passenger service only - unless vehicles hold a special permit to use the crossing.
Ulva Ferry
This is an 'on demand' service running Monday to Friday 0900 – 1700 and Sundays during the summer. A very small passenger ferry that completes the five minute crossing to Ulva. Cost of the ferry also includes entrance to Sheila's Cottage (historical centre).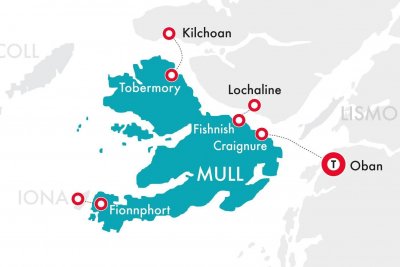 Getting to Oban
Oban railway station is next to the ferry and has a good connection with Glasgow Queen Street Station, which offers good links with Edinburgh, the South and Glasgow Airport.
Car Journey Times and Distances
Edinburgh to Oban: 120 miles, just under 3 hours
Glasgow to Oban: 110 miles, 2 hours 15 minutes
Inverness to Oban: 110 miles, 2 hours 40 minutes
Aberdeen to Oban: 180 miles, 4 hours
Manchester to Oban: 310 miles, 5 hours 25 minutes
London to Oban: 500 miles, 8 hours and 30 minutes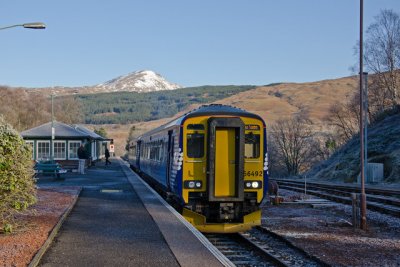 Buses and Taxis on the Isle of Mull
Once you are on the Isle of Mull, West Coast Motors run a regular bus service across most parts of the island and the latest timetable and pricing information can be found on their website
There are also a few people offering a taxi service on the island. These will usually need to be booked in advance.
Mull Taxi Service: 07760 426351 | Chris' Hire: 07493 886237 | Iona Taxi: 07810 325990
Car Hire
There are a few options for car hire on the Isle of Mull but availability is limited so it is advised to book well in advance.
Mackay's Garage: 01688 302103 | Mull Car Hire: 07721 623854 | Mull Self Drive: 07799 744908
Alternatively, car hire from the mainland may be an option. Oban based Hazelbank Motors offer car hire: 01631 566476
Travelers passing through Scotland's airports will also find a wide range of car hire available.