Whether you've got a special occasion to celebrate or simply want to let someone else do the cooking during your stay, you'll find plenty of inspiration for restaurants to visit and pubs to become patrons of when you visit the island. Often serving menus majoring on local ingredients, don't miss the fantastic seafood caught off our shores, or the venison, lamb and Highland beef raised on our hills. And for the chefs among you, you'll also enjoy our guide to the island's local shops and artisan food producers, where you'll find everything you need to cook up a storm.
North Mull

Am Birlinn | Penmore
Am Birlinn's menu showcases the best of island seafood and produce, with crab, oysters and beef sourced from within a mile! Lunches and evening meals are served in a warm, relaxed and friendly atmosphere.
01688 400619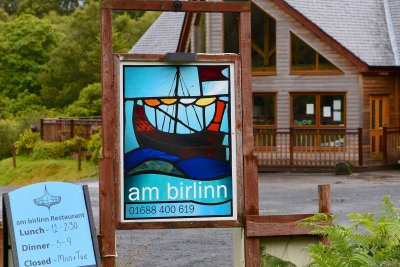 An Tobar Cafe | Tobermory
The Arts Centre sits in an elevated position behind Tobermory's main street and its little cafe should not to be overlooked. Popular with locals, it serves delicious drinks and quality home cooked food, with the daily special well worth a try. Following the short but steep path up from the harbourfront delivers you virtually to An Tobar's door, so any sweet treats will feel well-earned!
01688 302211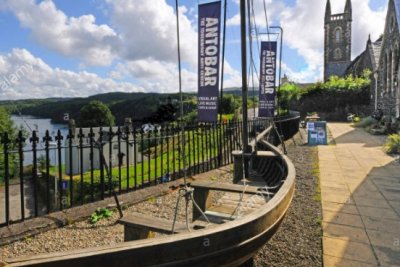 Ar Bòrd | Dervaig
A fabulous small restaurant in Dervaig. The set menu at Ar Bord is constantly changing but features the best local produce. Typically this may include local shellfish, wild venison smoked in house, Isle of Gigha halibut, meat from neighbouring farms and leaves and herbs foraged from the local area. Booking is essential as places are limited.
01688 400647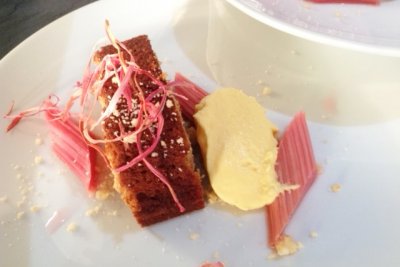 Ballygown | Ulva Ferry
Ballygown is a family-run restaurant on the west coast of the island and with a sea of buoys tied up out the front, you certainly won't miss it despite the rural location. The menu changes daily with delicious home cooked starters, mains and puddings made by Jeanette, who is happy to cater for different diets. Please note Ballygown is closed for 2021.
01688 500113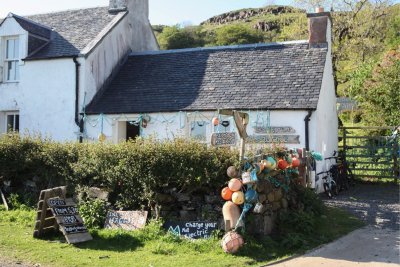 Cafe Fish | Tobermory
Housed in an iconic Art Deco building right beside the water, Cafe Fish is an award-winning restaurant, ideal for seafood lovers with fish brought in from their own boats. The menu is both fantastic and extensive and is available for both lunch and dinner. Inside, the decor is relaxed but well-presented with an aptly nautical theme, making it a highly enjoyable experience to eat there.
01688 301253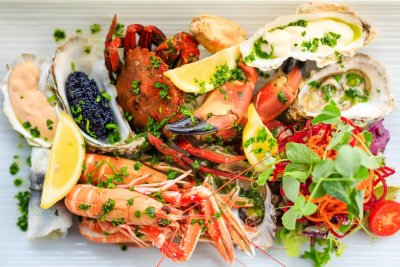 Carthouse Tearoom | Calgary
The Carthouse Gallery and Tea Room at Calgary offers teas, coffees, soups and sandwiches, served in a setting that is adorned with regularly changing local artwork and just a stone's throw from the island's most beautiful beach. After a day on the sand, why not treat yourselves to a freshly baked slice of cake and stock up on some local produce before returning to your cottage.
01688 400256

Glengorm Coffee Shop and Gallery | Glengorm
In converted stables, Glengorm Coffee Shop offers fresh baking and lunches, all cooked on the premises using produce from the farm and walled garden. You can also buy the lamb, venision and beef from the Glengorm estate here, as well as some seasonal garden produce and local smoked fish. There is a gallery above the coffee shop showcasing work by local artists. Glengorm is a fifteen minute drive from Tobermory.
01688 302321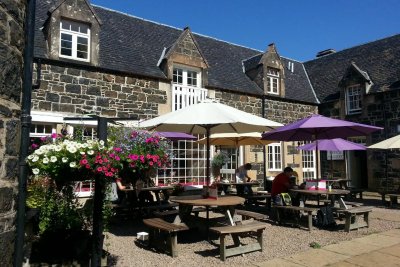 Hebridean Lodge | Tobermory
Located on the edge of Tobermory as you approach from Salen, Hebridean Lodge specialises in local produce. Helen's menu is a celebration of island ingredients, with some being sourced within a few miles of the restaurant, which has earned an excellent reputation for its steak and lobster dishes in particular. You'll dine on the mezzanine level above the shop and gallery below, which are open during the daytime.
01688 301207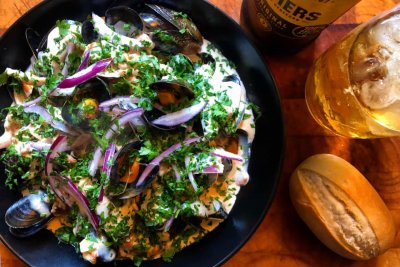 Isle of Mull Ice Cream | Tobermory
You can't miss the pretty pink building that is home to Isle of Mull Ice Cream. From its seafront location in the centre of Tobermory's main street, Isle of Mull Ice Cream make and sell delicious handmade ice creams in unique flavours. You can try ice creams featuring Scottish tablet and Tobermory whisky marmalade for a taste of Mull, as well as many other popular flavours, all of which are made from dairy that comes from a farm just a few miles down the road. Put simply – it is delicious!
07867 489 853

Macgochan's | Tobermory
Sitting next to the Marine Harbour Centre in Tobermory, Macgochan's offers lunches and evening meals in its contemporary and striking bar and restaurant. You'll find antler door handles and eye-catching timber cladding inside, which give the restaurant a real sense of ambiance and character. Local produce such as Glengorm beef, Inverlussa mussels and Isle of Mull king scallops are included on the menu and there is a restaurant and bar, as well as outdoor seating. The team can cater for functions, too, and meals to take away can be delivered in Tobermory.
01688 302350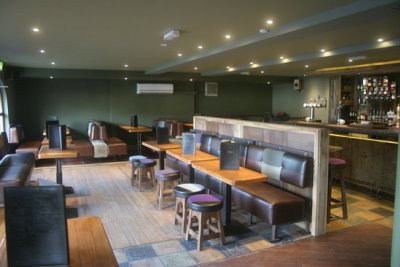 Spice of Mull | Tobermory
Occupying a prime position on Tobermory's Main Street, The Spice of Mull offers flavoursome curries and dishes showcasing Indian, Bangladeshi, Thai and Chinese cuisine. There's something for everyone here.
01688 301166

The Bellachroy | Dervaig
Dine in the oldest inn on the island in the village of Dervaig. The Bellachroy offers lunches, dinners and children's menus and serves local produce, including the 'catch of the day'. Influenced by the seasons, the menu changes often, making eating here equally pleasing whether it's your first or fifth visit.
01688 400314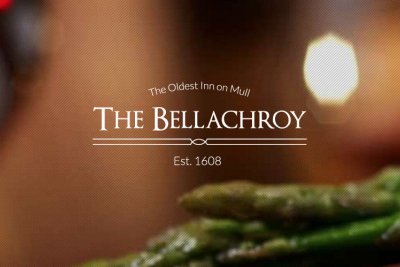 Central and South East Mull
The Boathouse | Isle of Ulva
Brendan and Mark are serving up delicious lunches made using local produce at The Boathouse on the Isle of Ulva. Enjoy their home cooked quiches, bread, soups, sandwiches and seafood before exploring the footpaths around this beautiful little isle.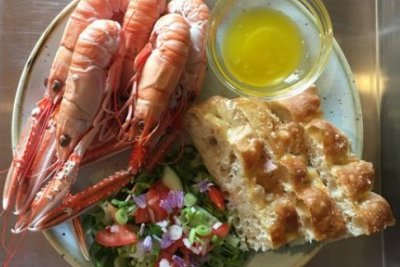 The Galleon Grill | Tobermory
Tucked behind the post office on the harbour front, the Galleon Grill is well worth seeking out and specialises in chargrilled steaks made from Aberdeen Angus or Highland beef. Locally sourced seafood and rich game dishes also star on the menu, alongside a host of moreish sides and tempting desserts.
01688 301117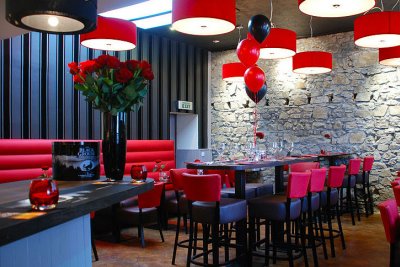 The Gallery Cafe | Tobermory
In a beautifully converted church, the Gallery Cafe is open for lunches on the harbour front. There's plenty of room inside, but on a sunny day eating out on the terrace is a real treat. The menu is extensive and renowned for hearty portion sizes. Don't miss the opportunity to browse the gift shop at the Gallery too, which is a treasure trove of lovely things - you're sure to find something you'd like to take home!
01688 301253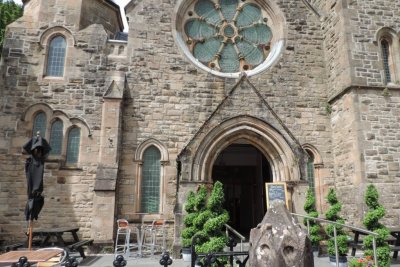 The Glass Barn | Tobermory
Located at Isle of Mull Cheese on the outskirts of Tobermory, the Glass Barn is a beautiful space for tea, coffee and cake. There are wonderful views beyond the window and the vines growing inside give the space a real sense of character. With a log burner in the corner, it's cosy whatever the weather. You can also pick up local produce here, including biscuits from the Island Bakery and of course, cheese!
01688 302627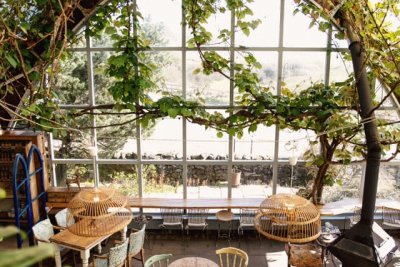 The Mishdish | Tobermory
Not to be confused with the Mishnish Inn's bar and pub, which is a relaxed space that serves warming dishes in the other half of the building, the Mishdish is a contemporary seafood restaurant and oyster bar on Tobermory's harbour front. Lunches and evening meals are served in this characterful space, which features an eye-catching stone fireplace - ideal for an enjoyable dinner featuring flavours of the Scottish sea.
01688 302500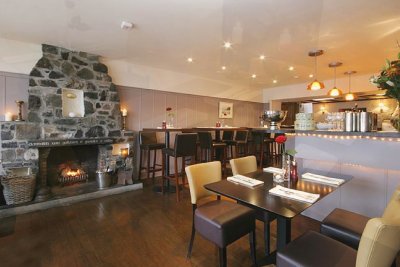 The Pier Café | Tobermory
The Pier Café is situated on the harbour front in Tobermory, so whether you take a seat inside or out, you'll be spoiled for beautiful bay views. The café sits in part of the ferry terminal building that is located by the slipway below Café Fish. It's a great place to enjoy fresh cooked food with a view and a menu that pleases every generation.
07786 197377

The Tobermory Scullery | Tobermory
Located on the colourful Main Street, The Tobermory Scullery is open for breakfast, lunch and dinner, as well as for excellent Italian coffee and homemade cakes. The cafe is cosy and has a contemporary, coastal feel and your four-legged friends will be made welcome here too. Look out for their popular Saturday Night Takeaways throughout the season if you'd prefer to eat at home.
07803395716

Tobermory Bakery | Tobermory
This little café and bakery is located along the harbour front and as well as the food and drinks served in the café, you can get produce to takeaway, including freshly baked bread. There are a few cosy tables inside that are soon filled at lunch time, when patrons visit for warming soups, the daily specials and all manner of just-out-the-oven treats.
01688 302225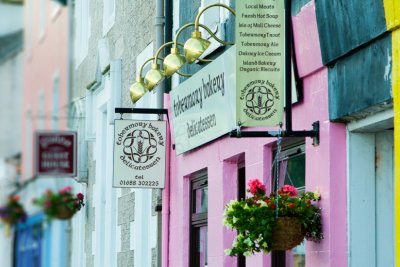 Tobermory Hotel Restaurant & Bar | Tobermory
You won't miss the Tobermory Hotel as you make your way down the Main Street thanks to its stylish pink and navy facade and top hat-wearing Highland coo mascot. Lunch and dinner are served in a boutique-style setting here, with local flavours including Croig crab, Tobermory scalops and Isle of Mull Cheese regular features.
01688 302091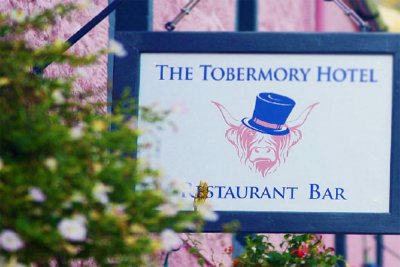 Western Isles Hotel | Tobermory
The Western Isles Hotel is an iconic building set high above the harbour with terrific sea views from its headland position. The hotel has three separate dining spaces, each with a unique ambiance, and a menu that majors on ingredients sourced from Mull where possible. In keeping with the Scottish theme, the bar is well-stocked with whisky if you fancy a wee dram.
01688 302012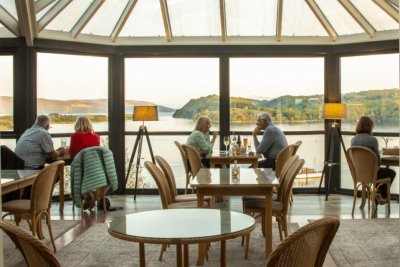 The Old Post Office | Lochbuie
The Old Post Office reopens its doors as a purpose-built destination for delicious brunches, sweet treats, hot drinks and more, all served up with a stunning view over the sea at Lochbuie. Eat in beside the log burner or take away to enjoy on your adventures around the island, or a stone's throw away on the picnic benches - this hidden gem is a must-visit before a wander to Laggan Sands, or a visit to the Lochbuie stone circle.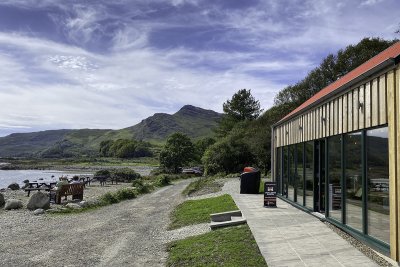 Arlene's | Craignure
Arlene's Coffee Shop serves delicious rolls, cakes, tea, coffee and lunches, with seating outside to enjoy the sea air on a sunny day. You can also buy handmade chocolates and pick up a copy of the island newspaper here.
01680 812238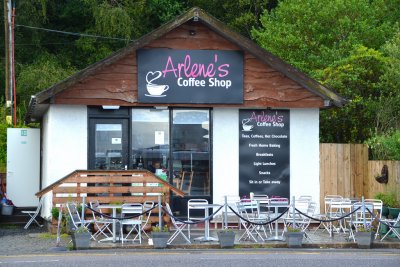 The Little Bespoke Bakery | Salen
Come along to the newly opened Little Bespoke Bakery in Salen, with a host of freshly baked treats to tempt you. Eat in or take away, with great coffee, sandwiches and savouries available too at this charming bakery on the island's east coast.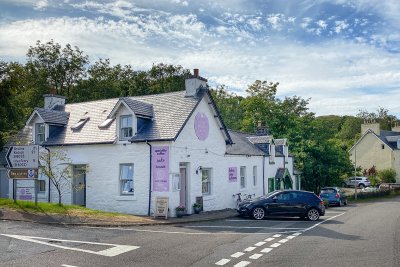 Coffee Pot | Salen
Great coffee, home baking and light lunches are served at the Coffee Pot, which you will find in the main street in Salen. The cafe has a wood-burning stove and wireless internet access.
01680 300555

Glenforsa Hotel | Salen
Dine in log cabin style surrounds with stunning sea views, the Glenforsa Hotel cooks up a seasonal menu of island-inspired dishes. The well-stocked bar will be a favourite with whisky connoisseurs, creating the opportunity to enjoy dinner and a dram.
01680 300377

Isle of Mull Hotel | Craignure
Located only a stone's throw from the ferry terminal and overlooking the bay, the Isle of Mull Hotel's restaurant, Sheallach-Na-Mara, caters for everyone with its tasty menus and local ingredients. Combine surf and turf with flavours ranging from locally caught scallops to island game and beef. You can eat outside on brighter days.
01680 812544

Pennygate Lodge | Craignure
Pennygate Lodge is a guest house that serves evening meals to non-residents. There is a lovely Georgian dining room and the menu makes the most of local produce. This is a lovely restaurant for a memorable dinner or special occasions.
01680 812333

Salen Hotel | Salen
The Salen Hotel serves lunches and dinners daily from a convenient, central location on the island, making it a great option to tie into a day out exploring.
01680 300324

The Craignure Inn | Craignure
You'll spot this traditional island inn as you arrive on the ferry. The pub serves lunches and evening meals in the bar and restaurant, with seating outside for alfresco dining too. A real fire adds ambience to the bar on cooler evenings.
01680 812305
Ross of Mull

Argyll Arms | Bunessan
The Argyll Arms is a stone pub in the heart of the village of Bunessan, where you can enjoy traditional food with bay views. Open for tea and coffee as well as lunch and dinner, you can rest and refuel after a day's walking or exploring and dogs are welcome too.
01681 700240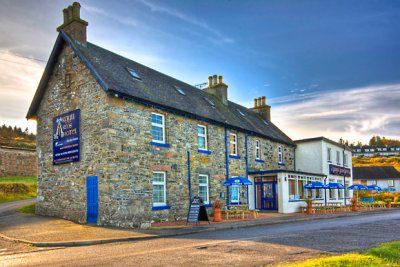 Ninth Wave Restaurant | Fionnphort
John and Carla use produce from their croft and fish from a local fisherman to create their menu. Award-winning, Ninth Wave is one of the best places to go for an evening meal on the Ross of Mull, with menus ranging from three to five courses. The food is unbeatably fresh, often hand-picked or caught and always surprising in its use of ingredients. Please book in advance.
01681 700757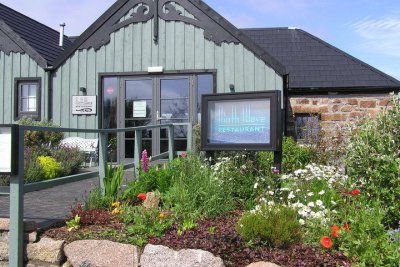 The Creel Seafood Bar | Fionnphort
The Creel is situated beside the Iona ferry slipway in Fionnphort. Although humble in appreance, The Creel serves up some of the best seafood on the island, with mussels, scallops and locally landed fish all regularly on the maritime menu. Pop by for a relaxed bite to eat with sea views after exploring the nearby beaches or visiting Iona, or treat yourselves to a delicious takeaway.
01681 700312

The Keel Row | Fionnphort
The Keel Row is a welcoming island pub with a bar that serves evening meals and lunches. As well as the bar and dining area, the Keel Row has a nice beer garden with views over the beach and sea, with the odd Highland cow passing by too. Located in Fionnphort, it's a great place for dinner after a day out on Iona or the Ross of Mull.
01681 700458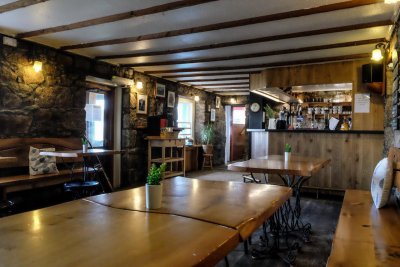 Whitetail Coffee Shop | Tiroran
Located at Tiroran, Whitetail Coffee Shop offer baking and as well as selling their gin. You can also purchase produce and items in the onsite shop. 01681 705163
Shops and Stores

The Piece Box | Dervaig
Scrumptious home-made food for takeaway from The Piece Box in Dervaig, just round the corner from Dugie's shop in the centre of the village. Mary and Jamie have a changing daily menu serving sausage rollls; crab sandwiches; langoustines and salads as well as cakes, coffees, teas and cold drinks.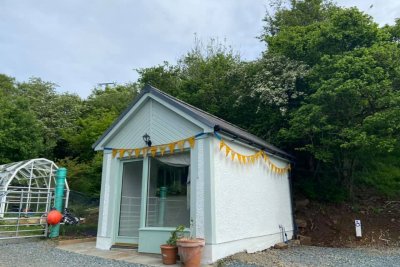 Fishnish Food Bar | Tobermory
If you arrive on the smaller ferry from Lochaline, it won't take long for you to spot the Fishnish Food Bar, which is located close by. Serving moreish comfort food, bakes and cakes as well as tea and coffee, it's well worth popping in for tasty food and a great sea view. It also makes an excellent treat if you're ready to refuel after enjoying the popular walk from Garmony to Fishnish.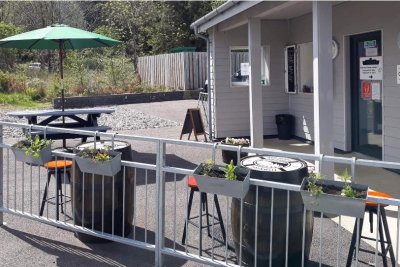 The Hen House | Fanmore
From a charming cabin with glorious views over the water, The Hen House serves delicious sweet and savoury bakes, as well as teas and coffees. Open every day apart from Wednesday.
01688 500238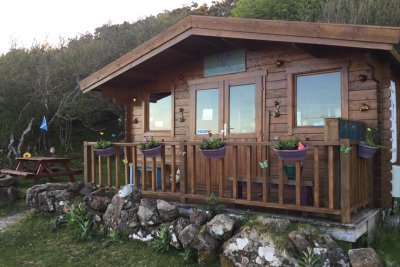 Pennyghael Stores | Pennyghael
A little shop with a fantastic view! Located at Pennyghael, the store has a selection of goods available included local crafts. There a Post Office at the store and a picnic bench is provided for customers to enjoy the views.
01681 704229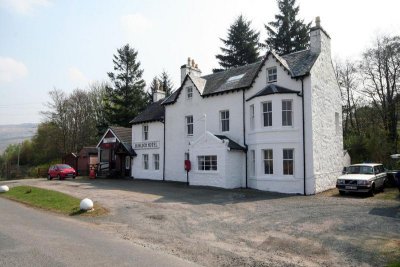 Craignure Spar | Craignure
Situated in Craignure, this Spar shop stocks a range of goods and includes a Post Office too. A useful shop to call into while waiting for a ferry as the pier is directly opposite.
01680 812301

Producer's Markets | Tobermory, Dervaig, Craignure & Pennyghael
Guests can stock up on tasty local ingredients at the range of Producer's Markets that take place around the island. There are markets in Tobermory, Dervaig, Craignure and Pennyghael, which regularly feature island-grown fruit and vegetables, locally produced meat, cheese and honey, as well as all manner of artisan crafts.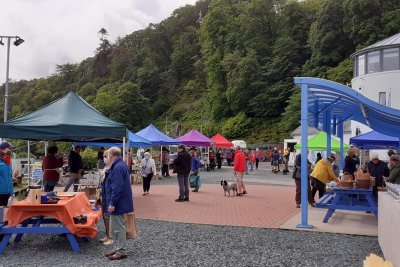 The Ferry Shop
Located in Fionnphort the Ferry Shop is a well stock general store and Post Office. A wide range of goods is available include a selection of gifts in the adjoining gift shop. A very handy shop to collect goods from after returning from a trip across to Iona.
01681 700470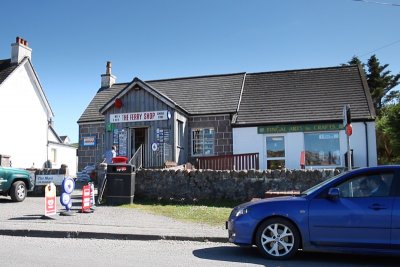 Tobermory Co-op | Tobermory
The Co-operative is the largest shop on Mull and is located on the harbour front in Tobermory. This small supermarket carries a wide range of goods and produce.
01688 302004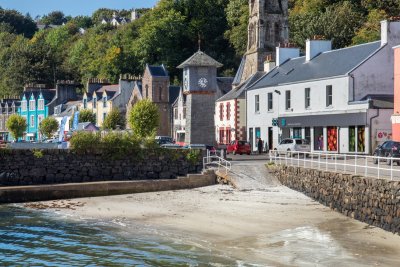 Dervaig Shop | Dervaig
Located in the centre of Dervaig, this spacious and very well stocked shop carries a wide range of goods and produce as well as a Post Office. The shop has a good selection of fruit and vegetables, fresh herbs. Local meat and fish can also be purchased here.
01688 400208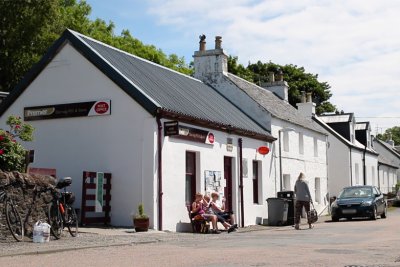 Tobermory Stores | Tobermory
A recent addition to the Main Street is Tobermory Stores, which you'll find on the corner opposite the Ledaig car park. Stocking a wide range of local and high-quality produce, the store has a farmshop feel with baskets of fresh fruit and vegetables alongside local and national newspapers, as well as chilled and dry goods.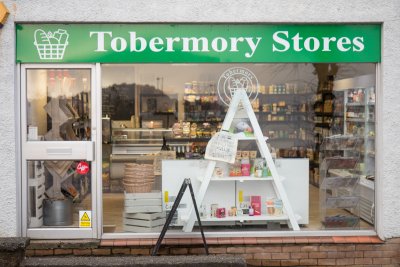 The Tobermory Fish Company | Tobermory
This is an excellent shop for those wishing to purchase local seafood. The shop is located just on the edge of Tobermory at Baliscate and has ample parking outside. There is a very well stocked counter along with a selection of condiments to purchase.
01688 302120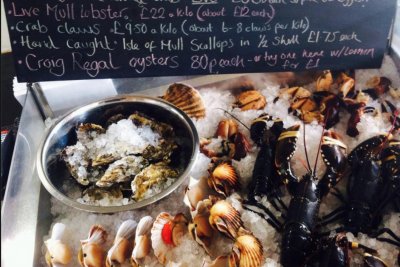 Bunessan Spar | Bunessan
Located in the village centre overlooking the sea, Bunessan Spar is a small shop that holds a good range of produce and has a Post Office too. In a separate building but part of the same shop, a selection of gifts and souvenirs can be purchased.
01681 700395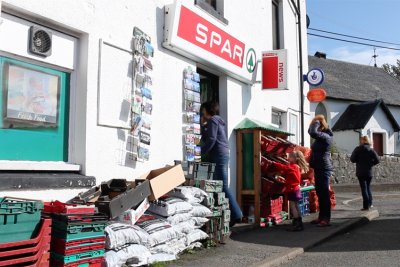 Salen Spar | Salen
Salen Spar shop is located in the centre of Salen and stocks a very good range of produce along with papers and magazines. The shop also has a great gift section and a range of childrens' toys for sale too. The Post Office is located next to the shop.
01680 300472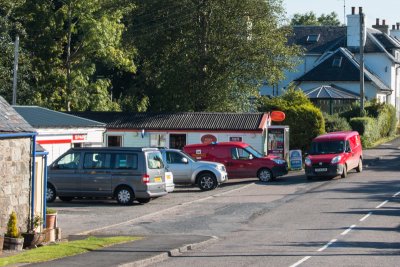 The Crofter's Kitchen | Kintra
Located at Kintra, a little settlement between Bunessan and Fionnphort. The Crofters Kitchen stocks an excellent range of fresh vegetables and produce along with home made jams etc.
01681 700509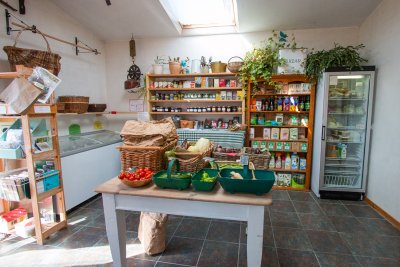 Catering

Mull Tasty Treats
If you're planning a celebration during your visit to Mull, whether it's an anniversary, birthday or other special occasion, Mull Tasty Treats could cook up a storm for you. Headed up by Charlotte Duffy, the menu options are comprehensive, from three-course meals to buffets and hearty hog roasts.
07379 931612

Lochbuie Larder
Based on a farm beside the beautiful shores of Loch Buie, Flora creates delicious ready meals delivered to your holiday cottage door. The menu is full of tempting dishes, with a great range of fish, meat and veggie options, plus some decadent puddings, and features lots of local ingredients, including beef, venison, pork and lamb from the family farm. Place orders at least one week in advance.
01680 814153